all entries with the category
TATB Live
Yup, I'm here, and just flipped on the Samsung to catch a snippet of the Bill Russell/Kevin Garnett conversation ESPN has been milking throughout the playoffs. If I heard right - and I may not have, because as I was watching, my wife and in-house analyst exclaimed, "That's Bill Russell? I thought he was white" - it sounded like Russell promised to give Garnett one of his championship rings if the Celtics don't win it this year. Pretty cool gesture, and one you, me, and especially KG desperately hope he doesn't have to fulfill.
(Getty Images)
Anyway, on to the game. The key to this one should be obvious to just about everyone, possibly even Jon Barry:
The health of Paul Pierce and Kendrick Perkins: Like I said, obviously. By all accounts, Pierce feels and looks relatively healthy, and for that we can probably thank the nutty schedulemaker who booked two off days in the same city between Games 1 and 2. (If there's a logical reason for this, I must have missed it.) While much of the Celtics' fate in this series depends on the state of Pierce's messed-up meniscus, we also can't underestimate the importance of Perk, who has a chance to be a huge factor against a Lakers team that was shockingly soft in Game 1. (Has Gasol opened his eyes after Garnett's follow-up jam yet?) Perkins could be just the guy to rattle some brittle Laker bones, but if his ankle isn't close to healthy, then he's not going to be of much use.
Two other points while waiting for the 46th commerical break of the pregame to end: 1) That Kobe-walking-around-Boston thing was stupid and contrived. It figures that Stuart Scott liked it. 2) Doc Rivers just quoted Tony Dungy in his pregame speech, and I believe the reference had to do with how the Colts finally overcame the Patriots. At this point in Boston sports history, I don't particularly believe in bad omens, but I do have to wonder if Doc knows what city he is in right now. I mean . . . Dungy? He couldn't just read a passage from Derek Jeter's biography?
FIRST QUARTER
11:51 - Perkins waits exactly nine seconds to pick up his first foul. In a related note, Mike Breen informed us a few minutes ago that Perk had a cortisone shot before the game. We may be seeing a lot of P.J. Brown and Leon Powe tonight, and maybe even Big Baby.
10:06 - In the first 1:54, Pierce has hit a 3 and drawn two fouls on Vladimir Radmanovic, forcing Phil Jackson to dust off Trevor Ariza, who has played so little since coming back from injury that he smells like mothballs. So far, so good for Pierce.
9:13 - Perk hits a baseline fadeaway. Obviously, he's really hurting. He'd never make that shot if he was his usual self.
8:18 - Pierce blows by Ariza, makes a lefty layup, and draws a foul on Lamar Odom. That's either his fourth or fifth shot attempt, and yes, I'd say he's probably feeling quite all right. Wonder if he's ever heard of Bill Plaschke. If not, he's lucky.
7:04 - It's 10-8, Lakers, after Garnett misses a midrange jumper. The Celtics don't seem to be shooting particularly well right now, and as I'm writing that, the Celts commit their fourth turnover of the quarter on a ticky-tack offensive foul call. Not exactly the ideal start here.
5:50 - Odom gets a tip-in, prompting Mark Jackson to say something like: "You can tell by Odom and Gasol's body language that they have come to play." Meaning they don't look A) stoned or B) ready to burst into tears. That's their fourth quarter "body language."
4:28 - KG has hit two jumpers in a row, and it's 15-14, Lakers. Good to see, because that bearded turtle Gasol has outplayed him slightly so far.
3:51 - Ray Allen for 3, and the net barely fluttered. When he's feeling it, there isn't a prettier shot in the game, but you probably knew that. For the record, my all-time favorite jump shooter, non-Legend division, is Dale Ellis, who had no wasted motion in his shot whatsoever - it was basically a flick of the wrist. Poetry in motion, it was.
1:59 - Kobe picks up his second foul and sits with the Lakers leading, 19-18. I think it's fair to say that one doesn't get called at the Staples Center.
Commercial: Can Alonzo Mourning even drink Gatorade? That stuff can't possibly be good for the kidneys.
1:00 - Nice decision by Rondo, feeding Garnett for an open J just before the shot clock expired. I like what I've seen of him so far.
:44.3 - Van Gundy reiterates that Kobe Bryant shouldn't be on the All-Defensive Team, says he's a "lawyer" on the court, and then suggests players should get seven fouls rather than six. Have I mentioned yet tonight that he's the best basketball analyst I've heard in . . . well, I can't think of anyone who really compares in terms of humor and insight.
:07 - Jordan Farmar, who has apparently borrowed Jorge Posada's ears for the evening, hits a 3, Allen has a near-miss on the other end, and the Lakers lead after one, 22-20. I'll take it.
SECOND QUARTER
12:00 - Cassell in. Note to self: Prepare to heave the remote at the TV.
FULL ENTRY
Man, my mind was on this basketball game all day - I don't think I'd anticipated a Celtics game this eagerly since all those epics they've been running on ESPN Classic this week were live on CBS 20-something years ago. Surely you can relate to the feeling.
(AP Photo)
Then I made a terrible mistake. I tuned into the Sox tonight for an appetizer. After witnessing the horror of an Ellsbury injury, a possible Manny hamstring tweak, a bizarre Manny/Youkilis near-reenactment of Reggie Jackson/Billy Martin in the dugout, and a brawl filled with so many Rays cheap shots you wonder if they thought Brian Daubach was still playing for the Sox (I think even Gerald "Ice" Williams got in a few jabs) . . . well, I'm having a hard time focusing on hoops right now.
Fortunately, Mike Breen just popped up on the TV, and he appears to be wearing a freakish flesh-colored band-aid over his right eyebrow. Just the distraction I needed. I bet if you dunked him in powder and gave him a stringy black wig, he'd look like Marilyn Manson.
Anyway, I'm running behind as usual - did I mention my 4-year-old tripped over the computer cord, the Mac crashed to the floor, and now only half the screen appears to work? - so let's just cut to the chase: Celtics in 7, with Win No. 13 of this postseason arriving tonight. I'll elaborate more as the game goes on . . .
FIRST QUARTER
9:00 - Lakers jump to an insurmountable 6-5 lead. Lamar Odom hit his first jumper, which isn't an encouraging sign for the Celtics. To me (and I lot of other people weighing in on this series the last few days) he's the key to the Lakers, much in the way Ray Allen is for Boston. When Odom's playing well, his team's offense is damn near unstoppable. Secretly, I was hoping a Celts fan would send Odom a giant gift bag of weed this week, just to see if it might have some effect.
8:22 - Rajon Rondo swishes a baseline jumper, giving the Celts a 7-6 lead. Unlike just about everyone at ESPN, I like Rondo against Derek Fisher in this series. He's got gears that Fisher has never had, and I feel like he should be able to zip by him almost at will.
7:00 - Sorry this is moving so slowly. My wife is reading along on the busted half-screen computer, and she keeps asking me questions and talking and that sort of stuff that wives instinctively tend to do when a game you've been waiting to watch for - well, years, in one sense - finally arrives. ("Look all the crumbs came out of the computer when it fell . . . ") I'd like to tell her to zip it, but that would be rude, and I'm really quite polite, you know.
5:42 - Gasol makes things look really easy offensively. He's more or less ambidextrous. One Perkins elbow to the sternum, however, and he'll be as useless as Chris Mihm for long stretches of play. (And somewhere, Don Cherry nods and snorts, "European sissy.")
3:21 - Bryant bricks his fourth shot in five attempts. Allen followed at the other end with his second straight field goal, a 3-pointer, to give the Celtics a 19-14 lead. And in a related story, I don't buy for a second that they've made up in their feud. Allen might be the forgiving type, but Kobe strikes me as someone who can hold a grudge for a long time. Like, forever. After all, he is a Jordan mimic.
Commercial: I've said it before, and it's the honest truth - Adam Sandler was the funniest standup act I ever saw in college, and that includes Seinfeld and quite a few comics of note. But I wouldn't go see that Zohan movie if he paid for my Sprite and Goobers.
2:31 - Jordan Farmar with a smooth slash to the hoop. I thought it was foolish that anyone would give Mitch Kupchak consideration over Danny Ainge for executive of the year this season, but the Lakers' GM has done a terrific job the last few seasons rebuilding the L.A. bench with kids like Farmar, Vujacic, and Turiaf, among others. Like Ainge, he seems to have an eye for finding talent that those picking higher in the draft have overlooked. That's a hell of an advantage for a team already stocked with big names.
1:04 - It's 21-21, and Rondo's playing a little recklessly right now. He just slightly misled Garnett on an alley-oop, and he drives me nuts when he has a path to a layup, gets within a few feet of the rim, and passes up the layup to kick it out for a jumper. Take the easy one, kid.
After the first quarter, it's 23-21, Celts, and given how erratic Kobe has been so far, the Lakers have to feel pretty good about that.
Phil Jackson tells Michelle Tafoya that the Celts are faceguarding Kobe. Is whining about imaginary sleights one of the basic tenets of Zen?
SECOND QUARTER
12:00 - Celtics start the quarter with Sam Cassell, P.J. Brown, and Leon Powe on the court. Not exactly DJ, McHale, and Maxwell there, but it'll have to do, I suppose.
9:52 - Lamar Odom is only 28? Wow, it feels like he's been around so long that he should have played for the Clippers back when they were in San Diego. Jim Harrick is probably still trying to find a way to get him eligible at Rhode Island.
9:36 - Cassell hits his first two shots. Surprisingly, they did not stop the game and present him with the ball.
9:21 - Seriously, what the hell could have possibly happened with Manny and Youkilis? Youk looked like he had no idea what was wrong.
8:46 - Mark Jackson: "Kobe Bryant is as good as Michael Jordan on any given day." That nonsense is barely out of his mouth before a graphic proves him to be a complete fool: Jordan averaged five more points, and won three more titles and four more MVPs. He is not as good as Michael Jordan. What he is is an adequate facsimile . . . on any given day.
8:00 - Celts up, 32-29. Cassell has hit all three of his shots, and as Breen sagely notes, "I think he's shot the ball every time he's touched it." That's our Sam.
7:25 - I'll admit it. I like Ronny Turiaf. He plays hard, and was about the only player on those likable Gonzaga teams who didn't have a goofy white-guy 'fro.
6:27 - I really do think the Celts win the series in 7, and I bet at least six of the games are instant classics. These teams are about as evenly matched as they could possibly be, and while the depth of talent isn't quite what it was in the mid-'80s, when accomplished players like McAdoo, Wedman, Cooper, Walton, and Mychal Thompson were in reserve roles, they're about as deep as teams get in today's NBA. These two deserve to be here, and they'll give us a show.
5:23 - Garnett has 16 so far in the first half, most of them coming on his patented 16- to 18-foot face-up jumper. I understand the frustration of the Felger-types who would prefer that he drag his 7-foot frame down to the block more often, especially late in games, but sometimes it's easy to forget that he is one hell of a midrange shooter. I feel like every one he takes is going in. Anyway, it's 40-35, Boston. No complaints.
4:55 - Pierce picks up his third foul. Can't say I've heard his name too much so far, but the points will come, provided he can stay on the court.
3:03 - Odom finishes a sweet lefty drive, and it's 45-42, Lakers. No one makes the game look easier than he does when he's interested.
1:20 - Just when I'm about to praise Rondo for a nifty drive-and-flip in the lane, he throws one of those stupid lob passes that nearly killed the Cs in Game 5 against Detroit. You think Doc Rivers, an ex-point guard, would have cured him of that bad habit by now . . .
:50 - . . . and as I'm writing that, he drills a jumper. I'll give Rondo this, he shoots it without hesitation now. The kid has come a long way.
:00 - Lakers take a 51-46 lead into the break despite Kobe shooting 3 for 10. Somehow, Fisher is the Lakers' leading scorer with 13 points, though I can't recall hearing his name too often.
Halftime thoughts: Jon Barry just said what I've been saying - the Celts should be worried since Kobe hasn't really got it going yet. I hate it when Jon Barry agrees with me . . . Magic says Garnett should have taken more than nine shots. Can't argue that, but what I'm really thinking is this: How has Magic remained so healthy? Looking at him, my ignorant self is guessing there are some steroids (legal, obviously) involved . . . I'm not too worried about the way this one is going, because I just feel like most of the games in this series are going to come down to the last minute or two, and this is shaping up to be one of them . . . Cassell really gave the Celts are spark, hitting 3 of his 4 shots. Still, I'd rather see Eddie House out there, and it's alarming that Doc supposedly (according to Mark Jackson) told Cassell he would play a big role in this series . . . Gasol has had too many easy shots. I hope Leon Powe is sharpening up his elbow at halftime . . . That Bird-Magic split-screen: Yikes. I think they were wearing XXXL jerseys, and I don't want to guess what the shorts situation was. I'm glad we can see only from the neck up there.
THIRD QUARTER
10:45 - Pierce converts a 3 plus a foul. Good thing Bennett Salvatore isn't in the building
9:21 - Garnett continues his aggressiveness on offense and scores his second straight hoop in the paint, giving him 20 points. Neither Gasol nor Odom, who just watched his favorite scenes in "Half-Baked" at halftime, has any interest in defending him. Van Gundy's right: Keep feeding him.
8:28 - Van Gundy on Kobe: "He plays sporadic great defense, but there's no way he deserves to be first-team all-defensive." Now that is the kind of stuff you want to hear from an analyst, and you know what? Listening to him call the Celtics games during the playoffs has made me respect him a lot more as a coach. He may look like Miss DePesto's husband, but he knows his stuff, and he can convey it to a dummy like me with insight and humor.
6:50 - Aw, geez, no. Pierce is down, grabbing his right knee, and he writhing like he's in serious pain. Looks like Perkins may have kicked him in the back of the leg on the way by while chasing Kobe. Let me tell you, I'm finding it pretty damn hard to type with my fingers crossed.
A wheelchair. *%&.
If something like this happens to Paul Pierce at this point in his career, after all he's been through, there is absolutely no justice in sports.
6:19 - Perkins picks up his fourth foul. I don't think the one on Pierce is included. (Sorry. This is no time for dark humor.)
5:50 - Now Perkins is headed to the locker room. I hope it's just to give Pierce a hug and a pound and say he's sorry.
5:44 - Allen drills a 3. Exactly what they need - he has to step up right now, and I think he's up to it.
5:12 - Wait! Is that . . . ? It is! Holy cow, here comes . . .
This is unreal. I've got chills.
5:04 - Tafoya says Pierce is trying to give it a go on a sprained knee. Maybe there might have been a little of false drama involved - Pierce is from Los Angeles - but dammit, if anyone doesn't respect this guy now, then they're absolutely hopeless.
4:41 - Pierce gets whacked by Kobe and promptly hits 1 of 2 from the line. That's the Paul Pierce I know.
4:10 - Allen with a bad behind the back pass to Pierce on the break, but you know what? I've got no problem with it, because if the play had been completed, the resulting roar would have blown the roof off the barn.
3:40 - Perk's coming back out of the locker room. He's probably wondering where Pierce went.
3:25 - I was watching one of the Celts-Lakers games from '84-'85 earlier today on ESPN Classic, and Byron Scott had a highlight-reel dunk over DJ on the break, the kind you don't see too often nowadays because some stiff would have hauled him down in the open court. Well, Kobe's dunk just trumped that one as the best I'd seen today, live or on tape. And in a related note: This is a fantastic basketball game. I feel like I'm in the '80s again, I'm 15 years old, and I'm wearing a cheap cotton 00 Celtics tank top my mom got at TJ Maxx.
2:25 - Garnett misses the jumper, but geez, Gasol just plays no defense. He might as well be wearing orange instead of purple, because he's nothing but a pylon.
1:42 - Pierce buries a 3 in transition, and the Celts are up one, 72- . . . and ANOTHER! WHEEEEEEEEEEEEEEEEEEEEEE! 75-71. But before I can stop typing all those EEEEEs, Pierce picks up his fourth foul. Shoot. Way to kill a buzz.
0:00 - Well, that was the most entertaining quarter of basketball I've seen since the Bird Era, and that is not hyperbole. The Celtics lead, 77-74, and the half closes with a shot of Pierce riding the exercise bike on the fringe of the stands, then laughing and patting a Spaudling-shaped fan on the shoulder after the fan offered a few words of wisdom. Phenomenal, phenomenal stuff, and isn't it great to feel this way about basketball again?
FOURTH QUARTER
12:00 - Allen is the only Celtics starter on the floor to start the quarter. Don't go too long without KG, Doc.
10:51 - Allen and Kobe swap hoops. Did we mention they don't like each other? Kobe does seem to be bringing out the best in Allen.
10:11 - Cassell's now missed three in a row, the last one, as Breen said, "a bad shot." Get the warmups off, Rajon.
9:38 - Cassell hits a J after a huge save at midcourt by Garnett, but then clanks a 3 on the next possession. So it goes with him. Even World B. Free thinks he's a gunner.
8:44 - I'm not saying this because he's my favorite player on the team, but doesn't it seem like every shot James Posey hits comes at the perfect time?
8:33 - Great stat: In the 10-plus minutes since Pierce got hurt, the Celtics have outscored the Lakers, 28-16. Well, that's not exactly how I expected it to go, I know that much.
7:30 - Seriously, Cassell needs to stop shooting, now. I think Van Gundy is going to start screaming at Doc to take him out any minute if this keeps up . . .
7:03 - . . . and then he passes one up as the shot clock hits 1 second. Not the kind of play a 14-year veteran should be making.
6:48 - Vujacic, who I already despise in a mini-Laimbeer sort of way, hits a 2, and the Lakers have cut the lead to 86-82 - and they've done it with Kobe catching a breather on the bench. I hate to say it, because I think Doc has done a terrific job for the most part in the playoffs (hey, at least some of us can admit we've been wrong about him), but these next few minutes might be where the coaching matchup comes into play.
5:30 - Pierce and Rondo back in, and Pierce immediately hits a step-back two. I was beginning to wonder if he was done for the night, but he's at least playing like he's healthy.
4:15 - It's 88-82, Green, but Garnett has clanked his last eight shots. That's inexcusable against Gasol, who plays defense like he's dying for a cigarette break. I agree with Van Gundy: Might be time to get a little bit closer to the hoop.
3:36 - Pierce hits a pair of free throws, then forces Kobe into a tough missed fadeaway. So you're telling me his knee is sprained? Really?
2:57 - I should note that P.J. Brown has been a Silas-like force in the fourth quarter - on one rebound, he dominated Luke Walton so badly that I think poor Luke called him "Dad" - but he was just a step slow on a layup by the recently awakened Odom, Odom converts the 3-point play, and it's 90-85.
2:02 - Gasol wants nothing to do with Brown. He's so skilled, but what a softie.
1:31 - Garnett discovers one effective way to end a streak of nine missed shots - a follow-up slam off a Posey miss. Now that's what you call emphatic, and the Celts are up eight. Might be the play of the game right there.
:16 - I love this version of Ray Allen. He buries both free throws, and the Celts are up 10. At least for one night, L.A. has been beaten.
Quick thoughts in the aftermath: If the Celtics end up winning this series, I'm pretty sure we've just witnessed the defining moment in Paul Pierce's career . . . The Celtics were excellent defensively, while the Lakers often looked disinterested. You wonder if that has something to do with the venue, but I tend to think it's just the teams' respective personalities . . . I didn't mention it much as the blog and game proceeded, but Rondo played a very steady game tonight for the most part. He looked like the veteran while Cassell made the young player mistakes . . . P.J. Brown was terrific. Can't emphasize that enough. But they will need a healthy Perk before this thing is over . . . The Ray Allen Redemption continued for the third straight game: 19 points, 8 rebounds, and a solid job on D . . . If the rest of the games are as dramatic and entertaining as this one, this series will be a classic on par with the ones that have been on ESPN Classic all week . . . Donny Marshall nails it with Cassell: "His game is like the New England weather." . . . The Lakers run the pick and roll beautifully, and they'll shoot better for sure, but the more I saw of Gasol and Odom tonight, the less impressed I was . . . Magic number: 3. Amazing, isn't it?
(AP Photos)
Man, the pregame yapping on ESPN isn't over yet, and I'm already hoping Stuart Scott suffers a career-ending larynx injury by halftime. Where are Ernie, Kenny, and Chuck when you need them? Right. Western Conference. They get all the fun. We get Captain Boo-Yeah and Jon Barry. It ain't right.
Anyway, I'm here, and this should be, well, interesting. I cranked out probably a dozen to 20 live blogs of Sox and Pats games in my 3+ years at the old TATB address, but this is my attempt at doing this for a hoops game. I'm not sure how conducive the sport is to the format - I'm worried the action moves too fast, except when Kendrick Perkins is involved - so I'm just going to try to limit the play by play as much as possible. Like Ray Allen teeing up a 3-ball, I'll take my best shot and hope it hits something.
Two key plot points tonight:
• Chauncey Billups's hammy: He claims he's 100 percent healthy, but his stat line after game one suggested otherwise. If he can't get into the lane, draw fouls, and use his strength to compensate for Rajon Rondo's quickness advantage, Game 2 will go much the same way Game 1 did for Detroit.
• Ray Allen's shot: The Celtics went out of their way to get their struggling shooter going early in Game 1, but he didn't hit a jump shot the entire game and finished with 9 points. I hope Doc Rivers is patient enough to try the same approach again, because I have a hunch Allen is thisclose to busting out of it.
"They'll get up, you gotta hit 'em again . . . they'll get up, you gotta hit 'em again . . . they'll get up . . . " I'll admit it. Doc's pregame speech got me fired up. I just slugged the cat. (He got up. I didn't hit him again.)
Okay, the lights are down, the new Garden is rocking like its beloved predecessor did 20 years ago, and KG's screaming like a maniac from the Jumbotron. Yep, must be a meaningful basketball game in Boston tonight. So nice to have that feeling again . . .
FIRST QUARTER
10:22 - Pierce knocks down a 3 off an Allen feed. Nice shot with a hand in his face, but I almost wish he'd given it right back to Allen there. Pierce likes trying to be the hero out of the gate, though.
7:18 - After Sheed is called for a foul on Garnett, he disputes the verdict with one of his favorite magic words and is slapped with his fifth technical of the playoffs. Dang. In the office pool, I had him getting his first T at 10:12 of the third. Should have known that was too late.
FULL ENTRY
Yup, I'm here. Joining me are the Baseball Prospectus, the Baseball America Prospect handbook, the Bill James handbook, a matching pair of Shipyard IPAs, and my already bored wife, who between sighs mentions she would much rather be watching something called "The Memory Keeper's Daughter" on, I'm assuming, Lifetime. Fortunately, I have removed the batteries from the remote. I predict she'll catch on to my scam sometime around the fifth inning. (Oh, okay, she's actually being sweet enough to DVR the ridiculous thing. The best marriages are based on compromise, my children. Sincerely, Dr. Phil.)
Anyway, baseball. The big news of the night so far: No Papi. Tito Francona wisely gave his frustrated, .070-hitting designated hitter a much-needed night off, and that tells you all you need to know about the value of Sox-Yankees games in April. I have a feeling both Papi and Derek Jeter (who has not played in this series due to a dislocated girdle . . . er, strained quad) would be in the lineup tonight if this were August.
One other pregame observation: As a reader pointed out in the comments on the last post, this is huge one for Dice-K, at least as far as April ballgames go. He's had two terrific starts in a row, aggressively challenging hitters and pitching with what seems to be increased confidence - Gammons just mentioned that he looks "comfortable in his second act," an articulate way of putting it - but we all know this Yankees' lineup is traditionally relentless and disciplined. And Matsuzaka certainly had his troubles with them last year, posting a 6.12 ERA in four starts while walking 13 batters in 25 innings. Is he up for the task? I'm hopeful considering how he pitched in his last start against Detroit, but we'll know for sure in about three hours. Maybe four. Hell, with these teams, probably six.
All right, the game's underway, and I'm already falling behind here. Hopefully we won't say the same thing about Dice-K too often tonight.
FIRST INNING
Two walks (Damon, Abreu) in the first three batters. Not what we had in mind there, Mr. Matsuzaka. Didn't you read the intro? Fortunately, A-Rod is already in his mid-autumn form, and obligingly rolls Dice-K's first pitch to Kevin Youkilis, who starts the 5-4-3 double play. It's amazing how A-Rod can justifiably be considered the best player in the game, and yet fans of the Yankees' opponent don't mind seeing him at the plate in big situations. I mean, he hit 54 homers last year. More than a few of them must have been meaningful, right?
Jon Miller tells us that Yankees starter Phil Hughes (who I am convinced will be a legitimate No. 1 starter, someone who will still be winning in the majors when Joba Chamberlain has a scar on his elbow and Chris Farley's midsection) grew up a Red Sox fan. I knew there was a reason I kind of like the kid.
Jacoby Ellsbury works a walk, bolts for second, and zips over to third when Jose Molina's throw sails wide into center field. There's no doubt he's an absolutely electric athlete who makes things happen on the bases. I'm just not convinced - yet - that he's a disciplined enough hitter to make it to first base with any consistency. I'll admit it: I still think Coco Crisp is a better option in center field for this season. I imagine all of my Pink Hatted readers will cancel their subscriptions now.
Hughes whiffs Dustin Pedroia on a 3-2 count, then walks J.D. Drew, batting in the No. 3 spot while Papi takes his mental health break. Hughes is doing what we worried Dice-K would, struggling with his command and racking up a high pitch count in the early going. For all of Hughes's talent, it's easy to forget he's only 21, three years younger than Clay Buchholz.
Heeeere's Manny with runners at the corners. Care to walk him now, Girardi? (Sorry. Couldn't resist.)
Nope. And Manny makes the Yankees pay yet again, roping one over Robinson Cano's head to score Ellbury, and it's 1-0, Sox. Jon Miller tells us that's Manny's 154th career RBI against the Yankees. Someone needs to get that statistic to that washed-out clown Mike Adams immediately.
Make that 2-0, thanks to a Youkilis sacrifice fly. Just another little thing he does well. He had five sac flies last year and 11 in '06.
Sean Casey rockets a ground-rule double into the rightfield seats (Miller calls it an "automatic double"), and I'm officially convinced that Casey (a.k.a. The Nicest Guy In Baseball!) is not the second coming of J.T. Snow. He's been absolutely terrific filling in since Mike Lowell got hurt.
Hughes crosses up Molina, the baseball ends up at the backstop, and Manny saunters home for a 3-0 Sox lead. Miller reminds us that Hughes is the youngest Yankee pitcher to start a game at Fenway since this guy: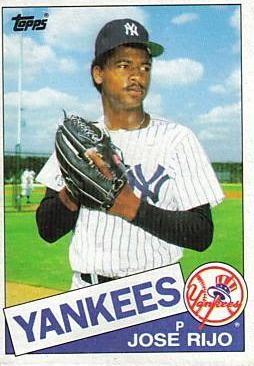 Hughes finally escapes the inning, but not after throwing 39 pitches. According to my abacus, he's on pace for a 351-pitch, complete-game, 27-0 loss. Hope it happens for him.
SECOND INNING
Dice-K walks Hideki Matsui to lead off the inning. Exactly what you're supposed to do with a 3-0 lead. Geez.
After falling behind 3-1 to Jorge Posada, Dice-K battles back and gets him to foul out to Jason Varitek. Encouraging. By the way, Posada is DHing again tonight because of a "dead" throwing arm. As far as I'm concerned, the thing could be severed, and he'd still scare the hell out of me with runners on base.
My apologies for the sarcasm after the Matsui walk; it's an easy, breezy inning for Dice-K, who gets Giambi to pop to Ellsbury in left, the retires the next batter on a fielder's choice.
Crisp leads off by dropping a bunt down the third base line. A-Rod, who is distracted while applying his rouge, recovers to field the ball, but Crisp beats his throw by the edge of a cleat. To be honest, I thought he was out.
One out later, and Crisp on third, Ellsbury hits a little popup to shallow left. Temporary Yankees shortstop Alberto Gonzalez races back and makes a running catch. Jeter immediately bursts into tears. "But that's my signature play!," wails the captain. Just wait 'til Gonzalez breaks out the fist pump. There will be blood.
Joe Morgan, who isn't annoying me as much as usual tonight, probably because I'm distracted by this thing, says that Ellsbury has trouble with the inside fastball. The cold truth hits me hard: Oh, my God. I agree with Joe Morgan. Please, don't let Ken Tremendous know about this.
THIRD INNING
After retiring Gonzalez on a smooth defensive play by Julio Lugo, Dice-K walks Damon for the second time tonight. That's his fourth walk in 2.3 innings. Miller notes he's not pitching to contact. Sigh.
After Damon swipes second, Dice-K battles back from yet another 3-1 count to get the dangerous Robinson Cano to popup. The radar gun readings on his fastball tonight aren't great - 90, 91, 92 - but Cano was late on three straight heaters. The point here is twofold: 1) Dice-K seems to have better late movement on his fastball this season than he did at any point a year ago. 2) He needs to throw the damn thing earlier in the count rather than messing around with the soft stuff all the time.
Well, the Yankees get one back, thanks to an Abreu wall scraper that plates Damon, making it 3-1, Sox. Fortunately, A-Rod is next, and he graciously pops to Casey in foul ground to stall the threat.
By the way, I can't tell if Casey is a good defensive first baseman or not. I know he used to be, but he's had some awkward moments with the glove so far.
Gammons pops in with a rehash of the teams' offseason flirtation with Johan Santana. I always thought he'd end up in the Bronx, so I considered it a Sox victory when he was swapped to the other New York ballclub instead. And for the record, I'm still not convinced he's the pitcher he was two years ago; he gave up a home run to Gabe Kapler yesterday, for heaven's sake.
Drew leads off the Sox half with a walk. Someone mentioned in the comments on the last post that he's my "whipping boy." Not true. Lugo's my whipping boy. Drew's my scourge. Get it straight. Actually, to be completely honest, I've really enjoyed watching Drew hit this season - he makes it look so easy when he's locked in, something we didn't get to see last season right up until he dug in for his fateful at-bat against Fausto Carmona. I believe he's capable of a big year, and that he has the talent to justify the contract the Red Sox gave him. I still don't get what they ever saw in Lugo, however, and that's the difference.
FULL ENTRY
About Touching All The Bases
| | |
| --- | --- |
| | Irreverence and insight from Chad Finn, a Globe/Boston.com sports writer and media columnist. A winner of several national and regional writing awards, he is the founder and sole contributor to the TATB blog, which launched in December 2004. Yes, he realizes how lucky he is. |
Tweets by @GlobeChadFinn
browse this blog
by category
The best of Touching All The Bases