all entries with the category
Random Lists of Five
How long has it been since I've done one of these Random Lists of Five thingies? Let's just say that in one of the more recent ones there was a reference to recently burned music CDs. Hey, at least I wasn't still using a Walkman. To the lists ...
Five seasons I could see a prime-of-career Jackie Bradley Jr. duplicating, and I'll spare you J.D. Drew's 2000 season even though it's a decent potential comp:
1. Ken Griffey Sr., 1980: Forget any sports-radio hyperbole comparing the Red Sox' phenom to Junior Griffey. If Bradley's best seasons resemble Griffey Sr.'s, which spanned 1976 to '80, his promise will have been fulfilled. Griffey's '80 season, when he hit .294 with an .818 OPS, 13 homers, 10 triples, 23 steals in 24 attempts, is the standard bearer. And Bradley will be the better defender. (Papa Griffey never won a Gold Glove.)
2. Lyman Bostock, 1977: Murdered at age 27 in September 1978, Bostock will forever remain one of the great what-ifs in baseball history. He played just four major league seasons, the finest of which was spectacular. In 1977, Bostock hit .336 with 14 homers, 62 extra-base hits, 16 steals, and an .897 OPS for the Twins before joining the Angels as a free agent over the winter. Bradley at his best projects to be more patient and a better defender but with perhaps a little lower batting average.
3. Shane Mack, 1992: Red Sox fans may remember Mack as a sore-shouldered flop with mish-mashed 1997 club, but he should be remembered for a string of outstanding seasons with the Twins in the early '90s. In '92, he hit .315 with a .394 OBP, 16 homers and 26 steals, a high-end expectation for Bradley.
4. Jose Cruz, 1983: One of the more underrated hitters of the '70s and early '80s, "Cheo" hit .318 with 14 homers, 30 steals, and a league-high 189 hits while finishing sixth in the NL MVP ballotinng.
5. Jackie Robinson, 1952: Well, the on-base percentage -- a league-best .440 -- is probably unattainable, but the .308 average with 19 homers and 24 steals is more than reasonable. And it just seems right to match him up with the most admirable of Jackies.
Top five selections in the 1990 NHL Draft:
1. Owen Nolan, Nordiques: NHL goal total: 422
2. Petr Nedved, Canucks: NHL goal total: 310
3. Keith Primeau, Red Wings: NHL goal total: 266
4. Mike Ricci, Flyers: NHL goal total: 243
5. Jaromir Jagr, Penguins: NHL goal total: 679 and counting.
Top five selections by the Bruins in the 1991 NHL Draft:
1. Glen Murray. NHL goal total: 227
2. Jozef Stumpel. NHL goal total: 196
3. Marcel Cousineau. NHL goal total. 0. But he did have an assist once.
4. Brad Tiley. NHL goal total: 0. Played 11 NHL games.
5. Mariusz Czerkawski. NHL goal total: 215
Five best draft choices, in order and weighted by where the player was selected, by the Patriots during the Bill Belichick era. (Excluding the 199th overall pick in 2000, the best pick in league history):
1. Rob Gronkowski, 42d overall, 2010: If healthy -- and I hate that if, too -- he's a game-changer, with 38 touchdowns in 43 career games.
2. David Givens, 253d overall, 2002: Had a touchdown catch in seven consecutive postseason games.
3. Vince Wilfork, 21st overall, 2004: Yeah, he was a first-rounder, but at that position, getting the ideal fulcrum for the defensive scheme was an absolute heist.
4. Aaron Hernandez, 113th overall, 2010: A tight end with a receiver's skill-set and a running back's open-field instincts.
5. Dan Koppen, 164th overall, 2003: Played 121 games at center during nine seasons in New England, had Tom Brady's utmost trust.
And the five worst, which actually could all be defensive backs:
1. Chad Jackson, 36th overall, 2006: Traded up to get the Florida receiver. Sixteen picks later, Green Bay, which traded down, chose Greg Jennings.
2. Terrence Wheatley, 62d overall, 2008: Played just 11 games for the Patriots. Are we sure he existed?
3. Shawn Crable, 78th overall, 2008: Limited to six games due to injury, mostly to his matchstick legs.
4. Ron Brace, 40th overall, 2009: How could anyone so large so often be invisible?
5. Brock Williams, 86th overall, 2001: Foreshadowed all the failed draft picks in the defensive backfield to follow.
Five basketball legends who played for the Celtics in the '70s and '80s after making their name elsewhere:
1. Ernie DiGregorio: Averaged 2.4 assists in 10.1 minutes per game in 1977-78, his final year in the league.
2. Dave Bing: Hall of Famer and Pistons great retired after averaging 13.4 ppg in 1977-78,
3. Bob McAdoo: Averaged 20.6 ppg in 20 games for dismal, fractured 1978-79 squad.
4. Tiny Archibald: Made three All-Star teams in five seasons in Boston (1979-83) and averaged 13.8 ppg for 1980-81 champs.
5. Pete Maravich: In 20 games for the 1979-80 Celtics, he averaged 11.5 ppg in his final year at age 32. Can't help but imagine what it would have been like to watch Pistol Pete at the peak of his powers play with Larry Bird.
Five partial player comments from the 1997 Baseball Prospectus annual:
1. On Mariano Rivera: "... I think he needs a better second pitch and more work. The better second pitch is a big issue, because Rivera got hit worst when he fell behind and had to come in with a fastball for a strike. Without one, I think he'll decline further this year.
2. On Trot Nixon: "One of the more overrated prospects in baseball. Nixon has more tools than Home Depot, but he uses them about as well as the government uses tax revenues. His back troubles have damaged his game as well. As Boston's #1 pick in 1993, he'll get plenty of chances to embarrass himself in the majors."
3. On Tim Wakefield: "Three years after nearly washing out of baseball, two years after nearly winning the Cy Young and just months after a temporary demotion to the pen, Wakefield may have found his niche: middle-of-the-rotation innings eater."
4. On Jeff Bagwell: "A fine defender, intelligent baserunner, and one of the best power hitters in the game. Still looks like an adult Bud Bundy ...."
5. On David Ortiz: "... He is very young, and the Twins may want him to have more than a half-season at Double A before they hand him a starting job in the majors, but his upside is very high. Think Dave Parker."
Five players chosen in the first round of the 1995 NHL Draft:
1. Bryan Berard, defenseman, No.1 overall, Ottawa
2. Wade Redden, defenseman, No. 2 overall, NY Islanders
3. Kyle McLaren, defenseman, No. 9 overall, Boston
4. Jarome Iginla, forward, No. 11 overall, Dallas
5. Petr Sykora, forward, No. 18 overall, New Jersey
Five players drafted ahead of Rajon Rondo (21st overall) in the 2006 NBA Draft:
1. Adam Morrison, Charlotte, No. 3 overall: Hey, he did win two championships with the Lakers. He also scored a total of 84 points over those two seasons.
2. Shelden Williams, Atlanta, No. 5: Go ahead. Make the shoulda-drafted-Candice Parker joke. I'll wait.
3. Patrick O'Bryant, Golden State, No. 9: I remember the precise moment I knew he was never going to be a viable backup for the Celtics -- when spent pregame warmups during a game against the Raptors trying to beat Big Baby Davis with crossover moves.
4. Mouhamed Sene, Seattle, No. 10
5. Oleksiy Pecherov, Minnesota, No. 19.
Five most talented receivers (in order) to play for the Patriots since I began paying attention in 1978:
1.Randy Moss (2007-10). 52 games, 50 touchdowns.
2. Terry Glenn (1996-2001). Made it look so easy when he was in the right frame of mind. Telling that when Troy Brown was asked last season which former teammate of his the '12 Patriots could use most, he cited No. 88.
3. Irving Fryar (1984-92).Watch out for those Foxborough trees.
4. Stanley Morgan (1977-89). 534 catches at 19.4 per
5. Wes Welker (2007-12). No, he wasn't a deep threat. But he somehow managed to be an upgrade on the great Troy Brown as a slot receiver, and that's a tribute to his talent as well as his oft-cited determination.

Phil Kessel has finally been chosen, the last devastating hit in the Pro Bowl has been delivered, and the Celtics have sent the Lakers whatever message one title contender can send another in late January. Sure, the Super Bowl is still to be played (go, Pack, go), but we suspect you won't mind if we round third base and symbolically head toward Ft. Myers already. Let's get it started with an all-baseball Random Lists of Five . . .
Five former Expos who will be in the Hall of Fame someday:
1. Tim Raines. If you don't get it now, you will, and by the time he's elected you'll wonder why you didn't recognize his greatness sooner..
2. Vladimir Guerrero. His lifetime .563 slugging percentage is 16th-best all-time.
3. Pedro Martinez. I think I miss watching him pitch even more than I miss watching Larry Bird pull up and drain a backbreaking three on a 2-on-1 break, or Cam Neely Zamboni-ing a couple of Canadiens defensemen en route to the net or . . .
4. Tom Brady. Well, I didn't say which Hall of Fame, suckers. The Patriots' quarterback was the final pick of the 18th round in the 1995 draft as a catcher out of high school. Eleven picks later, the Tigers selected a University of Washington outfielder who would later become one of Brady's best friends on the Patriots -- Lawyer Milloy.
5. Terry Francona. Perhaps you were waiting on hold too long with the Big O to notice, but he's building a hell of a case as a manager.
Five best teams in 2011:
1. Red Sox. Fewer concerns than any team in baseball, though I get a knot in the gut every time I hear Dustin Pedroia reference Yao Ming and Grant Hill when he talks about his creaky foot:
2. Phillies. Halladay-Lee-Oswalt-Hamels. We're putting the over/under at 68 wins.
3. Twins. Glad they brought back Jim Thome (1.039 OPS last year), even though he probably should be a topic on Stuff White People Like.
4. Yankees. Very tempting to slot Tampa Bay here.
5. Giants. Out of respect to the champs more than any belief that they can do it again. Curious to see how Matt Cain's lights-out postseason carries over to 2011.
Five worst teams in 2011:
1. Pirates. The run of losing seasons will reach 19, though at least Andrew McCutcheon will keep things interesting.
2. Mariners. Felix's next challenge: Win the Cy Young Award with fewer than a dozen wins.
3. Padres. The pitching should be decent in that ballpark, but how will they score with Gonzo gone?
4. Indians. You know, I'm starting think Travis Hafner's best years are behind him.
5. Nationals. There's hope, but Jayson Werth won't help it be fulfilled this year.
Five best prospects in baseball according to Baseball America in 1991:
1. Todd Van Poppel, RHP, Athletics. And to think, the Braves were widely scorned for choosing Chipper ahead of him.
2. Andujar Cedeno, SS, Astros. Hit .236 in seven big league seasons. Died in a car accident in October 2000.
3. Ryan Klesko, 1B, Braves. Most similar player is fellow '90s Braves slugger David Justice.
4. Jose Offerman, SS, Dodgers. Six spots ahead of Mo Vaughn, the player whose on-base percentage he was supposed to replace with the Red Sox according to Dan Duquette.
5. Roger Salkeld, RHP, Mariners. Talented righthander couldn't overcome injuries. Notably, No. 6 on the list is still pitching -- Arthur Rhodes. Yes, he's lefthanded.
Five best prospects in baseball according to Baseball America in 2001:
1. Josh Hamilton, OF, Devil Rays. He's a hell of a tale of redemption, but imagine the career he might have had without all of the self-inflicted detours.
2. Corey Patterson, OF, Cubs. Journeyman has 112 career homers, 205 steals, but just a .292 on-base percentage.
3. Josh Beckett, RHP, Marlins. His most similar pitcher from ages 27-30: Kevin Millwood.
4. Jon Rauch, RHP, White Sox.
5. Ben Sheets, RHP, Brewers. The top Red Sox on this list? Dernell Stenson at No. 77. Carl Crawford checks in five spots sooner.
Five 2003 Sox who hit at least 25 homers in 2003, not including Manny, who led the way with 37 and is still cool around here:
1. David Ortiz, 31. From April to June: four homers. From July through September: 27 homers.
2. Nomar Garciaparra, 28. Looking back, it doesn't really feel like he was part of that team, either, does it?
3. Trot Nixon, 28. Far and away the best year of his career -- and it was a great year. His .975 OPS was second among Sox to Manny.
4. Jason Varitek, 25. He had an adjusted OPS of 120. Two Sox regulars were below 100: Todd Walker (95) and, surprisingly, Johnny Damon (94).
5. Kevin Millar, 25. Greatly enjoyed interviewing him last week about Game 4 in 2004, and the MLB Network homage to the game was even better than I expected. Even Curtis Leskanic got his just due.
Five 1984 Seattle Mariners, not including Lee Guetterman:
1. Alvin Davis. The 1984 AL Rookie of the Year had classic old player skills -- he walked 97 times as a rookie to go with his 27 homers and career-high five stolen bases -- and was done by age 31.
2. Dave Henderson. If not for Schiraldi/Stanley/Gedman/Buckner/McNamara and all of that, there very well might be a statue of him on Van Ness Street.
3. Harold Reynolds. Made his debut that season with 63 at-bats and an adjusted OPS of 43. In his 12 full or partial seasons, he had an adjusted OPS over 100 exactly once.
4. Al Chambers. The No. 1 pick in the atrocious first round of the '79 draft had just 141 plate appearances in three partial seasons, hitting .208.
5. Matt Young. Forgot this or never knew it in the first place, but just read it in the Globe archives. When the Sox signed Young in December 1990 -- after he went 8-18 with the Mariners -- they were also in the hunt for Bob Welch, who was coming off a 27-win season in Oakland. Welch went back to the A's, which was probably the right choice. Young went 3-11 for the Sox before being released in March 1993. He was never the right choice.
Five players you may not remember playing for the 2004 Sox (and they may not, either):
1. Bobby Jones. Lefty who couldn't throw a strike if Joe West was in danger of missing a dinner reservation.
2. Frank Castillo. Pitched an inning over two appearances. Can you believe he made nearly $11 million in his career?
3. Jamie Brown. Gave up 15 hits over 7.2 innings in a span of a dozen days in May. Never threw another major league pitch after that month.
4. Phil Seibel. Lefthander got the requisite polite "Who is he again?" applause during the Opening Day 2005 ring ceremony.
5. Mark Malaska. Despite command issues, looked like a decent candidate to be a lefty specialist, but hasn't thrown a big league pitch since '04.
Five things a baseball nerdle discovers while poking around baseball-reference's play index without any regard for context:
1. Carl Crawford has the exact same career OPS (.781) and adjusted OPS (107) as Casey Blake.
2. Vernon Wells has the exact same career OPS (.804) and adjusted OPS (108) as Jose Vidro.
3. Dustin Pedroia has the same OPS (.830) and adjusted OPS (113) as Morgan Ensberg.
4. Kevin Youkilis has the same OPS (.891), adjusted OPS (128), slugging percentage (.497), and on-base percentage (.394) as Dale Alexander.
5. Jacoby Ellsbury has the same OPS (.749) and adjusted OPS (92) as Gabe Kapler and Adam Hyzdu.

Five players with a career adjusted OPS of exactly 155:
1 Joe DiMaggio
2. Hank Aaron
3. Mel Ott
4. Willie Mays
5. Manny Ramirez. Well, that's some good company, no?
Five members of the awful 1977 Mets who eventually became managers:
1. Joe Torre. Batted .363 in 1971, .173 in '77 before retiring 36 games into the season to take over as manager.
2. Bobby Valentine. Whenever a promising young player's career is derailed by injury, Bobby V is usually cited as a sad example.
3. Lee Mazzilli. The closest thing the Mets had to a star in the late '70s, which tells you how grim those times were.
4. Bud Harrelson. Averaged a home run roughly every 800 plate appearances in his 16-year career.
5. John Stearns. Never actually managed in the big leagues, though the former catcher has bounced around the minors forever and once was Valentine's bench coach. Should we instead include Lenny Randle, who once slugged a manager?
Five players with a career OPS of exactly .854:
1. Andre Ethier. I've always thought Pedroia's college pal would end up with the Red Sox someday, but I'm beginning to think Ryan Kalish might prevent that.
2. Paul Konerko. Most similar player from ages 29-33: Kent Hrbek.
3. Ken Phelps. For the record, Mr. Costanza, Jay Buhner's was .852.
4. Jack Clark. We remember him badly here, and we should, but he did finish in the top 10 in the MVP voting four times, and his '87 season (35 homers, 136 walks, 1.055 OPS) was spectacular.
5. Jim Rice. I'll admit it. The longer I've considered his career, the more I've realize it's those misty watercolor childhood memories that made me think he was a Hall of Famer. I'm glad he's in, but does he belong? That .789 road OPS in his career probably provides the answer.
Five best home run seasons by a Red Sox third baseman:
1. 30, Butch Hobson, 1977. Forget DiMaggio and his little hitting streak. This is the record that will never be broken. Viva la Butch!
2. 28, Adrian Beltre, 2010. He made a frustrating year fun.
3. 28, Butch Hobson, 1979. Kind of forget he had one more good power season after his career altering elbow injury.
4. 28, Rico Petrocelli, 1971. Rico PetrocelliHit 40 homers in '69, but played all but one of his 154 games at shortstop that season.
5. 24, Wade Boggs, 1987. Never hit more than eight in any other season with the Sox.
Five players chosen in the seventh round of the 1976 draft:
1. Ozzie Smith, Padres. I've heard he was a good fielder. Can anyone confirm?
2. Odie Davis, Cubs. A poor man's Nelson Norman, apparently. Career consists of one hit in eight at-bats with the '80 Rangers.
3. Willie McGee, White Sox. And six years later, Howard Cosell said he looked like ET during the World Series.
4. Johnnie Walker, Expos. Never played in majors, but was pals with George Thorogood, from what I recall.
5. Wade Boggs, Red Sox. Chosen five rounds after Boston selected another high school shortstop who would convert to third, Glenn Hoffman.
Five outfielders drafted in the first round of the 1997 draft:
1. J.D. Drew, second overall, Phillies.This might surprise: His career WAR (46.8, according to the B-R.com) is better than Lance Berkman's (46.3).
2. Vernon Wells, fifth overall, Blue Jays.
3. Tyrell Godwin, 25th overall, Yankees. Two-time first round pick had just three big league at-bats.
4. Darnell McDonald, 26th overall, Orioles. Here's hoping his second year with the Sox is as good as his first.
5. Mark Fischer, 35th overall, Red Sox. Never made it beyond Double A, batting .205 in parts of three seasons at Trenton. Just an awful draft overall of the Sox, who whiffed on their first four picks, including their other first rounder, lefty John Curtice. The best pick? A wee sunscreen-slathered University of Florida infielder chosen in the 19th round named David Eckstein.
Five other passive-aggressive opinions Brian Cashman has about Derek Jeter:
1. Lyla Garrity? Meh. Coach Taylor's daughter is the real catch.
2. Hmmm, Jetes, I'm not too up on these newfangled stats, but I've gotta assume UZR stands for Ur Zero Range, right? ZING! C'mon, you know I'm kidding, bro.
3. Smart play, I guess, but was I the only one who thought Giambi got his foot in there?
4. Hey, been meaning to ask: How's that cologne working out for you? Sales good? A-Rod swears by it.
5. Calm eyes? Says who? All I ever see in them is anger.
OK, so it's just Bill Lee climbing out of a bullpen cart back in '77. If you look closely, you might be able to see Fergie Jenkins curled up all fetal-like in the back of Lee's ride, sleeping off the remnants of the previous night at the Cask 'n' Flagon.
And with that nonsensical intro -- and back by absolutely no demand whatsoever- it's another round of Random Lists of Five:
The five best-pitched games of Bill Lee's career (the first four according to Game Score):
1. April 16, 1979. In his second start as an Expo, he threw a two-hit, two-walk complete game shutout of the Cubs at Wrigley. One of the hits belonged to a player Sox fans would later become more acquainted with: Bill Buckner.
2. May 20, 1975. Lee earns his fifth win of the season with another complete-game two-hit shutout, outpitching fellow lefty Vida Blue in a 7-0 win over Oakland, the team the Sox would meet and defeat in the ALCS that October. The most interesting note from this game was, in retrospect, the brief mashup of the generations: Jim Rice and Tony Conigliaro both homered for the Sox.
3. August 19, 1975. Lee earns his 16th victory with a four-hit shutout of the Royals. George Brett, Al Cowens, Frank White, and Hal McRae had the hits. No slouches there.
4. May 30, 1979.His fourth of five career shutouts, and his second with Montreal. Odd that two of his top four performances would come with the Expos, for whom he made 58 starts, compared to 167 with the Red Sox.
5. September 5, 2010. The veteran lefthander's masterful 5.1-inning, 2-run performance for the Brockton Rox Sunday. Yeah, this one. I mean, don't you have to include it? The man is 63 years old!
Five possibly decoded aliases from Dirk Hayhurst's hilarious, heart-wrenching, can't-recommend-it-enough book, "The Bullpen Gospels."
1. Frenchy.
2. Handsome Rob.
3. Jon Dalton
4. Blade
5. Trevor Hoffman
Five all-time leaders in adjusted ERA:
1. Mariano Rivera, 206. I wonder what would have happened to his career had he been a starter.
2. Pedro Martinez, 154. I miss his heyday.
3. Jim Devlin, 151. Pretty sure he was one of Old Hoss Radbourn's cronies.
4. Lefty Grove, 148.
5. Dan Quisenberry, Walter Johnson, and Hoyt Wilhelm, 147. Now that's a diverse trio of repertoires right there.
Five random 1975 St. Louis Cardinals:
1. Bob Gibson. Went 3-10 with a 5.04 ERA in his final season.
2. Mike Tyson. Not that one. This one.
3. Keith Hernandez. Without the mustache, or much pop (.671 OPS at age 21).
4. Bake McBride. His real name was. . . who cares? They called him Bake!
5. Danny Cater. Insert the obligatory Sparky Lyle mention right here.
Five receivers drafted after Terry Glenn (seventh overall to the Patriots) in the 1996 NFL Draft:
1. Marvin Harrison (19th overall, Colts)
2. Eric Moulds (24th overall, Bills)
3. Alex Van Dyke (second round, 31st overall, Jets). Missed on second receiver they chose in this draft -- Keyshawn Johnson was the No. 1 overall pick.
4. Muhsin Muhammad (second round, 41st overall, Panthers)
5. Terrell Owens (third round, 89th overall, 49ers). Went three picks after the Patriots took Tedy Bruschi. Legend has it that Bill Parcells wanted to take Tony Brackens or Cedric Jones in the first round, figuring he could grab a receiver in Rd. 2 or 3.
Five athletes I wish never left Boston:
1. Fred Lynn. His career OPS at Fenway -- 1.021. Only six players in history have a career OPS higher than that.
2. Curtis Martin. History will remember him as a Jet. Which, frankly, *$*#s.
3. Bobby Orr.
4. Dwight Evans. The Oriole orange looks so wrong, I'm glad this image is blurry.
5. Carlton Fisk
The five best episodes of "Mad Men," and of course I'm willing to debate this, because frankly, pretty much every episode feels like the best movie you've seen in years:
1. "Shut the Door, Have a Seat," Season 3. Supplanted the Season 2 finale of "The Office" as my favorite episode of any television show my beady eyes have ever seen.
2. "Guy Walks Into An Advertising Agency," Season 3. "And just when he was getting his foot in the door ..."
3. "The Suitcase," Season 4. -- I'd say this should be Jon Hamm's Emmy submission, but that would be to suggest he's not going to top himself again in what has been a breathtaking, brilliant season so far.
4. "Babylon," Season 1.The first episode where you start getting the sense where Peggy and Joan will be headed as the '60s become tumultuous.
5. "Smoke Gets In Your Eyes," Season 1: After the first season aired, to rave reviews but unspectacular viewership, AMC did a shrewd thing, rerunning every episode of Season 1 in succession I believe the day (or a few days) before the premiere of Season 2. On a whim, I DVR'd all of the episodes. After tricking my wife into marrying me, it's very possibly the smartest thing I've ever done, and I was hooked with the very first scene.
Five reasons I cannot believe Don Zimmer is being inducted into the Red Sox Hall of Fame:
1. He ran off the Buffalo Heads, most damagingly, Bernie Carbo and Fergie Jenkins
2. He never made the postseason. Yeah, yeah, tough division. Look at the talent from 1977-79. They underachieved because of the manager.
3. Playing Dewey down the stretch in '78 when he was still suffering the effects of a beaning.
4. Playing Butch Hobson when his elbow was so shot he had to adjust bone chips before throwing.
5. Turning Pedro into a matador and himself into a martyr in some circles during Game 3 in 2003.
Five rookies who played for the Red Sox this season despite not being ranked among their top 25 prospects by Baseball America:
1. Robert Manuel (unranked, third among righthanded relievers)
2. Fabio Castro (unranked, second among lefty relievers)
3. Daniel Nava (unranked, seventh among right fielders)
4. Dusty Brown (unranked, fourth among catchers)
5. Dustin Richardson (27th, first among lefthanded relievers)
The last five songs to pop up on the iPod while writing this:
1. "Crossfire," Brandon Flowers.
2. "Operator," Jim Croce. She's living in LA/With my best old ex-friend Ray/A guy she said she knew well and sometimes hated. C'mon, that's a timeless story in, what, 20 words?
3. "Yellow Ledbetter," Pearl Jam.
4. "Modern Love," David Bowie. Most '80s music holds up surprisingly well, you know.
5. "California Love," Tupac, Dr. Dre, Roger Troutman. Out on bail/fresh out of jail/California dreamin' . . . Tupac raps it, but I lived it, brother. (Who am I kidding. I'm so white you could count my capillaries.)
Five AL pitching leaders in WAR (Fangraphs version), or why Clay Buchholz (17th in WAR) had no chance at the Cy:
1. Francisco Liriano, 6.1.
2. Cliff Lee, 6.0
3. Felix Hernandez, 5.9
4. Jon Lester, 5.0
5. The Good Weaver Brother, 4.7
Five Players Selected Ahead of Darnell McDonald in the 1997 MLB Draft. (D-Mac was chosen 26th overall by the Orioles:)
1. J.D. Drew, OF, Phillies (second overall). Shhhh. Listen. You can almost hear Philly booing from here.
2. Vernon Wells, CF, Blue Jays (5th)
3. Lance Berkman, OF, Astros (16th)
4. Jon Curtice, LHP, Red Sox (17th). High school teammate of fellow '97 first-rounder Michael Cuddyer never made it out of Single A with the Sox. Reportedly an avid donutsman.
5. Jayson Werth, C, Orioles (22d). Has any athlete ever changed his look more? Rodman, I suppose. Birdman Andersen. Rene Richards does not count.
Five relatively prominent 2010 Red Sox who should not be back in 2011:
1. Mike Lowell. His effort is admirable, his production since Youkilis got hurt is abysmal.
2. Jason Varitek. After his amazing April (1.138) and May (.914), he faded fast in June (.570). Time to go with V-Mart and Salty.
3. Tim Wakefield. An appropriate ending? Five eaten innings of three-run ball, followed by walk-HBP-bomb to start the sixth. [Exeunt knucksie and his doffed cap. Fade to black.]
4. Hideki Okajima. It's been lights-out for the former hero in the dark.
5. Tim Bogar. OK, a cop-out -- what can I say, I like this team and want to see the core return. But with his twitchy wind-milling arm, he's sure made us appreciate DeMarlo Hale, hasn't he?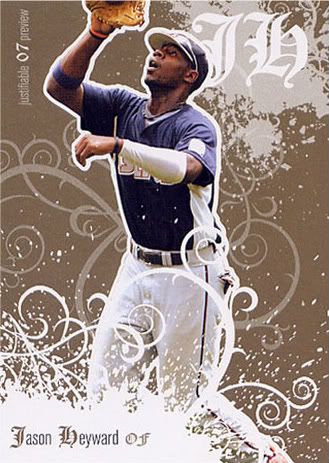 Covering the Olympics in Vancouver will always rate among the best times of my life, but you know me: I am so ready to write about baseball again. Let's ease back into it with an oversized spring training edition of Random Lists of Five . . .
Five best teams in 2010:
1. Yankees. Love the Javier Vazquez pickup, and not only because he'll remind us of October 2004 every time he takes the mound in pinstripes.
2. Phillies. Still don't get the supposed logic of the Cliff Lee deal.
3. Red Sox. They'll hit. Relax.
4. Rays. Ben Zobrist was fourth in the AL in adjusted OPS last season. No, that is not supposed to say "Evan Longoria."
5. Cardinals. Pujols and Holliday, Carpenter and Wainwright . . .
Five worst teams in 2010:
1. Padres. Adrian Gonzalez led the NL with 119 walks last season. He should have that many by the All-Star break with this putrid non-supporting cast.
2. Pirates. But Andrew McCutchen and Pedro Alvarez offer glimmers of hope.
3. Nationals. But Strasburg and Zimmerman is a fine place to start.
4. Indians. This is the year Travis Hafner stays healthy. Uh-huh.
5. Blue Jays. The MLB Network was touting Ricky Romero as the ace the other day. That's really all you need to know.
Five best prospects according to Baseball America in 2000:
1. Rick Ankiel, lhp, Cardinals. Most similar pitchers according to Baseball Reference include Clayton Kershaw and Rick Porcello, which tells you how good he was and how young he was.
2. Pat Burrell, 1b/of, Phillies. His similarities include Roger Maris, Danny Tartabull, Jesse Barfield, and Matt Stairs. An eclectic and yet appropriate group.
3. Corey Patterson, of, Cubs. His similarities include Mike Devereaux, Gerald "Ice" Williams, and Weak-Hittin' Mark Whiten.
4. Vernon Wells, of, Blue Jays. His similarities include Rondell White, Brian Jordan, and Carl Everett. He really isn't as good as you, me, and J.P. thought, is he?
5. Nick Johnson, 1b, Yankees. His similarities include Geronimo Berroa, Rico Brogna, and Willie Aikens. Also, he just broke his hamate bone in 42 places as I write this, but he's hoping to be ready for a rehab stint in Scranton sometime in 2013. Best of luck to him.
Five best prospects according to Baseball America in 1990:
1. Steve Avery, lhp, Braves. One of my all-time favorite pitchers (I was a Braves bandwagoneer in the early '90s) despite the lingering sense of What Might Have Been.
2. Ben McDonald, rhp, Orioles. The evolution of the phenom: McDonald, Prior, Strasburg.
3. John Olerud, 1b/lhp, Blue Jays. As far as I know, he's still sitting on the Sox bench wearing his trust all-purpose safety helmet and patiently waiting for Tito to give him some of Millar's at-bats.
4. Juan Gonzalez, of, Rangers. 434 homers, two AL MVP awards, and yet in a certain way, a waste of talent.
5. Sandy Alomar Jr., c, Indians. Still can't believe his career lasted longer than his brother's. More proof that the tools of ignorance are actually the tools to longevity.
Five best prospects according to Baseball America in 2005:
1. Joe Mauer, c, Twins. Scouts always said he'd hit for power. Last year, he finally did. The question now is what is his ceiling?
2. Felix Hernandez, rhp, Mariners. In the argument as baseball's premier pitcher.
3. Delmon Young, of, Devil Rays. Had nine homers and an .825 OPS in the second half last year, and he is just 24.
4. Ian Stewart, 3b, Rockies. 25 homers last year while taking over for the ghost of Garrett Atkins.
5. Joel Guzman, ss, Dodgers. A 6-foot-5-inch, 245-pound El Busto. Split last year between Double A and Triple A in the Nats system.
Five rookies who will make a major impact in 2010:
1. Jason Heyward, OF, Braves. Bobby Cox supposedly kept him in camp for an extended stay last year just because he liked watching him play so much. This year, he'll get a much more prolonged look; the Dave Winfield clone is winning admirers and is going to stick at age 20.
2. Carlos Santana, C, Indians. Kudos to Cleveland for developing the next Victor Martinez so soon after dealing the original. I like Lou Marson too, but he won't hold off Santana for long. To think they got him for Casey Blake.
3. Neftali Feliz, RHP, Rangers. I hope the Rangers start him, just to see how that 0.67 relief WHIP translates. But here's a reasonable argument for caution.
4. Steven Strasburg, RHP, Expos. Frankly, it doesn't matter if he throws a big-league pitch in 2010. His mere presence gives the Nats legitimacy for the first time since they abandoned Montreal.
5. Brian Matusz, LHP, Orioles. In eight starts, he averaged 7.7 strikeouts per nine innings last season.
Five prospects in the 2010 Baseball America Prospects Handbook who deserve to make it on their names alone:
1. Stolmy Pimentel, RHP, Red Sox.
2. Graham Stoneburner, RHP, Yankees.
3. Al Alburquerque, RHP, Rockies. Gotta be Bugs Bunny's favorite pitcher.
4. Maverick Lasker, RHP, Brewers. We're just going to go ahead and assume his parents were huge "Top Gun" fans.
5. Antonio Bastardo, LHP, Phillies. He is one magnificent . . .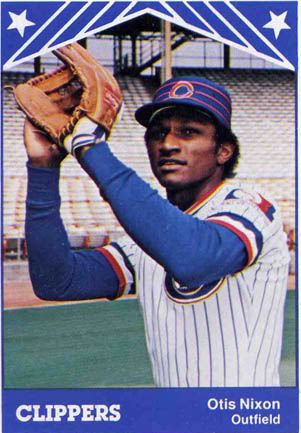 Five 1983 Columbus Clippers (not including Rex Hudler):
1. Steve "Bye-Bye" Balboni. His age 28 comp? Sam Horn. Yup, seems about right.
2. Butch Hobson. Speaking of Sam Horn, the Sons of has a thread going on the Best Third Base Season in Sox history. Forget Boggs, Rico, and Malzone. Gimme Clell '77.
3. Otis Nixon. My man stole 94 bases for this team.
4. Rowland Office. No truth to the urban legend that he was brought in to make Otis feel better about himself.
5. Don Mattingly. A Hall of Fame lock from 1984-87. A high-priced Pete O'Brien at the end.
Five players poised to make the leap to stardom:
1. Jay Bruce, RF, Reds. I suppose this makes me a hypocrite, since, like Granderson, he can't touch lefties. Then again, he's six years younger than Granderson, so there's still time to learn for one of them.
2. Tommy Hanson, RHP, Braves. His sling-it delivery makes one wonder if he's a visit to Dr. James Andrews waiting to happen, but man, he's going to be fun while he lasts.
3. Matt Wieters, C, Orioles. A .765 OPS in the second half, an .839 OPS the last month. The only AL catchers I'd rather have in fantasy leagues are Mauer and VMart.
4. Clayton Kershaw, LHP, Dodgers. A 2.79 ERA, 1.22 WHIP, and 9.7 K/9 rate at age 21.
5. Adam Jones, CF, Orioles. He even looks like Eric Davis.
Five best defensive center fielders I've seen play for the Sox, in order:
1. Fred Lynn. For a guy who supposedly wasn't tough, he sure ran into a lot of walls.
2. Darren Lewis. Bernie Williams stole his Gold Glove in '98.
3. Ellis Burks. Got combat pay for playing alongside kamikaze Greenwell.
4. Otis Nixon. If only for one year, 1994.
5. Coco Crisp. I've never seen a CF have as spectacular a season as he did in 2007.
The top five players in NL Rookie of the Year voting in 1986, Jamie Moyer's rookie season:
1. Todd Worrell. Retired after 1997 season.
2. Robby Thompson. Retired after 1996 season.
3. Kevin Mitchell Retired after the 1998 season.
4. Charlie Kerfeld. Retired after the 1990 season.
5. Will Clark. The Thrill was gone after the 2000 season.
(Moyer did not receive a vote. Barry Bonds was sixth, and Barry Larkin tied for seventh.)
Five players who will disappoint in 2010:
1. Curtis Granderson, Yankees: He's a platoon player with a .270 career OBP against lefties. I'm curious if the Yankees realize this.
2. Brad Lidge, Phillies. How many wins will he blow for Halladay and Hamels before June? I cannot believe he's set to enter this season as the closer.
3. Josh Hamilton, Rangers. The injuries are getting an early start this season.
4. Jake Peavy, White Sox. I know he pitched relatively well after coming over from the Padres. But he's going to miss that ballpark and that league eventually.
5. Grady Sizemore, Indians. Averages the last four years -- .290, .277, .268, .248.
Five players who are D-U-N:
1. Garrett Atkins, Orioles. Slugged -- and we use that term loosely -- .342 last season.
2. Jason Varitek, Red Sox. Tito is going to play him about twice more per week than he should, isn't he? Dammit all.
3. Edgar Renteria, Giants.
4. Jermaine Dye, free agent. He hit .179 after the break last season.
5. Garret Anderson, Dodgers. He's Troy O'Leary circa 2003.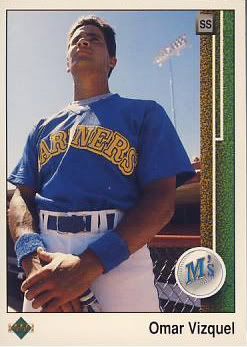 Five active players who debuted in the '80s:
1. Ken Griffey Jr. I'm not officially old until he retires. So there.
2. Omar Vizquel.
3. Jamie Moyer. How long has he been around? When he made his MLB debut, I was 17. And I don't even remember being 17.
4. Gary Sheffield. A slight cop-out since he's currently unemployed . . .
5. John Smoltz. . . . as is Smoltzie. But they'll both find work, right?
Five players who really should start getting old any day now:
1. Derek Jeter, Yankees. At age 35, he tied his highest adjusted OPS (132) since 1999. It can't happen again.
2. Jorge Posada, Yankees. At age 37, he had his second-highest slugging percentage (.522) since 2000. It can't happen again.
3. Andy Pettitte, Yankees. At age 37, he had his lowest H/9 (8.9) and WHIP (1.382) since 2004. It can't happen again.
4. Chan Ho Park, Yankees. At age 36, he struck out 52 with a 1.18 WHIP in 50 relief innings. It can't happen again.
5. Mariano Rivera, Yankees. At age 39, he had an ERA below 2.00 for the ninth time in his career. And it will happen again, because we've come to the indisputable conclusion that he is not a mortal, but a machine created by an evil Steinbrenner toady -- possibly a young Randy Levine -- in a back room of a Cleveland shipyard in 1969. And if you think that's foolish, well, give me a better explanation for his never-ending one-pitch dominance. I'm waiting.
Five players drafted but unsigned by the Red Sox during the Theo Era:
1. Jason Castro, C, 45th round, 2005. He should be the Astros' starting catcher this season.
2. Beau Mills, 1B, 44th round, 2004. Son of Millsy has much more power than his old man did.
3. Pedro Alvarez, 1B, 14th round, 2005. The future of the Pirates. (Yes, they have a future.)
4. Matt LaPorta, 1B, 14th round, 2006. Battling Son of Millsy to be rated the top future DH in the Indians' system.
5. Mike Yastrzemski, OF, 36th round, 2009.
Five baseball Twitter feeds (players/managers division):
1. Mark Teahen.
2. Jason Heyward. A phenom worth following.
3. Ozzie Guillen. I give him until June until Selig makes him stop Tweeting. Make it May. A sample: Today is the birthday of one of my favorite people ever frank you are the best happy birthday my great friend and is not thomas.
4. Collin Balester. I was pretty much unaware of the young Nats pitcher until I started following his quirky tweets. Now the avid mustache farmer is pretty easy to root for.
5. C.J. Wilson. Rangers lefty is easily the best and brightest among ballplaying tweeters.
Five probable future Hall of Famers, though some may not realize it now:
1. Chipper Jones. Larry Jr. is a lock.
2. Omar Vizquel. In 1993, the Mariners traded him to Cleveland for Felix Fermin, Reggie Jefferson, and cash. Hopefully, they at least got something useful with the cash.
3. Jim Thome. 564 home runs, and his .964 OPS is 20th-best all time.
4. Trevor Hoffman. The all-time saves leader and incredibly consistent.
5. Jorge Posada. Don't laugh, Mr. Burnett. Five championships for the high profile team, 243 home runs and counting, five Silver Sluggers, and two top-six MVP finishes. Still skeptical? Here's a pretty compelling case.
Time to catch up on some extremely random lists of five:
Five best defensive center fielders to play for the Red Sox in my lifetime:
1. Coco Crisp: Yes, sometimes he took curious routes, but I've never seen a outfielder so consistently spectacular as Crisp in '07.
2. Fred Lynn: Fragile but fearless. Even his home run trot was graceful.
3. Damon Buford: And unlike most recent Sox center fielders, he could throw.
4. Darren Lewis: Jimy's pet. Got robbed of a Gold Glove by Bernie Williams, a lesser defender.
5. Jacoby Ellsbury: Worry he's going to bust his wrist on one of his diving catches.
Five players linked to steroids who would get my hypothetical Hall of Fame vote:
1. Roger Clemens
2. Barry Bonds
3. Mike Piazza
4. Alex Rodriguez
5. Manny. Sigh.
Hat tip: Jon Heyman.
Five Red Sox pitchers who had at least some major league success without a major league fastball:
1. Mike Boddicker. Won 39 games in two-plus seasons with the Sox.
2. Dana Kiecker. Won eight games for '90 AL East champs, including a huge one in late August. Still not sure how he did it.
3. Kevin Morton.
4. Paul Byrd.
5. Tim Wakefield. Yep, a total cop out. I know you guys can come up with 10 more, at least.
Five enjoyable Twitter feeds, non-Globe division:
1. Steve Rushin
2. Pete Carroll. He Tweeted from the Sox-Angels game last week. Rooting for the Angels, of course.
3. Shaq. Impossible not to like him after reading his Tweets.
4. Heyman. Lots of opinionated baseball updates.
5. Ahem. C'mon. It crushes my soul that I have fewer followers than the SportsGal.
Five of the 10 most similar hitters to David Ortiz in baseball history according to baseballreference.com:
1. Richie Sexson. Uh-oh.
2. Danny Tartabull. Yikes
3. Mo Vaughn. I don't like this list.
4. Cecil Fielder. I really don't like this list.
5. Ryan Klesko. What, no Kent Hrbek?
Five of the 10 most similar hitters to Terry Francona in baseball history according to baseballreference.com:
1. Thad Bosley. Lots of good names on this list. Not a lot of production.
2. Carlos Quintana. Probably the only first baseman in Sox history whose approach was to hit a single to right field.
3. Dane Iorg. He was no Garth Iorg.
4. Broderick Perkins. A Strat-O-Matic favorite after hitting .370 in 1980.
5. Hosken Powell. He was no Bombo Rivera.
Five upcoming free agents I'd like to see sign with the Celtics (one major pipe dream included):
1. Ron Artest. Yep, he's certifiable. He'd also be an awesome sixth man.
2. Chris Anderson. The Birdman would be a perfect fit.
3. Antonio McDyess. Shoulda come here when Denver let him go.
4. Matt Barnes. Toughness off the bench.
5. Shelden Williams. On the off chance his career is salvageable. Hey, there's not much to choose from. Danny Ainge has his work cut out for him.
Five who pitched for the 1999 Red Sox. Or, thanks, Duquette, for never surrounding Pedro with legitimate talent:
1. Kirk Bullinger
2. Tim Harikkala
3. Bob Wolcott
4. The loathsome Mark Portugal
5. Marino Santana. By the way, did I mention Mark Portugal was loathsome? It's true.
Five Red Sox' No. 1 prospects according to Baseball America, 1998-02:
1. Brian Rose, 1998: 15 wins, 23 losses, 5.86 ERA in parts of five MLB seasons.
2. Dernell Stenson, 1999: Met a brutal, tragic demise just as it seemed he was breaking through with the Reds.
3. Steve Lomasney, 2000: Got both of his big league at-bats with the '99 Sox.
4. Stenson, 2001.
5. Seung Song, 2002: Never pitched in majors, but did appear in three Futures Games.
What say we fire off a few Random Lists of Five to close out the week . . .
Five players on my Hall of Fame ballot (you know, if I had one):
1. Rickey Henderson. Because my name isn't Corky.
2. Alan Trammell. A travesty that he doesn't get more consideration. His career adjusted OPS is 10 points lower than Cooperstown lock Derek Jeter's, and Trammell's four Gold Gloves are legitimate.
3. Bert Blyleven. All right, I'm convinced. The numbers don't lie.
4. Tim Raines. The second-best leadoff hitter of his era, I'd love to see him inducted the same year as friend and fellow ex-Expo Andre Dawson, who would be No. 6 on this list.
5. Jim Rice. For sentimental reasons more than an actual belief that he deserves it. I don't think he will make it, and the margin of exclusion will be heartbreakingly narrow.
Five players I hope aren't back with the Patriots next season:
1. Deltha O'Neal. The modern day Elvis Patterson. I should just list him five times.
2. Matt Cassel: It was a joy watching the kid this year, but if he's gone, it probably means two things: Tom Brady is healthy, and the Patriots own a couple more quality draft picks.
3. Ben Watson. The ultimate tease. Tell me, what exactly does he do well, other than make hustling tackles on long interception returns?
4. Larry Izzo. Seemed invisible this year, and has no value at linebacker.
5. Tedy Bruschi. It's cold to say it, and it will be sad to see the admirable final link to the '96 Super Bowl team go, but it's time . . . and it has been for a while.
Five major decisions Bill Belichick has been correct about in the face of conventional wisdom:
1. Brady over Bledsoe.
2. Richard Seymour over Koren Robinson/David Terrell in the 2001 draft
3. Drafting Stephen Gostkowski after letting Adam Vinatieri leave as a free agent.
4. Believing in Randy Moss.
5. Giving Matt Cassel his chance rather than adding someone from the Simms/Culpepper/Rattay junk pile.
Five semi-recent Patriots draft-day decisions I'd change if I had a time machine and the inclination to revise NFL history:
1. Pass up tight end Daniel Graham with the 21st pick in 2002; take safety Ed Reed instead. (He went 24th to the Ravens.)
2. Pass up tight end Ben Watson with the 32d pick in 2004; take safety Bob Sanders instead. (He went 44th to the Colts.)
3. Pass up defensive end Marquise Hill with the 63d pick in 2004; take tight end Chris Cooley instead. (He went 81st to the Redskins.)
4. Pass up wide receiver Chad Jackson with the 36th pick in the 2006 draft; take wide receiver Greg Jennings instead. (He went 52d to Green Bay.)
5. Pass up tight end David Thomas with the 86th pick in the 2006 draft; take cornerback Cortland Finnegan instead. (He went 215th to Tennessee.)
Five members of the 1987 Glens Falls Tigers
1. Doug Strange
2. Chris Hoiles
3. Kevin Ritz
4. Steve Phillips (Yes, that Steve Phillips. The ESPN numbskull.)
5. John Smoltz
Five players I'd rather the Celtics picked up than noted carcinogen Stephon Marbury:
1. Joe Smith
2. P.J. Brown. He's said he's retired, but you know Pierce, Allen and KG are still in his ear.
3. Candace Parker
4. Terry Duerod
5. Conner Henry
Five ESPN personalities I don't loathe:
1. Karl Ravech. It's good comedy to watch the pained expressions on his face when John Kruk or Steve Phillips says something particularly stupid.
2. Scott Van Pelt. Seems like a genuinely good dude who likes sports.
3. Gammo. In fact, most of their baseball analysts are insightful and/or entertaining, including Stark, Olney, and Keith Law.
4. Keyshawn Johnson. Always thought he'd end up a Patriot at some point.
5. Can't really come up with a fifth off the top of my head, but I'll take suggestions. [Edit: How'd I forget Jaws? He's the best.]
FULL ENTRY
A Troy Brown tribute edition of Random Lists of Five . . .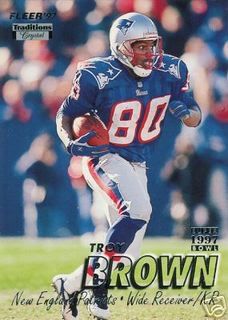 Top five most clutch Patriots of all time:
1. Adam Vinatieri. There are three last-minute, game-winning field goals in Super Bowl history. He's hit two of 'em. Next question.
2. Brown.
3. Tom Brady. Obviously tempting to put him higher, but he gets a demerit here for losing a playoff game to Jake Plummer.
4. Kevin Faulk. Somehow, he cured his fumbleitis and became amazingly dependable in big situations.
5. J.R. Redmond. An unsung hero of the Snow Bowl and the first Super Bowl, and a lost cause the rest of his brief career.
Top five NFL players out of Marshall:
1. Randy Moss.
2. Brown. But to Moss's credit, he always refers to himself as the second-best receiver ever to come out of the school. Classy.
3. Chad Pennington. Imagine if he had a fastball.
4. Ahmad Bradshaw. Part of the Giants' stellar '07 draft, he was a steal with the 250th overall pick.
5. Jermaine Wiggins. Gotta go with the East Boston kid over underachieving QB Byron Leftwich.
Top five most memorable plays of Brown's career, all of which you surely can still picture in your mind's eye:
1. The blocked kick/lateral to Antwan Harris against Pittsburgh.
2. The 23-yard catch that set up Adam Vinatieri's winning field goal against the Rams.
3. Stripping the football from the Chargers' Marlon McCree after an interception.
4. The 82-yard TD in overtime to beat the Dolphins.
5. Catching a pass from Drew Bledsoe -- as a defensive back.
FULL ENTRY
Cranking out a few Random Lists of Five while wondering if Dale Arnold got play-by-play tips from Glenn Geffner . . .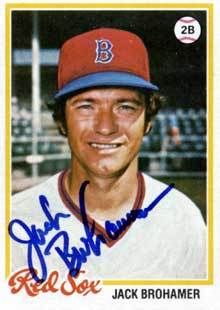 Five quality pitchers on the not-so-quality 1982 Cleveland Indians:
1. Bert Blyleven (3,701 career strikeouts)
2. Rick Sutcliffe (1984 NL Cy Young winner)
3. John Denny (1983 NL Cy Young winner)
4. Ed Whitson (126 career wins and an epic beatdown of Billy Martin)
5. Rick Waits (Welcome at all 1978 Red Sox reunions)
Five members of the "offensive juggernaut" 1978 Red Sox who had an OPS+ below 100:
1. Rick Burleson (70 OPS+, .295 OBP . . . just horrendous. And he led off.)
2. Jerry Remy (81 OPS+, .321 OBP . . . how did Rice knock in 139 runs with these two out-makers supposedly setting the table?)
3. George Scott (83 OPS+, 12 homers, .305 OBP . . . this is the end, my friend.)
4. Butch Hobson (92 OPS+ . . . he was hurt, okay? Geez, back off already. We don't diss Clell around here.)
5. Jack Brohamer (65 OPS+ . . . not a regular, but he did get 244 mostly worthless at-bats.)
Five conclusions drawn from the first half of the baseball season:
1. Erik Bedard doesn't really give a bleep.
2. If Lance Berkman isn't the game's most underrated great hitter, then Chipper Jones is.
3. Hank Steinbrenner is a joint gift from the the comedy and baseball gods.
4. Josh Hamilton has as much pure talent as any player I have ever seen, with the possible exception of Junior Griffey.
5. It's just not as much fun without Papi.
FULL ENTRY
While we wait for Suzyn Waldman to reveal that she, too, had an illicit, repulsive affair with Roger Clemens, how about we crank out a few Random Lists of Five . . .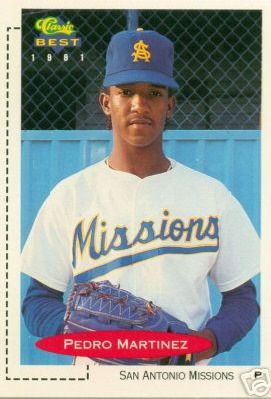 Five best ERA+ seasons in baseball history:
1. Tim Keefe, 1880, 294 ERA+. I have no freakin' idea who Tim Keefe is, but I assume he probably played with Mike Timlin at some point.
2. Pedro Martinez, 2000, 291 ERA+. Pedro also has the ninth-, 18th-, 27th-, and 32d-best seasons. Sandy Koufax's best season, 1966, ranks 56th all-time in ERA+. There's something to be said for dominating during the steroid era.
3. Dutch Leonard, 1914, 279 ERA+
4. Greg Maddux, 1994, 271 ERA+
5. Greg Maddux, 1995, 262 ERA+
Five early surprises this baseball season:
1. Philip Hughes's injury/incompetence. I thought this kid would emerge as the No. 2 starter the Yankees need. Instead, he's giving Yankees fans Sam Militello flashbacks.
2. That Miguel Tejada can still play. He looked cooked last year, and that he skipped age 32 entirely didn't bode well for a comeback.
3. That the Arizona Diamondbacks are this good. Webb, Haren, Owings, Johnson, Scherzer. That could be a championship rotation.
4. Papi's struggles. But he's coming around. (Crossing fingers.)
5. Nate McLouth. Um . . . who?
Five 1985 Tidewater Tides, who were notorious for trashing the hotel next to my family's summer house every damn time they visited Old Orchard Beach, Me.:
1. Kevin Mitchell. He terrified me.
2. Billy Beane. Mitchell probably terrified him, too.
3. Lenny Dykstra. Too dumb to be terrified.
4. Randy Myers. Too busy carving up the latest woodchuck he trapped to be terrified.
5. Calvin Schiraldi. You could see the terror in his eyes.
. . . and five more:
1. LaSchelle Tarver. Got a cameo with the Sox in '86, and came to Jim Rice's aid armed with a Louisville Slugger during an incident at Yankee Stadium that season.
2. John Gibbons. Soon to be the Toronto Blue Jays' former manager.
3. Rick Lancellotti. Minor league slugger from the mean streets of Concord, N.H.
4. Wes Gardner. Straightest fastball ever, though John Wasdin might dispute that.
5. Rodney "Buckethead" Craig, TATB Ombudsman.
Five songs my ears are always happy to hear:
1. "California Stars," Billy Bragg and Wilco. I think it's been on the last seven or eight CDs I've burned.
2. "You Could Be Mine," Guns 'N' Roses.
3. "Please Forgive Me," David Gray. "White Ladder" is probably my favorite album of all time, for sentimental reasons mostly.
4. "Friends in Low Places," Garth Brooks. Reminds me of my favorite bar in college, $1.50 pitchers of Schaefer on Thursday nights . . . and some Friday mornings full of regret.
5. "No Woman, No Cry," Bob Marley. His charisma was hypnotizing.
Five "True Yankees" of the new millennium:
1. Kevin Brown
2. Javier Vazquez
3. Kyle Farnsworth
4. Karim Garcia
5. Randy Johnson
Five players selected immediately after Chicago high schooler Kevin Garnett in the 1995 NBA draft:
1. Bryant "Big Country" Reeves, C, Vancouver. He's gotta weigh four bills these days.
2. Damon Stoudamire, PG, Toronto. One thing Isiah Thomas got right.
3. Shawn Respert, SG, Portland. He's long since out of the league, but his unsung former Michigan State backcourt partner, Eric Snow, has carved out a decent career.
4. Ed O'Bannon, F, New Jersey. Didn't pan out due to bad knees and mess of a shot.
5. Kurt Thomas, F/C Miami. A pro's pro.
Five favorite venues I've seen a sporting event:
1. Fenway. Of course.
2. Wrigley Field. For a day, it was fun to part of Lee Elia's 15 percent.
3. The old Garden.
4. Montreal Forum. The only time I went was for Patrick Roy's infamous final game. What a scene.
5. Alfond Arena, Orono, Me. The place where I realized how much fun hockey could be live.
Five players in the starting lineup during Tim Wakefield's Red Sox debut, May 27, 1995:
1. Mike MacFarlane. At least he wasn't Dave Valle.
2. Troy O'Leary. Leading off, no less.
3. Luis Alicea.
4. Reggie Jefferson.
5. Karl "Tuffy" Rhodes. Found his niche in Japan.
Five players most similar to Derek Jeter, according to baseballreference.com:
1. Barry Larkin. The perfect comparison, and in my mind a Hall of Famer.
2. Alan Trammell. Should be in Cooperstown. Didn't get close, and neither did Whitaker.
3. Ray Durham. Doesn't seem to fit, does he?
4. Ryne Sandberg. But how was his fist pump?
5. Arky Vaughn. No relation to Mo.
Five favorite Topps baseball card sets:
1. 1987. Yup, with the weird wood paneling. And thanks to mass overproduction, they're about as valuable as my socks. You can probably still get packs of them at Grand City.
2. 1978. Many of my first memories as a baseball fan relate to these cards.
3. 1956. Someday, I'll get that sweet Clemente I always wanted. And a Jackie Robinson, too.
4. 1975. Color combinations only a 5-year-old could love.
5. 1985. Because that Oddibe McDowell Olympic card was going to pay for my college education, I just knew it.
Five Red Sox I really hated, and no, "hate" is not too strong a word, and yes, they all played for the reprehensible 2001 team:
1. Mike Lansing. No redeeming qualities whatsoever.
2. Carl Everett. Not the good kind of crazy.
3. Dante Bichette. Not a slugger. A slug.
4. Shea Hillenbrand. Stupid is as stupid does.
5. Ugueth Urbina. You know it's a rotten team when the guy who slashed people with machetes and tried to light them on fire might not be the most despicable person on the roster.
Five players drafted ahead of Indiana State junior-eligible forward Larry Bird in the 1978 NBA draft:
1. Mychal Thompson, F/C, Portland. Probably the only University of Minnesota player who talked more than McHale.
2. Phil Ford, G, Kansas City. Those Ford-Birdsong-Wedman KC teams were great fun, but an eye injury and booze abbreviated Ford's career.
3. Rick Robey, C, Indiana. Dealt to Phoenix for DJ. That worked out okay.
4. Micheal Ray Richardson, G, NY Knicks. He had Magic's skill set, but snorted it all away.
5. Purvis Short, F, Golden State.
Five Celtics I'm $*% at right now:
1. Doc Rivers. At this point, the clipboard is merely a prop.
2. Kevin Garnett. Maybe the big-game reputation isn't so unjust after all.
3. Paul Pierce. This is starting to feel a lot like the infamous Indiana series.
4. Rajon Rondo. Any point guard worth his crossover must get a better shot with 7.4 seconds remaining to play and the game up for grabs.
5. Sam Cassell. Pass. Please. Just once. Cripes.
About Touching All The Bases
| | |
| --- | --- |
| | Irreverence and insight from Chad Finn, a Globe/Boston.com sports writer and media columnist. A winner of several national and regional writing awards, he is the founder and sole contributor to the TATB blog, which launched in December 2004. Yes, he realizes how lucky he is. |
Tweets by @GlobeChadFinn
browse this blog
by category
The best of Touching All The Bases