Posted by Chad Finn, Globe Staff
June 30, 2008 01:41 AM
5. I'm keeping the faith that Official TATB Hoops Binky James Posey will be back with the Celtics next season - his agent did say it is the new Big Game James's preference to stay - but I can't help but think that someone like Mark Cuban was watching the NBA Finals, saw Posey's consistently tough and clutch performances, and thought, "He's exactly what my soft team needs. JEEVES, GET ME THIS POSEY! NOW!" My point: Posey is going to have a lot of suitors when he hits free agency Tuesday. Here's hoping he believes Boston is the place to be, even if that means a little less money.
6. I hold out less hope that Eddie House will be back - I get the sense Danny Ainge thinks he can upgrade - and that's too bad. The guy deserves a steady NBA home, and there's always a place on my team for a fearless shooter who also happens to be a selfless teammate.
7. I'll admit my affinity was probably based more on familiarity than anything, but I wanted the Celtics to take quirky Memphis scorer Chris Douglas-Roberts with their first round pick. I understand why they didn't, though - it sounds like he's so inept/indifferent defensively that he might as well change his last name to Radmanovic-Vujacic.
8. I'm reluctant to criticize any decision of Ainge's at this point - yep, he's just about earned the Belichick treatment - but when I heard the name J.R. Giddens, I immediately thought of Michael Young, the Celtics' No. 1 pick in 1984-'85 who didn't even make the team. I'm encouraged by the pick after hearing Ainge articulate why he likes him - he sounds like Tony Allen with better court sense - but I'm still more intrigued by second-round pickup Bill Walker, the injury-prone but ridiculously athletic former running mate of Michael Beasley's at Kansas State. If he can stay on the court, he will be a steal.
9. Before the Red Sox go trading Michael Bowden or any of their other coveted prospects in exchange for supposed bullpen help, I hope they consider this option first: move Justin Masterson to the back end of the bullpen, and slide Clay Buchholz, who seems to have found his fastball command at Pawtucket, into his current spot in the rotation. It's the least costly option, and it might be the most effective.
10. As for today's Completely Random Baseball Card: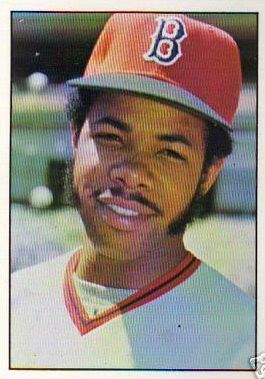 While reading Amalie Benjamin's story this week in which former Sox first baseman and current Astros manager Cecil Cooper reminisced about his playing days in Boston, I was reminded of the staggering amount of offensive talent that came from the Sox farm system in the early- and mid-'70s. Check out these names, all of whom arrived in Boston from '72 to '75: Cooper, Fisk, Dwight Evans, Juan Beniquez, Ben Oglivie, Jim Rice, Fred Lynn, and Rick Burleson. Now that's what you call a player development machine.
About Touching All The Bases
| | |
| --- | --- |
| | Irreverence and insight from Chad Finn, a Globe/Boston.com sports writer and media columnist. A winner of several national and regional writing awards, he is the founder and sole contributor to the TATB blog, which launched in December 2004. Yes, he realizes how lucky he is. |
Tweets by @GlobeChadFinn
browse this blog
by category
The best of Touching All The Bases