John F. Kennedy Jr., heir to Camelot
By Larry McShane, Associated Press, 07/17/99
NEW YORK - The nation first met him as the playful boy in the Oval Office, the brave little soldier at his father's funeral. It watched as he evolved into ''The Hunk,'' a charismatic magazine publisher and heir to Camelot, keeper of the family flame.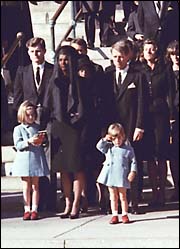 Three-year-old John F. Kennedy Jr., salutes his father's casket in Washington three days after the president was assassinated in Dallas in this Nov. 25, 1963 file photo. Widow Jacqueline Kennedy, center, and daughter Caroline Kennedy are accompanied by the late president's brothers Sen. Edward Kennedy, left, and Attorney General Robert Kennedy. (AP Photo/File)
John F. Kennedy Jr., 38, grew up in the public eye, from his sad salute at his father's 1963 funeral until his plane disappeared Friday night on the way to a family gathering in Massachusetts. For many, he has embodied the ''Kennedy mystique'' - young, good-looking, seemingly invulnerable.
JFK Jr., as he became known, has been a reluctant icon. He eschewed a political career for publishing, and avoided the troubles that plagued many of his cousins. His wildest act, at least publicly, may have been getting a small shamrock tattoo.
His appeal transcended generations. His father was voted into the White House by the generation that fought World War II. He was born while that generation raised it's children and for them he would always be that little boy, in a blue coat and shorts, saluting his father's casket on his third birthday.
John F. Kennedy Jr. walks with his mother Jacqueline Kennedy Onassis at his 1983 graduation from Brown University. (AP File Photo)
To another generation, he was ''the sexiest man alive'' - a title bestowed on him by People magazine. New York's gossip pages simply dubbed him ''The Hunk.''
The 6-foot-1, 190-pound Kennedy dated Daryl Hannah and Madonna, becoming an unwilling fixture on the gossip pages. He preferred staying out of the spotlight, living a ''normal'' life, hanging out with family and friends.
Given his lineage, that was often impossible.
''John, although he didn't wish it himself, was born a star,'' said a biographer, Wendy Leigh, whose book was titled ''Prince Charming.'' Almost from birth, Kennedy was famous mostly for being famous.
Leigh called JFK Jr. the one member of his family who remained untarnished by scandal. It was an overstatement, but it summed up the way he was viewed by the world.
''It's hard for me to talk about a legacy or a mystique,'' Kennedy said in 1993. ''It's my family. The fact that there have been difficulties and hardships, or obstacles, makes us closer.''
He was born on Nov. 25, 1960, within weeks of his father's election as the 35th president. The only child ever born to a president-elect, the boy soon became known to the nation as ''John-John'' - a name erroneously bestowed on him by a reporter who misheard a conversation.
Early in life, he was exposed to the tragedies that seemed to endlessly beset his family. A brother, Patrick, was born on Aug. 7, 1963, but died two days later.
On Nov. 22, 1963, his father and namesake was killed in Dallas. The most poignant moment of the Washington funeral came when the little boy, too young to fully understand the tragedy, stood saluting his father's passing casket outside St. Matthew's Cathedral.
After his father's murder, his mother Jacqueline moved the family to Manhattan, where she raised John and older sister Caroline even after her marriage to Greek shipping magnate Aristotle Onassis.
Unlike other family members, Kennedy never entered politics, although he was constantly questioned about a future in the political arena and often mentioned as a candidate for Congress.
A seat was his virtually for the asking when Rep. Ted Weiss died in 1992. Weiss represented the strongly Democratic and strongly liberal districts on Manhattan's West Side. Kennedy declined to run for the seat.
And unlike his cousins, he avoided problems with drugs, alcohol and the law.
Kennedy showed some talent as an actor, performing in several college plays, even making his professional debut at the Irish Arts Center playing an Irish teen engaged to his pregnant girlfriend. But hopes of an acting career disappeared when his mother turned thumbs down.
Kennedy graduated from Brown University in 1983, turning his attention to a variety of pursuits: searching for a sunken pirate ship off Cape Cod, visiting India for six months, raising funds for the Democratic Party.
In 1988, he introduced his uncle, U.S. Sen. Edward M. Kennedy, at the Democratic Convention - and received a two-minute standing ovation. A year later, he graduated from New York University with a law degree.
John F. Kennedy, Jr. in May 1999. (AP Photo)

He joined the Manhattan district attorney's office the next year - but only after failing the bar twice. ''HUNK FLUNKS,'' read a tabloid headline after one of those attempts.

Kennedy was an attorney, but he was also quite athletic; it wasn't unusual for people to see him throwing a frisbee in Central Park or Roller-Blading through Tribeca. After his mother died on May 19, 1994, JFK Jr. was photographed Roller-Blading to her apartment.

He loved sports of all sorts: kayaking, rock climbing, rafting, hiking, camping, softball and the family favorite, touch football. His adventurous spirit led him to pursue a pilot's license; he received it last year, and flew himself to a Labor Day gathering at the family's Hyannisport compound.

As a prosecutor, Kennedy acquitted himself well. He won all six of his cases, but he wasn't fulfilled by the job.

''He wanted something quicker,'' a co-worker once said. ''He wanted the action.''

He found it in 1995, when he launched the magazine George - subtitled ''not just politics as usual.'' Its trademark became celebrity covers; the first issue featured Cindy Crawford dressed as George Washington, sporting a bra top, white wig and tight pants.

He demonstrated a sense of humor at a news conference announcing his project. ''I don't think I've seen as many of you in one place,'' he told the assembled reporters, ''since they announced the results of my first bar exam.''

The magazine kept Kennedy in the limelight, and allowed him to do a bit of reporting. He interviewed ex-Alabama Gov. George Wallace and Mike Tyson, among others.

Kennedy's bachelor days ended on Sept. 21, 1996, when he married girlfriend Carolyn Bessette in an ultra-secret wedding held on an island off the coast of Georgia. His best man, typically, was one of his cousins, Anthony Radziwill.

Bessette Kennedy, the blonde daughter of a Greenwich, Conn., doctor, succeeded where many women had failed in getting JFK Jr. to the altar. They have lived quietly in Tribeca, doing their best to avoid the attention of paparazzi.