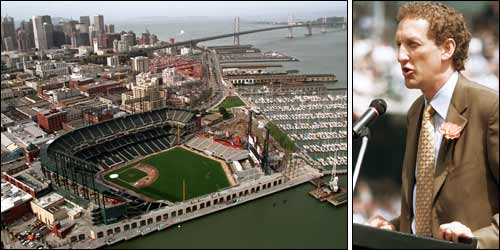 It took the San Francisco Giants about seven years to get Pacific Bell Park built, according to Lawrence M. Baer, right, the team's executive vice president. (Left: Globe photo / Eric Riseberg)
Advice to Red Sox: Just keep swinging
Giants executive says building a new Fenway Park could take a daunting decade
By Martin F. Nolan, Globe Correspondent, 9/1/2001
AN FRANCISCO - When buying a Major League Baseball team, writing a check, even a nine-figure check, is the simple part.
''You've got to create a modicum of good will before you serve up your filet mignon,'' says Lawrence M. Baer, executive vice president of the San Francisco Giants. ''It's easy for a sports owner to alienate the public.''
Recalling his student days, when he took the Green Line to Fenway Park from Harvard Business School, Baer sees a daunting decade ahead for the next owners of the Red Sox.
''I'm not saying this is a prescription for the new Red Sox owners, but we looked at it like a biotech company, in a weird way. The product we wanted was a contending Giants club in a new downtown ballpark. It took seven years of clinical trials to get there. FDA approval was our 1996 election,'' he says, referring to a city referendum held to approve zoning changes.
''So it took seven years to get the product on the shelf, namely Pac Bell Park.''
In his office at Pacific Bell Park, a $357 million building now in its second sellout season, Baer says that buying a franchise and building a ballpark require patience - and a low profile.
''It's tough to get a ballpark approved and privately financed,'' he says.
''Equally difficult, or a close second, is how to keep the franchise solvent and competitive during study, development, and construction. Whether it's a new ballpark or a renovated Fenway, how do you hang in there for that period? In our case, it was seven years. For the new owners of the Red Sox, it won't be any less than four, unless it's a minor renovation. It could be 10 to 12 years.''
Meanwhile, ''If you don't execute, the losses will sap the enterprise. Financial losses will dog you until you get the final product. You don't want to open your ballpark on a down note, competitively.''
In 1993, the Giants almost left San Francisco for Tampa Bay in Florida, sold by the owner who had kept the team from fleeing to Toronto in 1976. Peter Magowan, head of the Safeway grocery chain, led a group, including Baer, in keeping the Giants in San Francisco, where they have been since 1958.
Sports owners, especially new ones, enjoy their celebrity status, but Baer warns:
''The message we got from the research was, `Shut up and play ball.' People were tired of hearing about the Giants coming or going or building a ballpark. People were numbed by the whole experience. I don't know if the new Red Sox owners will have the time or patience to do this, but the first thing we did was to go underground to build credibility for the owners.''
At Candlestick Park, the desolate outpost where the team had played since 1960, the team lost millions, but Magowan and Baer wore ''We're Listening'' buttons and accepted the fans' suggestions.
''We changed concessionaires, kicking out Harry Stevens, changed the scoreboard. On the field, the team had signed star outfielder Barry Bonds to a long-term deal, ''and Peter and I hired Dusty Baker as manager because we had no general manager.''
Baker, winner of three manager-of-the-year awards, is a rarity, respected by players, fans, opponents, and his own bosses. In 1993, the Giants won 103 games and drew 2.6 million fans, the most in San Francisco history.
But they still needed a new place to play. In ''Storied Stadiums,'' a forthcoming survey, Curt Smith calls Candlestick, where pro football's 49ers still play, ''Cave of the Winds ... North Pole ... baseball's most ridiculed locale.''
Only masochists mourned the team's departure from Candlestick, but Fenway Park is the Mecca and Medina for masochists, oft described as a shrine or a cathedral, all the more sacred for being obsolete and uncomfortable.
Whether they leave Fenway or renovate it, the new owners will need money.
The Giants financed their new stadium privately, after voters in Northern California rejected taxpayer support four times.
''That's a bad day at the plate, 0 for 4,'' he says. ''I'm not saying that 100 private financing is a template for any other market. We had a lot of things going for us, and we were able to market the dream effectively. At the time, there was more wealth creation within 50 miles of where we're sitting right now than anywhere on the planet. Between 1996 and 1999, from Silicon Valley and the Bay Area we got long-term commitments from luxury suite holders, naming-rights partners, big corporate sponsorships with 10-year deals.''
After two years of silence, ''after formulating a strategy, torturing the strategy, internally testing it, we went with guns blazing,'' unveiling a scale model in 1995 (''the best $50,000 we spent'') to woo fans, voters, and businesses.
The cost was $357 million. Baer, a Phi Beta Kappa Berkeley graduate, can remember every nickel in his head: a $170 million mortgage; $75 million from an idea never tried in baseball, charter seats, ''an average of $5,000 for the lifetime to buy season tickets every year for that seat''; $58 million in naming rights from the telephone company, much of it upfront; upfront payments from concessionaires; and ''bigger and longer deals from our sponsoring companies.''
The Giants sought 12 ''winner's circle'' companies ''who would stand next to the mayor on opening day and together proclaim, `We helped build this jewel of a park.'''
They got 16, including old-economy titans such as Pacific Bell, Coca-Cola, Old Navy, Bank of America, Chevron, and Anheuser Busch.
Some of the 67 luxury suites were bought by dot-coms, but ''the big partners were not dot-coms,'' Baer says. The online grocer Webvan, now bankrupt, bought ad space on 30,000 cupholders, ''but had a three-year contract, thankfully.''
What did Harvard Business School teach him?
''There's clearly no business school course that teaches how to do this. At HBS, there's no case study that would give you a formula. A merger of different disciplines would help. Organizational behavior, supposedly a soft course on how to get things done through people, is an appropriate course. It's a tough jigsaw puzzle, with probably two parts pure design and architecture, about five parts politics, and another five parts public perception.''
Baer learned something on the MBTA. Opponents of the ballpark in the China Basin section of San Francisco, close to downtown, predicted five-hour traffic jams, but at each game, in the 5,000-space parking lot, about 1,000 spaces are empty.
''That was another one of the `You can'ts' we heard,'' he says. ''`You can't build a ballpark without massive congestion.' When people scream about parking and traffic, it's all a matter of education. If you plan it properly and publish the information, fans will respond. We bombarded them with information on how to get to the park, how not to get the park, on public transit options.
''In an intensely urban environment like Boston, you realize that transit is the way to go. I always took the Green Line. The experience starts when you get on the train. There's nothing better than being on a train, a bus, or a ferry filled with Giants fans.''
Martin F. Nolan can be reached by e-mail at martynolan@aol.com.