Posted by Chad Finn, Globe Staff
March 22, 2010 12:11 AM
Playing nine innings while hoping the Sox reach a deal with Josh Beckett before heading north for the summer . . .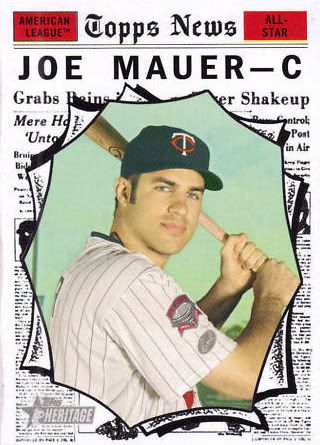 1. Talk about your good news/bad news scenarios.
On the same day the Twins found out they were losing closer Joe Nathan for the entire season, they signed the extraordinary and essential Joe Mauer to an eight-year, $184 million deal that will keep the local idol with his hometown team though his age-35 season.
Let's just say we're fairly certain the Mauer signing served as a delightful elixir to Twins fans after the grim Nathan news. Make no mistake, Nathan is great, the Twins' version of Jonathan Papelbon (yes, wise guy, right down to the 2009 playoff meltdown). But he's also replaceable.
Mauer is as irreplaceable as a ballplayer gets, a legitimate Gold Glove catcher with three batting titles to his credit at age 26 -- and judging by his power surge last year during his MVP season, he's still improving.
He's the epitome of a franchise player -- and one who is with the right franchise. I guess this reveals me to be more of a baseball fan than a Red Sox fan, but I'm genuinely glad Mauer remained in Minnesota even though the Sox undoubtedly would have been one of the filthy-rich few in the hunt for his services had he hit free agency after this season.
Mauer, a St. Paul native, matters in Minnesota; he'd have been just another superstar mercenary had he gone to Boston or New York or Los Angeles. Oh, I'll admit I was somewhat intrigued by Nick Cafardo's suggestion his Sunday Baseball Notes column last week that Mauer probably would have preferred Boston over New York; I'm convinced, with his knack for hitting to left field, that he could have had multiple George Brett '80 seasons with the Sox, especially if his catching chores were reduced as he entered his late 20s.
But that brief daydream is gone, and I'm okay with that. I suspect the Yankees would have won the bidding war anyway -- I'm convinced Mauer left over $100 million on the table to remain a Twin -- and he's where he belongs, like Cal Ripken in Baltimore, Tony Gwynn in San Diego, Robin Yount in Milwaukee, and Brett the lifetime Royal.
Joe Mauer, catcher, Minnesota Twins. It just seems right.
2. Not to pick on the USA Today/Sports Weekly Fantasy Baseball Special Edition, because I've found it to be a fairly insightful and user-friendly resource on draft day. But the suggestion in this year's edition that Mike Lowell was "excellent" defensively last year tells me that there's might be a little more emphasis on reputation than there is on research. That description of the sessile 2009 version of Lowell is about as accurate as saying Dustin Pedroia is timid, and demure Jacoby Ellsbury clogs the bases, and Victor Martinez and Jason Varitek will throw out 87 percent of baserunners between them.
3. Speaking of which, my favorite Sox-related nugget from the always-worth-the-cover-price 2010 Bill James Gold Mine:
The Red Sox in 2009 allowed 151 stolen bases, while throwing out 23 would-be base stealers. This was the worst stolen base percentage allowed in the history of the American League.
And somewhere, Carl Crawford laughs maniacally. (Or , more specifically, like Matt Damon at the end of this.)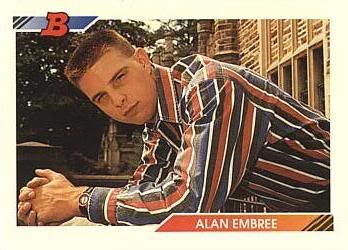 4. Three thoughts on Alan Embree's return to the Red Sox organization: 1) Dustin Richardson's recurring command issues cost him a decent opportunity at sticking with this team, because it's clear the Sox don't see Brian Shouse as the solution as the second lefty in the pen. 2) It's always nice to have another chance to salute One of the 25, especially the one who recorded the final out on Yankee Stadium soil. But judging by his 1-to-1 K/BB ratio last season in Colorado, his fastball is apparently a misnomer these days, and he never had much in his repertoire in terms of deception. 3) It's nice to see, judging by this card, that I'm not the only one whose mom bought his school clothes from the Montgomery Ward catalog.
5. I've had quite a few e-mail, Twitter, and chat questions the past few weeks suggesting that the Sox should hold on to Mike Lowell as insurance at designated hitter in case David Ortiz's spring struggles lead to another painfully frigid start this season. I admit it makes some practical sense, but I still doubt it's going to happen. Lowell has made it clear he still thinks of himself as a starting third baseman, and there have been strong indications that he had the hardest time among those affected in adjusting to the altered playing time after Victor Martinez was acquired from Cleveland at the trade deadline. The Sox are going to do their best to accommodate him, and I still believe he will be dealt -- with the club picking up all of his salary -- before April 3 arrives.
6. I was doing some research on what the Cardinals' situation is at third base, because from a distance Lowell seems like an ideal fit there, when I came across a story featuring another player who handled the position for the Sox in the past . . . and who may very well be the least accomplished two-time All-Star in franchise history. If you wondered whatever happened to Scott Cooper, here's your answer.
7. I'm trying to give Ron Washington the benefit of the doubt, and I think the Rangers did the right thing in doing the same, at least this once. But my b.s. detector starts beeping rapidly when I read that a 57-year-old man who admits he used amphetamines and pot during his 1970s and '80s playing days claims he was a first-time user of cocaine. The real intrigue of this story, however, is that he was ratted out by what Rangers boss Nolan Ryan described as a disgruntled ex-employee, presumably Jon Heyman's source on the scoop. Have to figure that name will be revealed at some point. Judging by Josh Hamilton's comments on the situation, I wouldn't be surprised if the source was a player.
8. My fantasy baseball sleeper -- can you tell my draft is coming up soon? -- this year isn't really a sleeper at all, I suppose, since he's been a perennial top 10 pick the past several years. But I've seen a few publications and supposed experts say there's some risk attached to Tigers slugger Miguel Cabrera, projecting him as a second- or third-round pick in a 10-team league. I don't get it -- to me, he's about as sure a thing as there is. Yeah, I know about his late-night boozing and his domestic issues with his wife and his petulant escapades; his irresponsibility clearly had some impact on the Tigers' late slump last season (though he did homer in the one-game playoff). But this is a guy who at the plate is the second coming of Manny Ramirez even with all of his personal demons, and now he's cleaned up his act (have you seen him? he looks five years younger and 20 pounds lighter this spring), is just 26 (a day older than Mauer), and hit 34 homers with a .923 OPS in 2009, finishing fourth in the AL MVP voting despite all of the self-inflicted drama. As for my pitching sleeper -- and remember, as if I haven't reminded you enough, that I was Gammons's co-conductor on the Zack Greinke Express last spring -- I'm not offering any clues other than this: He's projected to go in the 40-50 range, and I would have no qualms about taking him first overall among pitchers. If you guess it in the comments, only then will I confirm. (Maybe.)
9. Did you see that play Adrian Beltre made the other day? Beyond spectacular, wasn't it? Now, you do you realize that we're going to be repeating that phrase time and again through the summer, provided he stays healthy and remembers to wear a cup? I'm telling you, gang, this pitching and defense thing is going to be as aesthetically pleasing in its own way as watching the Red Sox Home Run Derby of 2003-04, and the lineup, deep, versatile, and without the Dueling Black Holes at the bottom of the order form a season ago, is far better than conventional wisdom suggests. Man, can Opening Day hurry up and get here already?
About Touching All The Bases
| | |
| --- | --- |
| | Irreverence and insight from Chad Finn, a Globe/Boston.com sports writer and media columnist. A winner of several national and regional writing awards, he is the founder and sole contributor to the TATB blog, which launched in December 2004. Yes, he realizes how lucky he is. |
Tweets by @GlobeChadFinn
browse this blog
by category
The best of Touching All The Bases