Posted by Chad Finn, Globe Staff
March 15, 2010 09:50 PM
(Globe staff photo / Jim Davis)
Five days after his nostalgic, Say Hello, Wave Goodbye one-day deal with the Red Sox, I bring you five thoughts on No. 5 in what I believe is the fifth column written on Nomar Garciaparra on this website in the past week.
Overdue? Yup.
Overkill? Yeah, probably.
But I can't let the retirement of one of the most beloved and polarizing Sox players of all time pass without searching for context and paying the proper appreciation. I remember Nomar well and always will, and while I hope that puts me in the majority, I know it doesn't put me on the most vocal side of the debate.
Plus, I like to think Nomar would appreciate the obsessive-compulsive symmetry of the wholly contrived 5-5-5-5 exercise. Let's just get to it before I make even less sense . . .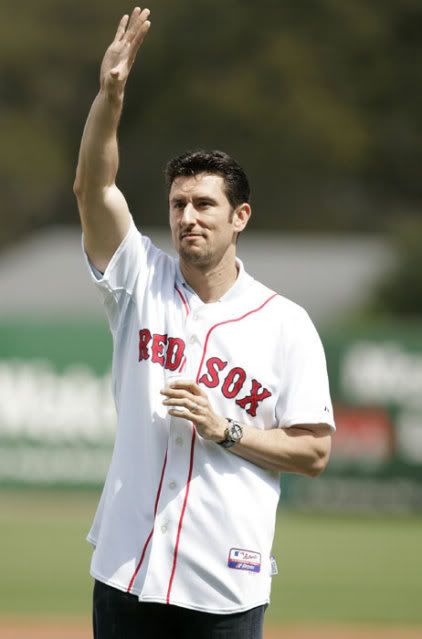 (AP Photo)
1. He deserved a chance to say goodbye.
A press conference and a one-day contract? A nice gesture, nostalgically aimed at sentimental suckers like me. Yet it came with an unavoidable bittersweet tinge. Exactly as it should have, really.
Hell, if all parties involved really wanted to do it up right, Nomar would have had one last at-bat in a Sox uniform. Let him go through his forever familiar routine --- resting the bat on his right shoulder, adjusting his batting gloves, adjusting them again, adjusting whatever else (ahem) needs adjusting, tapping the front foot, twirling the bat . . . then, uncoiling an almost lunging rip at the first pitch as he busts it out of the box, hustling every step of the way with his rigid, upright stride. That would have been the right way to go. What the heck -- let's make it a scalding line drive, too. No one I've ever seen hit the ball as consistently hard as Nomar during his 1998-2000 peak.
More than five years after he last played for the Sox, he's still so easily visualized. For those of you who are too young or too new to your fandom to have seen him in his prime . . . well, son (or daughter), you missed out. His prime was something to see, all frozen ropes and slinged throws from the hole. You just don't forget Nomar. Baseball-reference.com provides a tale of his dominance during his time with the Sox (1996-2004): a .323 average, a .923 OPS, 178 homers, two batting titles (including a .372 mark in 2000 in which he flirted with .400 well into the summer), a rookie of the year award, six 100-run seasons, six top-11 finishes in the MVP voting.
But with Nomar, it went well beyond raw data. Before the fateful, point-of-no-return night in New York when Pokey Reese and Derek Jeter both made spectacular plays at shortstop while Nomar, seemingly steaming at the Sox management, sat stoically on the bench, the man always played hard. Always; there was almost a maniacal desperation to the way he ran out groundballs, his face a mask of pure intensity. His style went over well with New Englanders. Kids adored him and pets were named after him. If the late '70s Sox were "25 players, 25 cabs," the late '90s Sox were "Nomar, Pedro, and 23 role players." Remember how much you hated the Yankees then? Remember how so much of the burden fell on Nomar and Pedro to try to overcome a deep, richly talented Yankees team in 1999? I remember Pedro and Nomar hugging in the dugout -- I wish I could find the photo -- after the Yankees finished off the Sox in five and thinking, "They really do care as much as we do." Nomar and Pedro, they were the Red Sox.
The Yankees won the games that mattered, and Nomar's counterpart long ago won our favorite '90s debate; Derek Jeter has been unwaveringly brilliant since his full-time arrival in New York in '96, while Nomar was a comet who fizzled for reasons that we'll loosely classify as injuries since we don't know all the details. In a sense, the Yankee captain to which he should be compared is not Jeter, but Don Mattingly, who had a breathtaking run of dominance followed by a quick decline to mediocrity in large part because of injuries. In their prime, both were the personification of a future Hall of Famer. Cooperstown will call for neither, of course. But abridged greatness is still worth admiring.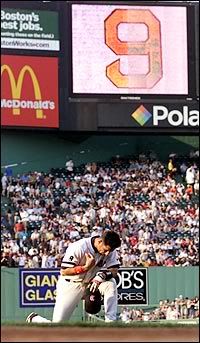 (Globe file photo)
2. It's complicated -- and always was.
I'll keep this aspect of the Nomar Saga to a relative minimum, since more words were spent on this aspect of his legacy this week than anything else.
I do believe he liked it here, that his warm sentiments Wednesday were sincere and genuine. There are certain vignettes you remember -- his connection with Ted Williams and his grace after his death, his hat-tipping acknowledgment of the fans after the Sox were eliminated by the Indians in '98, and of course his emotional reaction after receiving a standing ovation upon his first return last season -- that tell you that being a Boston Red Sox had real meaning to him.
I also believe he was a petulant, divisive force in 2004, putting his issues with management and his contract ahead of the team, and the Sox might be working on an 92-year drought had Theo Epstein not had the nerve to deal an iconic player at the deadline. He was paranoid, and that wasn't a good mix with the Sox public relations machine, which could make sausage out of any idol with a few well-placed whispers. His departure was the very definition of a bitter end.
It was surprising -- perhaps I'm not really the cynic I occasionally play on the internet -- that there were so many scathing media reactions to the press conference. I realize Nomar was surly and standoffish, that he was notorious for turning off the charm as soon as the red light went off. Those with a low tolerance for hypocrisy were particularly offended, and I'd love to know how much cajoling went into getting Larry Lucchino to participate in the festivities.
But ripping him for being disingenuous at the expense of what he did on the field reveals a disconnect between the media and the fans. Sure, dealing with Nomar could be a thankless experience. But fans thankful to be able to watch a player like him in his prime really don't care about any of that.
Terry Francona, as usual, put it perfectly as he reflected on the end of Nomar's time with the Sox. Nomar was all Bostoned out. But no one ever said it had to be a permanent condition.
3. Stupid is as stupid does. The suggestion that Nomar retires with a big L on his forehead because he never won a World Championship is the kind of fat-brained nonsense that makes me think I deserve hazard pay for being required to listen to certain sports radio hosts.
I know, I shouldn't be bothered by half-formed opinions from those desperate to shout their "takes" but too ill-informed and lazy to have anything worthwhile, interesting, or factual to add to the conversation.
But Nomar was a loser? Really? You remember which one he was, right? Played for the Red Sox. Big beak and a young Teddy Ballgame hairstyle? Lots of quirks and tics in the batter's box, adoringly imitated by every baseball-mad 10-year-old in New England? Roped line drive after line drive after line drive after scorched-smoked-sizzling-Monster-denting line drive? Him? That guy? No. 5? Do you really remember? Or are you just speaking authoritatively yet again without having anything to say?
Tell me, Sir Shrieks-A-Lott, how do you explain this loser's .323 lifetime average in 96 postseason at-bats, with seven homers and 21 RBIs in 25 games? That's a pretty decent sample-size, no? (Wait. I should have known. I have to explain "sample-size" to you, don't I? And "homers." And "postseason" . . . )
How do you explain how this "loser" drove in 11 runs in a four-game series in his postseason debut in in '98 against the loaded Cleveland Indians? How do you explain that he tore up the Indians with such ruthlessness in the unforgettable '99 ALDS against Cleveland that manager Mike Hargrove refused to let Nomar beat his club in Game 5, with a pair of intentional walks to this loser setting the stage for Troy O'Leary's baseball heroics?
How do you explain his crucial presence on the 2003 Sox (78 extra-base hits, 105 RBIs, seventh in the MVP voting), a team that likely would have advanced to the World Series if not for Grady Little's dopey decisions?
How do you explain his .975 career postseason OPS, which happens to be more than 100 points higher than that of October legend Jeter?
And tell me this, Screech: How do you explain your ignorance?
4.

I . . . uh . . . well, I have no explanation for why he ever did this, beyond bad advice or vanity -- and it's not like he was the most vain of his superstar shortstop peers at the time. I'm sure he regrets it, if not for any other reason that it's widely perceived as damning, undeniable evidence that he did something sinister to become a hitting machine. Just read the headline and subhead on the cover and try to resist a snarky reaction. I couldn't.
But hey, but at least he had the good sense to avoid a certain other SI photoshoot. (Man, that will never get old.) I like to think this picture hangs in A-Rod's mansion next to his self-as-centaur art, surely with a fake mustache and missing teeth scribbled on Jeter's face.
5. If he's serious about TV, he'll succeed. There is the perception -- perhaps it's media schadenfreude -- that Nomar will be a dud in his new gig on ESPN, spewing cliches and attaboys for his former peers through a clenched smile, as bland and boring and eventually forgettable as Joe Montana during his brief time as an NFL analyst.
But I don't know if that's giving him enough credit. I think he might be pretty capable, maybe even ESPN's best, which I concede is damning with faint praise. I admit I base this solely on one talking-head appearance of his I saw recently on the MLB Network. It's funny, while I reported a few weeks ago that Nomar was trying out for on-air gigs with ESPN and MLB, I was still surprised to see him randomly pop up on this particular show, a "Prime 9" episode ranking the best ballparks of all-time. (Fenway ranked where you hoped it would, FYI.) While I'd heard his pal Lou Merloni told him the post-ballplaying life as a media personality and an analyst was a pretty good one, I guess I assumed he was looking at the TV thing as a last resort, that he'd try to squeeze another year or two out of his aging bones.
So much for that. And there he was on the Samsung, talking about his appreciation for Fenway and -- this is the part that surprised me -- telling a pitch-perfect anecdote about how he used to look at the dents on the Green Monster, proudly realizing that some had been left by his line drives and wondering which Sox players though the years had left the marks next to his. I'm probably not doing it justice, but his words had a nice balance of insight, nostalgia, and appreciation. Sort of like his farewell Wednesday, come to think of it. If he can come across in a similarly engaging manner on ESPN, he's going to surprise his skeptics.
About Touching All The Bases
| | |
| --- | --- |
| | Irreverence and insight from Chad Finn, a Globe/Boston.com sports writer and media columnist. A winner of several national and regional writing awards, he is the founder and sole contributor to the TATB blog, which launched in December 2004. Yes, he realizes how lucky he is. |
Tweets by @GlobeChadFinn
browse this blog
by category
The best of Touching All The Bases