Posted by Chad Finn, Globe Staff
February 7, 2010 01:02 AM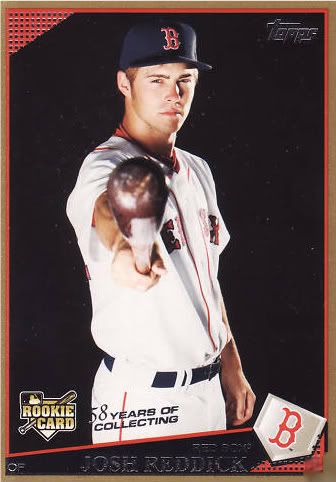 I'm rooting for Josh Reddick to find a meaningful spot with the Red Sox in the next season or two, and in the spirit of forthrightness, there will be no attempt to suppress my subjectivity regarding the 23-year-old outfielder today or in the immediate future.
My reasons for rooting for Reddick are both visceral and personal. He has a throwing arm that makes even daring baserunners settle for the refuge of second base; I don't have to remind you that a right fielder who can unleash the ball on a string, the seemingly still-accelerating throw hitting the third baseman's mitt in one perfect hop, is one of the fundamental joys of baseball. We're not suggesting he's Dewey II. But every now and then, he might provide a pleasant flashback.
As for the second reason: Reddick was once kind and friendly to my kids. Hey, there's no easier way to win fans for life than treating a charmed 5-year-old like a buddy.
Of course, hoping Reddick makes it isn't the same as expecting that he will. And so my curiosity was piqued a week or so ago when Keith Law, ESPN's baseball writer whose work I admire in part because he is never beholden to conventional wisdom, left Reddick off his list of the top 10 Red Sox prospects. It was noticeable omission, if not quite a glaring one. Reddick is generally perceived as the fourth- or fifth-best prospect in the Sox organization, but Law told me via Twitter that Reddick did not make his cut because is he skeptical that his approach at the plate will produce a high enough on-base percentage to justify a starting corner outfield spot.
Given Reddick's .190 OBP in 77 plate appearances at Pawtucket -- not to mention his .210 OBP during his boxes of Joe with the Sox -- it's at least a reasonable concern, and it became apparent quickly last season that despite a very quick bat, Reddick would consistently aid the pitcher. Law is probably right on -- Reddick's baseball future most likely hinges on his ability to command the strike zone with considerably more savvy than his current "if it's high, let it fly" approach.
It will be fascinating to see how it all plays out for Reddick these next several seasons, because if history -- and by history, I mean an archive of all of Baseball America's annual top 100 prospects lists from 1990-2009 -- confirms anything, it's that sure things are scarce, tools don't always translate, and there are sleepers every season surprise in the big leagues.
As you probably know if you come around this neighborhood with any frequency, I'm habitual in referencing old Baseball America Prospect Handbooks, which date back to 2001. And I'd pay a small fortune for a stash of Baseball America magazines from the '80s, just to read what they said in the pre-Handbook days about all of my favorite Maine Guides. So it was with delight that I stumbled upon BA's top 100 prospect lists from the past 20 years recently on the Baseball Cube. In fact, I was so mesmerized by some of the names and rankings on those lists -- if you remember, say, Mickey Pina, then your dedication to the Sox is enhanced by your remarkable memory -- that I just had to share them here.
Once I got rolling, this turned into a more massive post than I intended. So what we'll do for now is take a quick, quirky look at each list from 1990-99. with the plan to address the 2000s sometime in March, after I get back from Vancouver but hopefully before the season begins.
ne disclaimer: The intent is not to discredit BA when we point out -- yes, sometimes with a hint of snark -- that they were wrong about a particular player. With hindsight, we all have Ted Williams's vision, so keep in mind it's impossible to maintain a high batting average when trying to predict the futures of young athletes.
Hell, the 2006 Sporting News NFL Draft Guide told us a certain promising running back "runs bigger than size would indicate," "doesn't dance or hesitate," "[is] slippery and will hit creases at full speed" and "possesses vision and shows patience."
Sign me up for that version of Laurence Maroney, please.
Disclaimer complete, on to the lists, starting with . . .
1990
Back-to-back blasts: Former Red Sox masher-of-righties Reggie Jefferson was rated 28th. A spot later? The great Frank Thomas. One went AWOL during the 1999 playoffs and never saw another pitch in the majors. The other is a lock for Cooperstown, had one of the best nicknames of his generation (The Big Hurt), and probably could still get on base at a better than average rate. I'll leave it to you sort out who was who.
Fenway was once home: Steve Avery (1), Jose Offerman (10), Mike Stanton (18), Wes Chamberlain (25), Reggie Jefferson (28), Kent Mercker (47), Rico Brogna (57), Manny Alexander (59), Kevin Morton (61), Wil Cordero (62), Eric Wedge (63), Carlos Baerga (67), Scott Cooper (68), Darren Lewis (71), Mo Vaughn (76), Mickey Pina (79), and Phil Plantier (83).
Yeah, but check out his on-base capability: Offerman ahead of Mo Vaughn by 66 spots? Dan Duquette must have had a lot of input. . . . It's stunning how fast Morton went from future ace to total washout, though the same could be said of No. 1 overall prospect Avery, who essentially was Morton during his two sad seasons with the Sox. . . . Oh, and if anyone needs a Phil Plantier rookie card, you know where to find me. I demand fair value, so spare pennies, nickels, subway tokens and redeemable soda cans are welcome.
* * *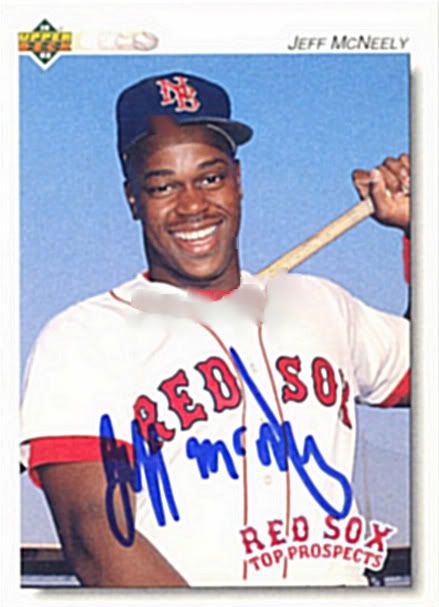 1991
He was no Scott Cooper: Jeff Bagwell, whom you might recall was traded to the Astros for reliever Larry Andersen down the stretch during the 1990 playoff push, was 32d on the list, pulling up behind wannabe wallopers Hensley "Bam-Bam" Meulens (one of my all-time favorite Yankees) and Marc Newfield, who combined for 37 MLB homers, a total Bagwell eclipsed six times in a single season during his stellar career.
Fenway was once home: Jose Offerman (4), Mo Vaughn (10), Wil Cordero (12), Rich Garces (16), Jeff McNeely (20), Pete Schourek (33), Rico Brogna (35), Tim Naehring (46), Wes Chamberlain (55), Greg Blosser (64), Mike Timlin (69), Reggie Jefferson (78), Ricky Gutierrez (82), and Carl Everett (88).
563 homers later . . . Indians third base prospect Jim Thome was rated 93d, 10 spots behind Giants outfielder Steve Hosey, the half-brother of Celtics star Paul Pierce. Hosey hit one homer in 63 big-league plate appearances . . . Hadn't thought about Jeff McNeely in years, but seeing his name at No. 20 on this list serves as a flashback to the days when he was touted as an Ellis Burks-in-waiting. Instead, his entire big league career consisted of 37 at-bats with the wretched '93 Sox. Anyone who knows the full story of his unfulfilled potential, please share. He's a bit of a mystery to me, though looking at the numbers, it seems it's probably a familiar tale: he just couldn't hit big-league pitching.
* * *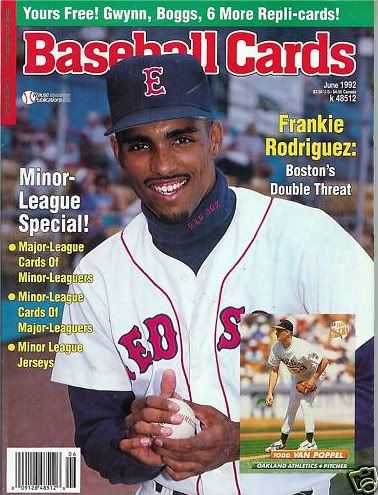 1992
Yeah, but can he play shortstop? The top-rated Red Sox prospect was Frankie Rodriguez, who was sort of the Casey Kelly of his time, a talented two-way player who eventually committed to the mound. Here's hoping that's where that comparison ends. Rodriguez won exactly zero games (in nine appearances) for the Red Sox before he was dealt to the Twins in a deal for Rick Aguilera and his Hall of Fame beard at the July 1995 trading deadline. It also must be noted that Rodriguez was ninth on BA's list in '92; one spot behind him was a pitcher who earned 117 wins in a Red Sox uniform: Pedro. No last name required.
Fenway once was home: Royce "Free Taco" Clayton (6), Wil Cordero (7), Jeff McNeely (16), David McCarty (22), Pat Mahomes (25), Carl Everett (32), Midre Cummings (33), Cliff Floyd (34), Manny Ramirez (37), Manny Alexander (39), Reggie Jefferson (49), Willie Banks (68), Aaron Sele (71), Pokey Reese (75), Javy Lopez (78), Scott Cooper (86), and Rico Brogna (87).
I'm not sure I want to live in a world . . . . . . in which Manny Ramirez rates 15 spots below David McCarty in anything, with the possible exception of an Algebra tournament . . . The top three players on this year's list were pitchers: the Yankees' doomed Brien Taylor, Oakland's Todd Van Poppel, and Seattle's Roger Salkeld. Between the three of of 'em, they accumulated 60 wins and approximately as many scars. . . . I always thought Midre Cummings could hit -- he could catch up to a fastball -- but the .318 career OBP and 81 adjusted OPS don't do much to support my recollection.
* * *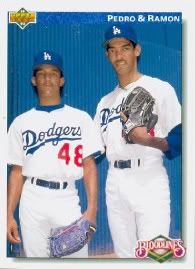 1993
And one of them can stand Tommy Lasorda: The Dodgers had a couple of pretty decent prospects in the middle of the top 100 -- Mike Piazza rated 38th, while Pedro was at 62, down 52 spots from the previous season. This must have been the point when the "he's too small to succeed as a starter" whispers were permeating. Pedro, by the way, is one of seven members of the transcendent World Champion 2004 Red Sox on this list, and an inadvertent contributor to the cause, Edgar "Stabbed by Foulke" Renteria, also makes the cut.
Fenway was once home: Cliff Floyd (3), Wil Cordero (6), Manny Ramirez (13), David McCarty (16), Brad Pennington (18), Javy Lopez (20), Johnny Damon (22), Frankie Rodriguez (25), Todd Jones (42), Midre Cummings (46), Pokey Reese (48), Alan Embree (49), Edgar Renteria (51), Manny Alexander (57), Pedro Martinez (62), Carl Everett (69), Derek Lowe (70), Greg Blosser (72), Aaron Sele (84), Butch Huskey (92), and J.T. Snow (98).
But were his eyes calm? Derek Jeter, his intangibles apparently only beginning to bloom, was ranked 44th overall, 23 spots behind Benji Gil, a No. 1 pick of the Rangers in the '91 draft who hit .237 in parts of eight major league seasons. Now 36, Gil spent the past two seasons playing for Chihuahua in the Mexican League. Pretty sure Jeter owns a Chihuahua, but that's where any comparison ends. . . . By the way, whenever I see Jeter, Renteria, and the other Alex Gonzalez (27) mentioned in the same space, this hilariously uncomfortable photographic goldmine comes to mind. Like Jeter, I'm not sure that will ever get old.
* * *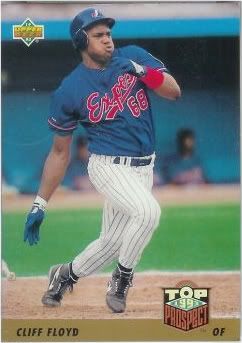 1994
Shaking a fist in your general direction, Todd Hundley: There's a generation's worth of superstar hitters in the top 10, with Chipper Jones (2), Carlos Delgado (5), Alex Rodriguez (6), and Manny Ramirez (7) combining for 2,028 career home runs. Yet it's difficult to argue that Floyd, who had a 1.017 OPS in the Eastern League at age 20, was the prospect among all prospects in '94. He's had a fine major league career, with 233 homers and an .840 OPS since making his debut with the Expos in '93, but it's easy to forget that he was projected to become a fearsome hybrid of Dave Winfield and Dave Parker. His career was never the same after a gruesome collision with Hundley at first base in May 1995 left him with a fractured and dislocated his left wrist, and his career has been pocked with injuries since.
Fenway was once home: Cliff Floyd (1), Trot Nixon (13), Bill Pulsipher (21), Johnny Damon (31), Midre Cummings (33), Frankie Rodriguez (39), Pokey Reese (41), Carl Everett (52), Derek Lowe (63), Manny Alexander (65), Billy Wagner (78), Luis Ortiz (86), and Wayne Gomes (96).
Just a Dirt Puppy then: Still developing his legendary grit, his batting helmet sparkling and clean, and with his intense scowl merely in its testing phases, Trot Nixon makes his first appearance in the list, the year of his professional debut after being the seventh overall selection in the 1993 draft. It would take five more years before Nixon established himself as an everyday player with the Red Sox, getting his first full shot in '99 and hitting .270 with 15 homers in 124 games.
* * *
1995
Here comes Nomaaahh! The superstar shortstop triumvirate of the late '90s begins to give hints of the sensational feats they're capable of, with A-Rod topping the list, Jeter fourth, and Mr. Garciaparra 22d. I realize there are some suspicions and bad feelings about his time here, particularly regarding the bitter way it ended, but I hope fans always remember how hard he played and how much fun it was to watch him on a daily basis, particularly in the summers of 1998 and '99, when it honestly seemed like he hit a line drive every time up. I'll always admire and appreciate Nomar and Pedro for the way they carried those flawed teams.
Fenway was once home: Johnny Damon (9), Bill Pulsipher (12), Billy Wagner (17), Dustin Hermanson (18), Nomar Garciaparra (22), Frankie Rodriguez (36), Todd Walker (40), Trot Nixon (46), Pokey Reese (48), Jeff Suppan (50), John Wasdin (53), Sandy Martinez (77), Tony Clark (86), Jose Malave (94), Carl Everett (95), Jay Payton (96),
Just trade him to the Twins already: This is fourth straight year Frankie Rodriguez appeared on the list. . . . It's not really Sox-related, but love seeing Vladimir Guerrero pop up at No. 85. Can you imagine the howls about plate discipline if someone with his set of skills emerged nowadays? . . . Two of my favorites are on this list: Walker, whom I always thought deserved to be on the '04 champs after his clutch and clubhouse contributions in '03. And Josh Booty, who couldn't hit anything that wasn't in a straight line but who had the best throwing arm from third base I have ever seen in person. . . . Jeter was the Yankees' No. 2 prospect that season despite being fourth on this list. No. 2 overall was legendary memorabilia collector Ruben Rivera. He's still bouncing around somewhere -- I caught an at-bat of his in the Caribbean Series on the MLB Network the other night. Wonder if his bat had Jeter's name on it.
* * *
1996
Farm system? What farm system? Seriously, check out those names -- it's like getting a three-year advance look at the 1999 Nashua Pride roster. Donnie Sadler, who should have had to do a Willie Mays Hayes pushup every time he hit the ball in the air . . . Michael "Prime Time" Coleman . . . unfortunate Andy Yount . . . soft-tossing Brian Rose . . . you almost expect to see Robinson Checo turn up on this list. Oh, well. At least Nomar was on the way.
Fenway was once home: Billy Wagner (14), Bartolo Colon (15), Jay Payton (21), Todd Walker (22), Donnie Sadler (28), Edgar Renteria (33), Jeff Suppan (35), Nomar Garciaparra (36), Trot Nixon (39), Andy Yount (45), Ugueth Urbina (49), Jason Varitek (51), Dustin Hermanson (53), Pokey Reese (60), Brian Rose (78), Way Back Wasdin (84), and Michael Coleman (98).
Who is . . . . . . Karim Garcia? Just the seventh-rated prospect overall, one spot behind Jeter and two ahead of Vladi. Not that Sox fans hold a grudge, but if there's any justice, he will spend the afterlife getting drilled by Pedro fastballs between the shoulder blades. . . . Varitek at No. 51 is interesting. One of the most decorated college players of all-time and a two-time first round draft pick, his career was stunted by his inability to come to contract terms, first with the Twins and then the Mariners, and he wasn't a particularly effective hitter in the minors, batting .247 with 39 homers in 347 games. Duquette will forever win praise for the Varitek/Derek Lowe-for-Heathcliff Slocumb heist, and he deserves all the kudos he receives, because there was not much of an indication that Varitek would become one of the most respected and accomplished catchers of his time. (We'll conveniently ignore that Duquette reportedly preferred Ken Cloude over Lowe).
* * *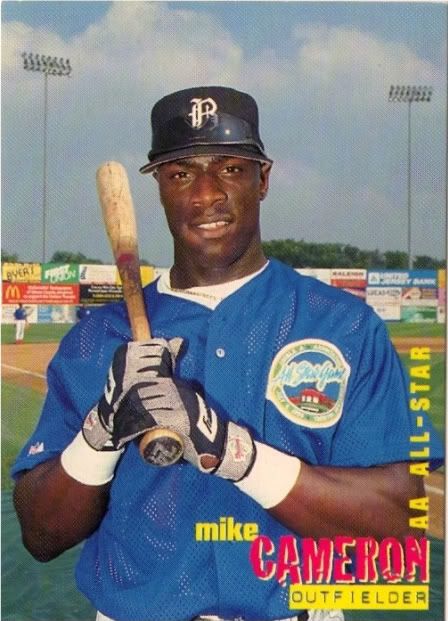 1997
Fenway is now home: Theo's two main offseason acquisitions this winter -- excluding John Lackey -- batted back to back on this list. Dodgers third baseman Adrian Beltre, then just 18, was 30th, while White Sox center fielder Mike Cameron was 31st. Beltre would go on to have a beastly season in Single A, going .317-26-104 with a .968 OPS at Vero Beach, and he made his major league debut the following year. Cameron spent the previous season at Double A Birmingham, where he put up a .300-28-77 line with 39 steals and a 1.002 OPS. He also spent part of '95 at Birmingham, where his manager was some guy named Francona.
Fenway was once home: Todd Walker (7), Nomar Garciaparra (10), Bartolo Colon (14), Carl Pavano (17), Jay Payton (34), Brian Rose (44), Chris Reitsma (46), Donnie Sadler (51), Alex Gonzalez (54), Jeff Suppan (60), Mark Kotsay (77), Bruce Chen (83), and Jimmy Anderson (88).
Where have you gone, Jaret Wright? Love seeing Pavano's name pop up on this list, not only because he's one of my all-time favorite Yankees, but mostly because reminders of the Great Pedro Heist of '97 are always welcome. If I recall correctly, when the Expos shopped Pedro as he entered his walk year coming off the '97 Cy Young Award, Montreal general manager Jim Beattie preferred to send him to Cleveland for Jaret Wright, the No. 22 prospect on this list. But Wright was looking like a Clemens clone at that point -- up to and including the blazing fastball, the braying arrogance, and the habitual headhunting -- and Cleveland GM John Hart made the tough call and chose not to part with him. So Beattie settled for second prize: the Sox' offer of Pavano and Tony Armas Jr. In retrospect -- and this is purely 20/20 conjecture -- perhaps Beattie should have kept Pedro in Canada and sent him to Toronto for the No. 23 prospect on this list, Harry Leroy Halladay III. . . . A couple of fairly sensational center fielders were tucked away at the bottom of the list. The Twins' Torii Hunter was rated 79th, while 20-year-old Royals farmhand Carlos Beltran was 93d, three spots behind the legendary Todd Dunwoody. Man, if only KC could have kept that Damon-Beltre-Dye outfield together . . .
* * *
1998
TINSTAAPP defined: If ever you needed evidence that There Is No Such Thing As A Pitching Prospect, here's your motherlode. These are all of the pitchers among the top 30 prospects on this list: Kerry Wood (4, good career but got Dustied), Matt White (6, paid a ridiculous bonus by Rays), Kris Benson (7, his wife made more headlines), Ryan Anderson (23, "Space Needle" blew out his arm in the minors, is now a chef), Matt Anderson (24, No. 1 overall pick who hurt his arm flinging an Octopus at a Wings game), Eric Milton (25, slop-balling lefty who had some success), Bruce Chen (27, we apologize to Eric Milton -- this is a slop-balling lefty), Scott Elarton (28, meh), Grant Roberts (29, most notable accomplishment was being photographed with a bong). You half-expect David Clyde, Kirk Dressendorfer, and Mark Prior to show up with this raggedy-armed crew.
Fenway was once -- or is -- home: Adrian Beltre (3), Carl Pavano (9), Mark Kotsay (12), Matt Clement (16), Sean Casey (20), Darnell McDonald (21), Brian Rose (22), Bruce Chen (28), Rolando Arrojo (37), Alex Gonzalez (48), Michael Coleman (51), Damian Jackson (62), Mike Lowell (71), Wade Miller (76), Robinson Checo (79!!!), David Ortiz (84), Chris Reitsma (88), and Orlando Cabrera (92).
Legends of the fall: While the most successful Sox farmhand on this list was probably Pavano -- though Duquette pet Checo did win three games in his career, with a sparkling 7.61 ERA -- it's cool to see the names of some of the beloved players of the 2004 and '07 champions show up on the list, even though they were with other organizations. Papi was a Twin, Lowell was a Yankee (it's true!), and O-Cab was an Expo. Several seasons and a change or two in affiliations later, the good times will have never seemed so good. . . . Maybe the Jays didn't get enough love. Consider: Rolando Arrojo and his soft-bellied apathy, one spot ahead of Roy Halladay. And one more: Prime Time Coleman, 51. Vernon Wells, 52.
* * *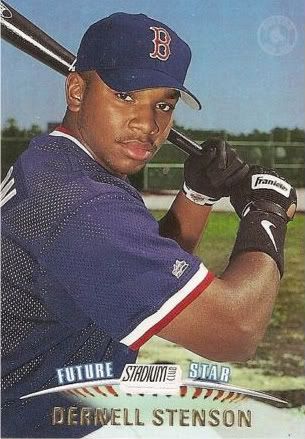 1999
How do you get J.D. from David Jonathan, anyway? As someone who has come to appreciate J.D. Drew's skills -- both obvious (OPS, baby) and subtle (shrewd baserunning) -- I have to admit I'm amused by the juxtaposition here. He was -- justifiably -- the No. 1 prospect in baseball, while Trot Nixon, who won a lot of fans in part by doing absolutely nothing subtly, is No. 99. Another future Red Sox right fielder who won his share of fans, Gabe Kapler, is 34th on the list after driving in 146 runs in Double A in '98.
Fenway was once -- or is -- home: J.D. Drew (1), Bruce Chen (4), Brad Penny (5), Matt Clement (10), Alex Gonzalez (17), Dernell Stenson (22), Gabe Kapler (34), Calvin Pickering (38), John Curtice (56), Mike Lowell (58), Jeremy Giambi (64), Darnell McDonald (74), Wade Miller (80), Carlos Pena (93), Chad Harville (95), Scott Williamson (97), and Christopher Trotman Nixon (99).
Swings and misses: Pretty interesting group of would-be sluggers in the mix here, including the massive Pickering, an expanded and updated version of Sam Horn who hit nearly 250 homers in the minors in fewer than 4,000 at-bats; Giambi, who washed out with the '03 Sox, giving Big Papi his chance; Pena, who couldn't get playing time at first base over an injured Mark Loretta as the 2006 Sox played out the string; and poor, doomed Stenson, who seemed on the verge of putting it together with the Reds when he tragically found himself in the wrong place at the wrong time.
About Touching All The Bases
| | |
| --- | --- |
| | Irreverence and insight from Chad Finn, a Globe/Boston.com sports writer and media columnist. A winner of several national and regional writing awards, he is the founder and sole contributor to the TATB blog, which launched in December 2004. Yes, he realizes how lucky he is. |
Tweets by @GlobeChadFinn
browse this blog
by category
The best of Touching All The Bases