Posted by Chad Finn, Globe Staff
January 15, 2010 05:57 PM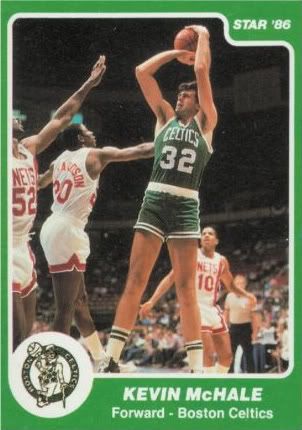 A rough transcription of my phone interview with Celtics legend and TNT's Kevin McHale for this week's media column (which you can find right here):
Me: "Um, hi, Kevin. I'm . . . Chad Finn . . . and I write about sports media for The Boston Globe . . . I also write a periodically updated blog about baseball, sports, my cat, and Pam Beesley. . . it's an honor to talk to one of the great post players in NBA history . . . "
[Smacking myself] "GOD! That sounds stupid! God, I'm an idiot! I never know how to start these things!"
McHale: "You're doing great, Chad."
Me: [Hopefully] "Really? No, I'm not."
[Hyperventilating] "Anyway.. I guess . . . I didn't have, have to say, who you were, because . . . man, I mean . . . everyone knows who you are. Mmm . . . you're Kevin McHale. No. 32 . . . Max called you Munster . . . long arms."
McHale: "Yes. Do you want to talk about the NBA and my job on TNT and NBA TV and coming back to Boston?"
Me: [uncomfortable ] "Um . . . yes. You . . . you . . . you remember when you were on the 1985-86 Celtics?"
McHale: "Yeah, sure."
Me: "That was awesome!"
McHale: "Yeah, it was."

Me: "O-kay.. Oh! You.. you remember when you were on "Cheers . . . and, uh, you became obsessed counting the bolts in the Garden floor . . . and . . . and you stopped caring about the Celtics . . . And it made all the papers, and everything?"
McHale: "Well, to be honest, Chad, I'd kind of like to forget all of that."
Me: [smacking myself again] "Idiot! That's so stupid! What a dumb question!"
OK, so maybe it didn't quite go like that. (Or this.) But you know me. It could have.
And if you want to move on from this to an entertaining blog post now, here's one by Ken Levine -- who co-wrote the Garden/bolts "Cheers" episode, which, as you may recall, also had a cameo from none other than Glenn Ordway -- on how much of a natural McHale was as a comedic actor.
* * *
Hat tip here for the partial transcript.
About Touching All The Bases
| | |
| --- | --- |
| | Irreverence and insight from Chad Finn, a Globe/Boston.com sports writer and media columnist. A winner of several national and regional writing awards, he is the founder and sole contributor to the TATB blog, which launched in December 2004. Yes, he realizes how lucky he is. |
Tweets by @GlobeChadFinn
browse this blog
by category
The best of Touching All The Bases