Posted by Chad Finn, Globe Staff
January 6, 2010 12:28 AM
It dawned on me recently that the closest I'll ever come to having a Baseball Hall of Fame vote is having Bob Ryan wave his well-considered ballot in my face (above).
(Which, for an incurable sports nerdle, was pretty cool. I actually said out loud, "Wow, so this is what the ballot looks like?'' Bob, being one of the few people I've ever known who truly and genuinely reveres sports and its traditions the way I do, seemed to understand where I was coming from, showing only a mild hint of amusement. He was even nice enough to let me check it out and badger him about his choices. Couldn't sell him on Tim Raines, though.)
So, yeah, it's a little disappointing to realize, barring some unforeseen and improbable fork in the career path, that I'll never get to check off those boxes on the simple white sheet of paper myself. Consider: I'm 40 years old. And I'm not a member of the Baseball Writers Association of America. You need to be a member for 10 years to have a Hall vote, which means even if I joined the BBWAA before the first pitch at Fenway in April, I'd be 50 when I got to cast my first ballot.
And I can tell you right now that's not happening, since when I'm 50, I plan to be living on an island in the Grenadines (or maybe St. John) with my wife and kids, my currently-17-year-old cat Otis, who will never die, and possibly Jenna Fischer. Big plans, you know.
So the having-a-Hall-ballot daydream? It will probably remain just that. (Same goes for the Beesley daydream, I suppose.) But at least I have the next-best thing: A forum to rant and rave about the players for whom I would vote. And that's what I shall do.
Nine names would appear on my ballot this year, eight sincerely and one sentimentally. To be honest, I'd probably chicken out of the sentimental vote in the end, fearing with world-class irrationality that everyone else would vote for him for the same reason I did while also making the assumption that no one else would, thus making a wholly undeserving player the first unanimous selection to the Hall of Fame. Hey, it could happen.
What follows is my starting nine: Five players who were easy choices, two who I've become convinced on over the years, one who was an idol-turned-pariah, and yes, that sentimental choice. Hey, Jim Deshaies got a vote once; I can vote for Ellis Burks. Hypothetically, anyway.
Here's the breakdown of my choices as we wait to hear who will get inducted. My best guesses for who will actually get that phone call informing them of their official baseball immortality this afternoon? Andre Dawson, Roberto Alomar, and Bert Blyleven, with Barry Larkin just below the 75 percent cutoff.
All four of their names – and five more -- appear below. I look forward to reading your Hall of Fame choices in the comments.
* * *
EASY LIKE SUNDAY MORNING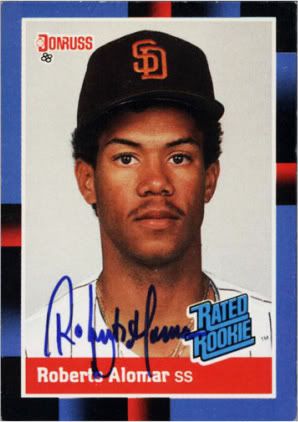 Roberto Alomar: He should sail in with beyond the requisite 75 percent in his first year on the ballot. Despite a shockingly abrupt erosion of his skills -- in 2001, he batted .336 with 100 RBIs, 66 extra-base hits and 30 steals, and in 2005 he was finished after an embarrassing, aborted stint with the then-lousy Rays in spring training -- he'll be remembered as one of the most complete players of his time, dazzling with uncommon flair and range at second base while winning a dozen Gold Gloves, making a dozen All-Star teams, and batting .323 with a .923 OPS during his three-season heyday in those mighty Cleveland lineups. If you've seen a better all-around second baseman than Roberto Alomar, you must have a pretty sharp memory (or be addicted to the MLB Network) to remember Joe Morgan so well.
(One other note on Alomar: His offensive prowess must have come from his mother. His dad, Sandy Alomar Sr., had a lifetime .585 OPS in 15 seasons.)
* * *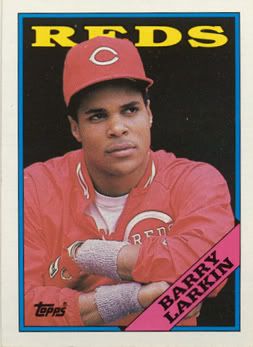 Barry Larkin and Alan Trammell: I swear, pairing them together is not a cop out. Just check out how they relate to each other in baseball history, not to mention a certain current player who is already a certainty to fist-pump and intangibly calm-eyes his way through an induction speech someday. (Yes, one can actually "intangibly calm-eyes" something. McCarver promised me it's true.) On Derek Jeter's career similarity scores, Larkin is first and Trammell is third. (Alomar, interestingly, is second.) On Trammell's career similarity scores, Larkin is first. And on Larkin's similarity scores, Trammell is first and Jeter is third. Now, there are some flaws here -- the likes of Ray Durham, Edgar Renteria, and Jay Bell appear way too often among the three players' comp lists -- but the story goes beyond the numbers. Larkin and Trammell played their entire careers with -- and are icons of -- one franchise, and if you think Jeter is ever leaving New York, you're A-Rod and you're having that daydream again, meaning the one that doesn't involve Kirstie Alley riding a centaur. Like Jeter, they were centerpiece players on memorable championship teams, Trammell with the '84 Tigers that started 35-5, and Larkin with the '90 Reds that stunned Tony La Russa and his swollen A's. The only real difference that I can see is that Trammell and Larkin were Gold Glove shortstops who actually showed up on your television screen before the six-hop single settled into the center fielder's glove.
* * *
A half-inning's worth of other thoughts on Larkin and Trammell
1) Larkin had a strange outlier of a season in 1996, hitting 33 home runs. He never hit more than 20 in any other season of his 19-year career, and in '97 he fell from 33 to 4 as he was injured and played just 73 games. Still, you don't often see a player hit 12 percent of his previous season's homer total.
2) Trammell, who batted .343 with 28 homers and a .953 OPS for the 1987 Tigers, finished second in the AL MVP voting that season. Instead it went to slugger George Bell of Toronto, who hit .308 with 47 homers and 134 RBIs for the Blue Jays. In September and October, as the Tigers overcame the Jays to win the AL East title, Trammell hit .417 with 7 homers and 20 RBIs. Bell hit .308 with 6 homers and 21 RBIs.
3) I think I rant about this every year at about this time, but it still ticks me off that Lou Whitaker -- Trammell's double play partner for nearly two decades who, in a great bit of baseball symmetry, debuted on the same day -- lasted just one measly year on the ballot. Whether Whitaker had the credentials for Cooperstown is debatable. But the argument should have lasted much longer than it did.
* * *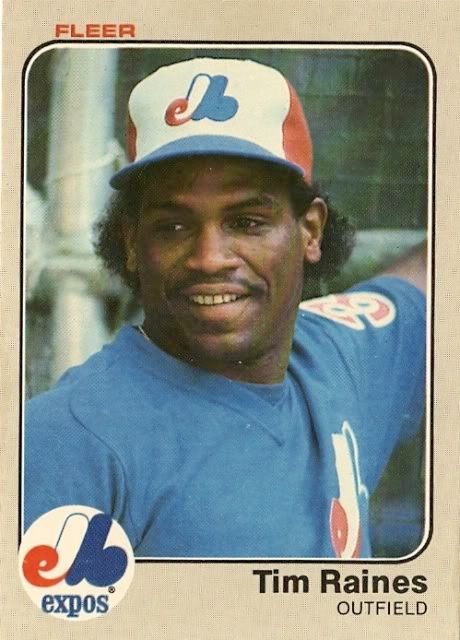 Tim Raines: I have never needed convincing on Raines. He reached base nearly 4,000 times. He stole 808 bases at an 85-percent clip. His on-base percentage over the course of his 23-year career was .385. He reminds me of the famous Bill James statement that if you split Rickey Henderson's career in two, you'd have two Hall of Famers. Raines was, what, 75 percent of Henderson, undeniably the second-greatest leadoff hitter of his era who also had the skills of a No. 3 hitter? The man was a special player with a lousy sense of timing. Raines, overshadowed by the one and only Rickey, underexposed as an Expo, hindered by the '81 strike and collusion in '87, dynamic and brilliant and dominant through it all, belongs in Cooperstown. And if you still don't buy it from me, how about if I hit you with the great Joe Posnanski citing James in defense of Raines? Does this work for you?
Tim Raines had a huge peak. From 1983-87 — the five-year peak — he hit .318/.406/.467 for a 142 OPS+, the same OPS+ that Jim Rice had during his five-year peak. During those five years, he averaged 114 runs scored, 34 doubles, 10 triples, 11 home runs and 71 stolen bases a year. He led the league in runs scored twice, batting and on-base percentage once, doubles once, stolen bases twice, and could have won three MVP awards. He had 163 win shares in those five years — an average of 32.6. Bill [James] says a 30-win share season is an MVP-type year."
Convinced yet? Well, whether you are or not, if you're a Red Sox fan, I know you'll at least agree with this:
Someone should show Raines's career statsthis is what you strive for, kid."
* * *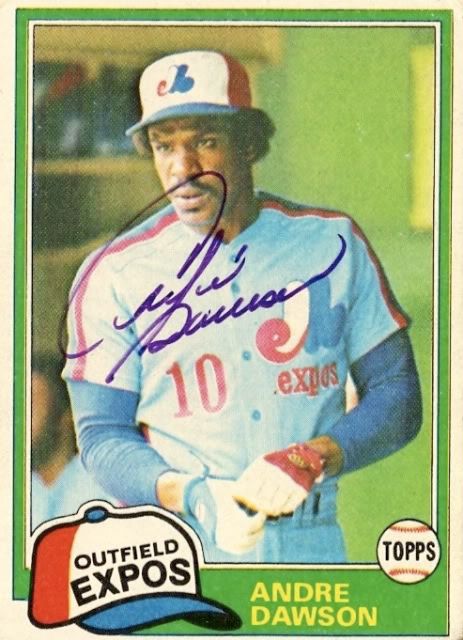 Andre Dawson: I know, it's probably not good for my tenuous bit of credibility to use numbers -- particularly on-base percentage -- to cite Raines's case, then make a quick turn to misty water-color memories to explain my reasons for believing in his friend and mentor Dawson's candidacy. But at the risk of sounding like a stodgy old-school sports writer who wouldn't know what VORP was even it was offered free at the press box buffet, I do not care. I'm not going to be talked out of my memories on this one, and my mind speaks the truth when it tells me that Dawson was a gifted and feared five-tool superstar at his peak, one of the three or four premier players in the game for a good stretch in the '80s. Yes, I know his on-base percentage (.323) was subpar even in an era before the dawn of sabermetrics when it wasn't widely recognized as arguably the essential offensive statistic. I realize he was rewarded with an MVP award in 1987 that he probably didn't deserve. But he also finished in the top 10 in OPS six times despite his free-swinging ways, he won eight Gold Gloves despite knees ravaged before his prime could even arrive, and with 400 homers and 300 stolen bases, he has the appropriate milestones for a player from the '80s. He deserves to get that phone call he's been waiting for today, and you bet I'm rooting for him.
* * *
CONVINCING ARGUMENTS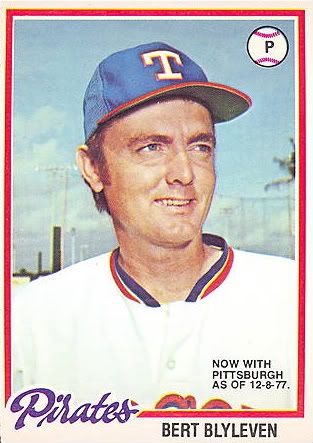 Bert Blyleven: I can admit it. I used to think Jack Morris belonged more, and based on his 254 wins, his contributions to those admirable and often overlooked '80s Tigers teams, and of course, the career-defining legend of Game 7 in '91, I wouldn't be disappointed if did get in. (I might be mistaken, but I believe his mustache is already part of a very popular Facial Hair in Baseball exhibit.) But thanks in large part to my friend Rich Lederer of Baseball Analysts, whose relentless and well-reasoned work enlightened my stubborn (or oblivious) self regarding Blyleven's candidacy, it's obvious that he should have been in years ago. What put ol' Ric Aalbert's candidacy over the top in my mind was the realization -- I know, I know, I should have known before -- that, contrary to the perception that he pitched for lousy teams his whole career, Blyleven was actually a tremendous postseason pitcher (5-1, 2.47 ERA in eight starts while winning titles with the '79 Pirates and '87 Twins). That ERA is nearly a run and a half lower than Morris's in the postseason. Tell me again: Who do you want on the mound in a must-win game, Sparky? I'll take my chances with Bert and that curveball, thank you.
* * *
Edgar Martinez: Who says he's just a designated hitter? Look at that form! Clearly, he'd have been a Brooks Robinson clone, if only had he been given the chance. OK, all right, so he was a butcher, with the range of Lowell '09 and the arm of Hobson '78. Plus, he appears to be playing second base there, which is just a horrific thought. But even though he apparently owned a glove as nothing more than a memento of what must have been an error-prone youth, there's no doubt in my mind that he deserves to be the first true designated hitter inducted into Cooperstown. Despite batting .353, .329, .363, and .345 in four full or partial Triple A seasons, he didn't get a legitimate shot until he was 27. (And Wade Boggs thought he had a beef.) Yet in his career, he compiled 2,247 hits, 309 homers, batted .312 , had a .418 career on-base percentage (22d all time), a .933 OPS (34th all time), led the league in OBP three times, won a pair of batting titles, and -- get this -- finished with a 147 career OPS+, tied with Alex Rodriguez, Willie McCovey, Mike Schmidt, Lance Berkman, and Willie Stargell for 39th in baseball history. And in terms of defining moments, it's hard to top what he accomplished in the 1995 postseason against the Yankees, the cherry on top of what was a season for the ages, when he led the league in batting (.356), OPS (1.107), OBP (.479), adjusted OPS (185), and doubles (52). Still skeptical? Read this. Or this. No, he didn't need a glove. But his bat was more than enough.
* * *
READY TO TALK ABOUT THE PAST
Mark McGwire: The memories of the summer of '98 were fleeting and even fraudulent. (How do you think the Maris family feels, being played for rubes nationwide?) But they sure were fun while they lasted, weren't they? McGwire will get in someday, probably sooner rather than later since the PED issue is now taking on the tenor of Tell me who wasn't using, because that will take less time than listing everyone who was. It wouldn't hurt if he'd discuss whatever he did or didn't do with candor and without being flanked by whispering, cold-eyed lawyers. But considering his 583 homers and .588 career slugging percentage (ninth all time), I'd vote for him this year, even while being amused by the appropriateness of his two most similar players according to baseball-reference.com: Jose Canseco and Jason Giambi. That's what you call a hat trick of muscleheads.
* * *
BECAUSE I'M A SENTIMENTAL FOOL, THAT'S WHY
Ellis Burks: I know, it's perceived as bad form and a sign that you're not taking the voting process seriously enough when you throw a cursory vote to a player you know doesn't belong. To which I say: Lighten up, George Freakin' Will. Burks was an electric and enjoyable, and his return as the Sage Elder during 2004 is one of my favorite peripheral recollections of that season; I give the Red Sox endless credit for choosing Burks to carry the World Series trophy off the plane upon returning from St. Louis as conquering heroes and ghost busters that October night. Besides, I like imagining that somehow he does get in, only to have Mike Greenwell to come flying in from the blindside and cut him off at the knees in the middle of his induction speech. You know, one more time for all the old times. Which, when you think about it, is what induction day is all about.
About Touching All The Bases
| | |
| --- | --- |
| | Irreverence and insight from Chad Finn, a Globe/Boston.com sports writer and media columnist. A winner of several national and regional writing awards, he is the founder and sole contributor to the TATB blog, which launched in December 2004. Yes, he realizes how lucky he is. |
Tweets by @GlobeChadFinn
browse this blog
by category
The best of Touching All The Bases