Posted by Chad Finn, Globe Staff
January 29, 2010 05:53 PM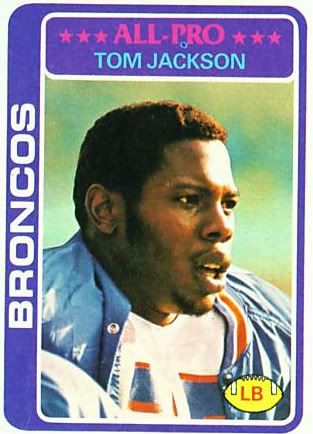 If you missed it, here's today's media extravaganza, leading with Tom Jackson's explanation of his defense of Brett Favre after The Stupidest Interception Ever Thrown, Non-Ryan Leaf Division.
Not sure if this came across in the column as clearly as I'd intended, but Jackson didn't back down from his sentiments while also conceding after a little bit of prodding that he might have chosen his words a little more carefully. He said he did not mean to praise the pass so much as he meant to applaud Favre's overall performance and toughness.
I guess it makes a little more sense in that context. Still, it's hard to believe anyone -- let alone a smart and accomplished ex-player such as Jackson -- could defend that throw to any sane degree, because such a disastrous decision under those circumstances absolutely negates anything that was accomplished before it.
It was a colossally dumb play, it's not the first time Favre has made such a mistake with his team's season on the line, and it's perfectly OK to say that the emperor has no Wranglers, or however the saying goes.
(Somewhere a few blocks from here, Peter King just heaved his mocha latte at the wall. Curiously, it was intercepted by Tracy Porter.)
One other interesting note from Jackson, which I didn't use because it's more of a football thing than a media thing: Peyton Manning's relatively new habit of essentially curling up in the fetal position when it's clear he's going to get sacked has TJ's seal of approval.
Speaking in the context of Favre's toughness and the brutal punishment that quarterbacks sometimes take, he said, "When the guys who are 6-foot-5, 6-foot-6, 300 [pounds], who are just fierce in their pursuit of hitting you and harming you, when that's going on, I always wish I could put fans in that position one time, and then they would understand and they would go, "Oh, my goodness. This is why they make the $100 million during the course of a contract. This is why.'
"In fact, as long as we're talking about it, one other thing that Peyton Manning has kind of incorporated into his repertoire now is kind of going down on his own. When he sees that there's going to be this clear, clean shot on him, and there's nothing that can be done about it, he's now just going down on his own, not taking the hit, and lining up for the next down. That kind of prudence and thought I think is really . . . I think he's decided after 12 years that this might benefit me in the long run."
Just a hunch, but I suspect Patriots fans would choose another word besides "prudence."
About Touching All The Bases
| | |
| --- | --- |
| | Irreverence and insight from Chad Finn, a Globe/Boston.com sports writer and media columnist. A winner of several national and regional writing awards, he is the founder and sole contributor to the TATB blog, which launched in December 2004. Yes, he realizes how lucky he is. |
Tweets by @GlobeChadFinn
browse this blog
by category
The best of Touching All The Bases