Posted by Chad Finn, Globe Staff
December 13, 2009 05:23 PM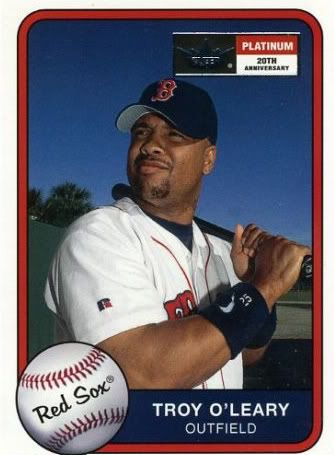 So is it too soon to speculate on the leading candidates to be Jeremy Hermida's platoon buddy in left field?
Probably not as of Saturday, given the gauntlet heaved from out of left field from Jason Bay's camp that the Red Sox left fielder is prepared to "move on." Here is what Joe Urbon, Bay's agent, had to say:
"We don't agree with their evaluation of the player. Frankly, we have other offers on the table that are of greater interest to Jason."
Now, I don't disagree with those who believe Urbon is simply trying to force the action here. It's logical to interpret his words not as an ultimatum but instead as a negotiating tactic, a ploy to get the Sox to make their final offer now so Bay can get on with the process of choosing where to spend the next four years.
But . . . the possibility that they are trying to pry the last, best offer out of the Sox is viable only if he's prepared to accept four years. Because if he's talking or demanding five -- or if some fantasy league general manager such as Omar Minaya has already whispered a willingness to go to that length in Urbon's ear -- I have no doubt that the Red Sox braintrust has already bid Bay farewell and began deep evaluations how the likes of Mike Cameron, Xavier Nady, and Dan Uggla might fit financially and at Fenway.
Remember, one element of Plan B was put into place roughly a month ago when Hermida was acquired from the Marlins for a couple of organizational bodies only the folks at soxprospects.com could pick out of a lineup. Hermida, a talented but underachieving 25-year-old lefthanded hitter, is not here as a fourth outfielder unless J.D. Drew plans on facing the tough lefties this season. Hermida's here as a mildly intriguing in-house platoon option if Bay leaves and a mildly appealing trade chip if Bay sticks around.
For all of the appealing things about Bay -- starting, obviously, with his 36 homers and 119 RBIs in 2009 -- the truth is this: Red Sox cannot possibly have interest in paying him $18 million or so in 2014 just so they can discover firsthand what a player who hit .267 and whiffed 162 times at age 31 might look like at age 36. When Urbon says "we don't agree with their evaluation," the rough translation after reading between the lines suggests Epstein said in so many words, "Thanks for the great year and a half, but we'd rather platoon Michael Coleman and Troy O'Leary in left field than give Jason a fifth year. Oh, and tell him to enjoy Flushing."
The educated guess here is that the consensus -- probably the overwhelming consensus -- among Sox fans is that they should give Bay a fifth year if that's what it takes to keep him Boston. He's a likable and productive player. His easygoing manner and immediate production upon arrival at the 2008 trade deadline prevented most us from dwelling on Manny Ramirez's unseemly departure. And given that the Red Sox' lineup with Bay capably doing his thing still was short at least one hitter who could handle quality pitching, it's tough to accept that the team leader in homers and RBIs is taking his Louisville Slugger and moving on.
I get it. Wanting Bay to stay is understandable, particularly given the current world order. The Yankees Way -- spend millions on superstar baubles, develop a few supporting players here and there, and hope your allegedly aging icons somehow continue to retain their youth -- worked for the first time in nearly a decade. And the perception is that they've improved since their joyous October; they left Indianapolis with All-Star Curtis Granderson, a talented prime-of-career center fielder who will even more valuable if they realize he's really a platoon player. Meanwhile, Red Sox owner John Henry gripes about revenue sharing as if he forgot he ever owned the Marlins. Not the proudest of recent times for a Sox fan.
Which is why I'm reassured -- yet again -- that Theo Epstein is making the decisions. Yes, I know Henry will be cutting too many checks to players on other rosters next season, particularly if this Mike Lowell deal goes through before another joint crackles or another appendage falls off. But there's another bottom line that matters: the Red Sox have won two World Series and made the postseason in six of the seven years of Epstein's tenure. If there's a GM in baseball you prefer to Theo, I'll gladly listen to your case before I win the argument.
Even in frustrating times, it just seems to me that it's a wise policy to give proven and intelligent people the benefit of the doubt; with time and patience the rewards will eventually come. I feel that way about Bill Belichick, and I feel that way about Theo Epstein. He's deeply informed, progressive and open-minded, proudly unsentimental. While you wouldn't be a New Englander worth your rock salt if you didn't feel an overwhelming urge to howl about Red Sox management every now and then, Epstein is as worthy of our trust as they come. He may not always find the right players -- I fear Adrian Beltre, he of the dazzling defense and one Brady Anderson-style outlier in an otherwise uninspiring hitting career, might be his next dubious foray into free agency -- but I have the utmost respect for the process he uses to build and maintain a successful franchise, a process which he articulated with some candor at the winter meetings:
"It is important to take a step back and remove the organization from the narrative that surrounds the team and focus on delivering a healthy, long-term foundation and then trusting that foundation will lead to success. When you come off the disappointing years, it's always harder. That shiny toy looks shinier.

"But in the end you have to realize you're not going to win every single year, you're not going to win 95 games every year, you're not going to make the playoffs every year, you're certainly not going to win the World Series every year. You have to always do what's in the best long-term interest of your organization.''
Now tell me: When it's put that way, how can any clear-eyed Sox fan have a problem with it? It makes perfect sense if this run of excellence is to be sustained in a more fiscally restrained way than the filthiest of the filthy rich go about their business in the Bronx. I'm not saying that when Theo is selling a bridge that I'm always buying it, but that whole thing was blown out of proportion -- who, us? -- around here. Barring catastrophe, the Red Sox are going to be fine as they transition from the Papi Era to whatever they will be a few seasons from now. Even in the worst-case scenario -- Bay departs and the offseason passes without a NESN-friendly addition -- the Sox will enter 2010 with a team capable of winning 90-plus games and competing for bigger prizes. The pitching is deep, Victor Martinez will be here for a full season, they are guaranteed to get better production from shortstop and catcher, and Hermida and Casey Kotchman, both former elite prospects entering their prime, are at least capable of contributing more than anyone suspects right now. Remember, Theo has been known to hit some jackpots, too.
He's capable of doing so again, even if he's just playing the cheap slots this offseason. Of course there is still viable hope that a big-name could arrive via trade, particularly if there's anything to the notion that Adrian Gonzalez desires to play in Boston. But it's different regarding a trade; there is no player close to Gonzalez's ability available as a free agent this offseason, not a player even vaguely resembling Mark Teixeira in the whole lot of them, no matter how Scott Boras tries to sell Matt Holliday.
If Jed Hoyer, knowing he's saddled with a $40 million payroll for the foreseeable future, decides to sell high on Gonzalez, you can be sure Epstein will be willing to part with more than a few of his precious prospect babies. It's not that we're expecting a major deal to happen -- the Sox' finest prospects don't even know their way around the Old Port yet, and Gonzalez would probably have to express his frustration publicly in order to push Hoyer toward a deal. But that option strikes me as much more probable than paying what the Sox perceive as above value for Bay or Holliday. Buster Olney hit the mitt with his elaboration of that notion on his blog Saturday:
It's pretty clear that the Red Sox don't necessarily view any of the [big-name] free agents as gotta-have-him difference-making players. They probably aren't going to extend themselves much to acquire one of them in particular beyond what they perceive that player's value to be.
Unless Saturday's development was merely an agent bluffing on behalf of a client who is getting antsy about where he'll be playing ball the next four seasons, it's apparent that the Red Sox perceive Jason Bay's value to be something less than others do. And while we'll miss those 36 home runs, this much we also know: You have to respect a general manager disciplined enough to let a productive hitter walk away. Especially when the majority is vocal about hoping his home run power equates to staying power.
About Touching All The Bases
| | |
| --- | --- |
| | Irreverence and insight from Chad Finn, a Globe/Boston.com sports writer and media columnist. A winner of several national and regional writing awards, he is the founder and sole contributor to the TATB blog, which launched in December 2004. Yes, he realizes how lucky he is. |
Tweets by @GlobeChadFinn
browse this blog
by category
The best of Touching All The Bases