Posted by Chad Finn, Globe Staff
December 27, 2009 11:39 PM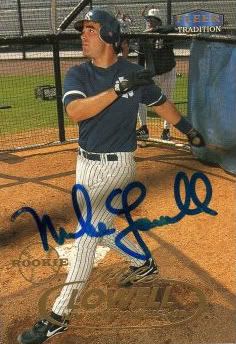 The Fleer don't lie. It's all true. Mike Lowell was once a Yankee. He may have even liked it.
Now, we're not suggesting that Lowell's pinstriped past -- which of course is already common knowledge to anyone who frequently enjoys riding the waves around baseball-reference.com -- affects his Red Sox legacy in some way.
Through the decades, there have been countless players who have witnessed this rivalry unfold from the vantage point of both dugouts, from charismatic characters (Johnny Damon, Boomer Wells, and that connoisseur of booze, hot dogs and life known as the Babe), to slowing sluggers (Jack Clark and Tony Clark, who are not of relations) to good-field, no-hit backstops (Kevin Cash and John Flaherty), and even the occasional no-field, good-hit backstop (Mike Stanley).
While it may appear that I just set a new record for Earliest Digression In A Column/Blog, Escaped-From-Mother's-Basement Division, there is an actual point in there, and I will unearth it for you, though a certain segment of Sox fans probably wish I would not.
Mike Lowell, the 2007 World Series Most Valuable Player and one who has the image of an all-around swell guy, has enjoyed some memorable moments in a Red Sox uniform, and he earns bonus points for having taken a discount to stay here when others came calling. But because he is with Boston and admired by fans in Boston doesn't mean he should remain with Boston, and Theo Epstein's recent ill-fated attempt at trading him to the Texas Rangers, along with a voucher for 75 percent of his salary, in exchange for a supposed no-field, good-hit catcher in the unproven Max Ramirez tells you just how much they desire to trade Lowell before it's a year too late.
And you know what? I don't care what the fan polls say, because fans too often vote purely on sentiment or on which player's jersey they own. Baseball-wise, attempting to deal Lowell right now was absolutely the correct thing to do. Yes, he was productive when he played last season, batting .290 with 17 homers, 75 RBIs, and an .811 OPS, numbers remarkably similar to this 2008 output. But the key to that sentence is this: When he played.
Lowell missed 43 games last season, a large number of them because of injury, and unless the Fountain of Youth turns out to be located somewhere near his Florida home, he's not about to become durable again as he approaches age 36. His recovery from hip surgery last season deprived him of so much range that he had roughly the same Ultimate Zone Rating as Johnny Pesky, and this lingering thumb injury does not foreshadow good health to come. Let him finish his career in another team's training room.
All right, so maybe that conclusion is a little callous. I do understand why some fans don't want to see Lowell go. Cheering on your personal favorites is a meaningful part of the joy of following sports. Hey, in some nostalgic way I still wish Butch Hobson played third for the Sox, and he's 58 years old and probably hasn't been able to straighten out his right elbow for 30 years.
What I can't fathom is the notion of hanging onto favorites when it comes at the obvious expense of fielding the best possible team. That applies to players like Lowell who appear headed for the decline phase, to put it generously. It also applies to players whose popularity exceeds their production. Watching Jacoby Ellsbury steal home against the Yankees was one of the highlights of the Red Sox' 2009 season -- possibly the No. 1 highlight. He is an electric athlete, is more adept on the bases than any player in modern Sox history (sorry, Otis Nixon '94), and makes enough highlight-reel catches in center field to earn a general reputation as whiz with the leather. While he still has some growing to do -- he's yet to have a full-season adjusted OPS over 100, most defensive metrics do not consider him better than adequate with the glove, and he's been accused of taking the scenic route to the baseball more than a quality center fielder should -- the reasons for his appeal are apparent.
What I can't fathom is the reluctance of some to trade this fun but flawed player should the Sox be able to acquire, oh, say, Adrian Gonzalez in return. I'm not going to rehash all of the slugging San Diego first baseman's attributes, because I've spent plenty of words in this space raving about him for the better part of a year. Here's the condensed version of the previous half-dozen Go Get Gonzo columns: He's a remarkably patient hitter who walloped 40 home runs for a lousy team that played in a huge ballpark last season, he'd be the perfect fit in the middle of the Sox lineup, his swing is tailor-made for Fenway, his arrival would halt all of revisionist history about the Sox's failed chances at Mark "To The Rich Go The Spoils" Teixeira. And for all of talk of the 26-year-old Ellsbury being a developing player, he's a little more than a year younger than Gonzalez.
I do realize the chances of getting Gonzalez before the start of the season rate somewhere between "conjecture" and "let it go, Finn" at the moment. It would take tremendous, er, guts for new Padres general manager Jed Hoyer to trade the franchise's best player (not to mention a San Diego native who is reportedly a gem in the community) to his former employer for a collection of prospects and promises. Count me among those who suspect he'll deal Gonzalez midsummer, after the team on the field has spent the season's first few months proving beyond a doubt that it needs an extreme makeover. And given that Ellsbury's arbitration clock is already ticking, it's unlikely that he'd be high on Hoyer's list of demands. The Westmorelands and Kellys and Andersons would be under the Padres' control for much longer. Of course that is relevant to the equation.
But whether Ellsbury would be part of the deal is irrelevant to today's debate; the point is that if the Padres somehow did have interest, perhaps figuring his National League-style skills would make him a fine fit in Petco, there is absolutely no doubt that he should be part of the deal. And yet there's no doubt there would be an outcry around here if Ellsbury went to San Diego in a swap for a player who is more ideal for the Red Sox at this moment than Ellsbury will ever be during his career.
Maybe Gonzalez doesn't have a name of a Gossip Girl heartthrob and has never done a spread for Men's Vogue, but it's worth remembering that sometimes the player you don't know is better than the one you do. It's admirable to be loyal to your favorites. It's foolish to be loyal to a fault.
Come to think of it, Mike Lowell, who stayed with the Sox when the Phillies offered a longer deal and more loot, might even agree with that last sentiment. And someday, Ellsbury probably will too, though he'll never learn it the hard way as Lowell did.
After all, his agent is Scott Boras. And when he's involved, loyalty is not reciprocated to the fans who adored you when. It's sold to the highest bidder.
About Touching All The Bases
| | |
| --- | --- |
| | Irreverence and insight from Chad Finn, a Globe/Boston.com sports writer and media columnist. A winner of several national and regional writing awards, he is the founder and sole contributor to the TATB blog, which launched in December 2004. Yes, he realizes how lucky he is. |
Tweets by @GlobeChadFinn
browse this blog
by category
The best of Touching All The Bases