Posted by Chad Finn, Globe Staff
November 14, 2009 04:10 PM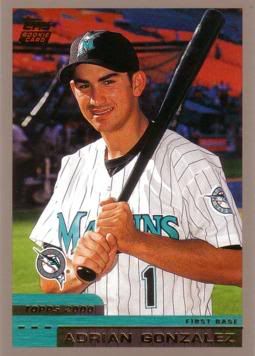 The "2010 Baseball America Prospect Handbook" arrives in bookstores and mail boxes in late January, but the tease comes roughly a month earlier: The list of the Red Sox' top 30 prospects is set to be revealed on the BA website Dec. 14.
So there you go. Mark your calendars. When you're a baseball junkie, Christmas really does last more than one day. Especially if someone else antes up the cover and on-line subscription prices.
For fans who want a glimpse of the future -- and for certain writers who love keeping each year's edition for future reference, just so they can someday write haughty, know-it-all sentences like, "You know, in 2006, Jeremy Hermida was rated higher than Hanley Ramirez" -- the Prospect Handbook is a must-have annual addition to the baseball library. It is in-depth and serious, impeccably written and researched, a true and trustworthy guide to the finest young players in every franchise's farm system.
In sum, it's awesome. Just buy it already.
Now, with that haphazard endorsement out of the way, we're comfortable addressing the striking reality in regard to one of the Red Sox' grandest possible plans this offseason:
Baseball America's list of the Red Sox' top 30 prospects will make for compelling reading for an opposing general manager in search of knowledge and insight about the Boston player development machine. But it certainly will not match the internal rankings of general manager Theo Epstein and his baseball operations staff.
And it will be of absolutely no use to the one general manager who holds perhaps the most appealing trade chip this winter when it comes to the Red Sox. Because the truth is this:
Jed Hoyer -- Epstein's longtime front-office wingman, the Padres' rookie general manager, and the person who will have an enormous say in where and for whom the great and coveted Adrian Gonzalez plays baseball the next several seasons -- knows the Red Sox as well as the Red Sox know themselves.
And that could make for one fascinating prologue to a blockbuster deal.
There is a theory, a perfectly reasonable one, that Hoyer's institutional knowledge of the Red Sox organization could provide an impenetrable barrier to achieving a deal for Gonzalez, the 27-year-old slugger whose acquisition would give the Red Sox their answer to Mark Teixeira (with the added bonus of ending all "Why didn't we get Teixeira?" sniveling.) Epstein addressed the complexities of talking trade with Hoyer at the general managers meetings, saying, ""We look for the same things in players. It's sometimes easier to make a deal if there are disparities in how players are valued.''
Epstein speaks the truth . . . and yet, I hope, and believe, that this won't be a deal-breaker here. What it should mean is that any negotiations between the Red Sox and Padres for Gonzalez are going to have to be truly honest. There will no suggestions that Michael Bowden is a suitable stand-in for Clay Buchholz. No snake-oil salesmanship of farmhands Baseball America and the like might praise, but whom are considered "fake" prospects within the confines of the Red Sox' baseball ops department.
If he's as competent as his reputation suggests, Hoyer cannot be duped here. He knows the in-house answers, whatever they may be, for why Clay Buchholz wilted in 2008. He knows how Daniel Bard's control problems in Single A were cured. He knows why Lars Anderson struggled in Double A, he knows whether Casey Kelly should pitch or play shortstop, he knows the club's preference between Josh Reddick and Ryan Kalish, and he knows so much more than that.
When Hoyer and Epstein talk about a Gonzalez deal-- and c'mon, you know they will -- it will be to involve the real prospects, the ones Hoyer knows Epstein is loath to part with. And should a deal be consummated, I suspect it will be one that both Hoyer and Epstein both feel good about, yet one that also leaves both men a little queasy. Man, I hated to give up that guy, but we had to do it . . . didn't we?
Make no mistake: Gonzalez will bring, as Sports Illustrated's Jon Heyman cleverly called it this summer when his name first showed up in trade rumors, the madre lode. And yet, chances are Gonzalez will prove worth whatever package the Red Sox part with. All prospects are essentially lottery tickets, even the truly elite. In the 2002 Prospect Handbook, Baseball America founder Allan Simpson rated his top 10 prospects this way:
1. Josh Beckett, RHP, Marlins
2. Mark Prior, RHP, Dusty Baker's Arm 'n' Limb Meat Grinder Emporium
3. Sean Burroughs, 3B, Padres
4. Hank Blalock, 3B, Rangers
5. Wilson Betemit, SS, Braves
6. Ryan Anderson, LHP, Mariners
7. Juan Cruz, RHP, Cubs
8. Josh Hamilton, OF, Devil Rays
9. Mark Teixeira, 3B, Rangers
10. Carlos Pena, 1B, A's


Joe Mauer was 14th, Marlins shortstop Miguel Cabrera -- yes, shortstop; imagine that now -- was 31st, one spot below KC's Angel Berroa, and Gonzalez was 34th, one spot ahead of the Angels' Casey Kotchman.
So, yeah . . . lottery tickets. Case rested. If Theo has to part with Casey Kelly (is he closer to the next Frankie Rodriguez or closer to the next Zack Greinke?) or Ryan Westmoreland (are the injuries officially a concern?) or frankly, anyone in the organization with legitimate aspirations of playing in Fenway Park someday, he must do it, unless and only unless he's covertly hoarding his chips for a possible Felix Hernandez sweepstakes.
Otherwise, he's got to go get Gonzo. He won't be 28 until May, he's a terrific defender with a pair of Gold Gloves (for what those are worth), and he's coming off a monster season (40 homers, 119 walks, .958 OPS; 28 homers and 1.045 OPS away from the Petco Canyon) while anchoring a lineup that featured no one else more venerable than Will Venable.
For all of his value on the field, he might be the biggest steal in baseball financially. He's due to make $4.75 million in 2010 and $5.5 million in '11, the total of which is roughly what Alex Rodriguez will make during the first two months of next season. Why would the Padres consider dealing such a valuable yet inexpensive ballplayer? The reason is twofold: As former GM Kevin Towers revealed after his apparently amicable departure, the Padres probably are not going to be able to afford Gonzalez down the road since the franchise is likely looking at a $40-million payroll for the foreseeable future.
Beyond that, if they're not in a full-blown rebuilding mode yet, they should be, because it's only a matter of time. Their farm system is depleted -- that Matt Bush-over-Justin Verlander thing didn't work out so well -- and the reason why some think the Padres shouldn't trade Gonzalez is the same reason Hoyer should explore every option: His value will never be higher. Trading Gonzalez's prime for the hope of a brighter future is the proper thing to do.
There should be no fear as to whether Gonzalez can handle the bright and sometimes blinding lights of Boston after spending his first six years in junior varsity baseball territories Texas, and San Diego. This is a kid who was a No. 1 overall pick and once predicted he would hit .420 one season in the minor leagues. He didn't. But it's fair to say his self-confidence has been justified several times over since then. He can make it anywhere.
Here's hoping we get to watch it happen firsthand here in Boston. Sure, Adrian Gonzalez will come at a steep price. That's how it should be for a player of his caliber.
What will be extra intriguing is discovering what constitutes a steep -- but worthwhile -- price to Epstein, for whom bluffing is not an option when he's dealing with an old friend who not only knows what he needs, but knows what he knows as well.
About Touching All The Bases
| | |
| --- | --- |
| | Irreverence and insight from Chad Finn, a Globe/Boston.com sports writer and media columnist. A winner of several national and regional writing awards, he is the founder and sole contributor to the TATB blog, which launched in December 2004. Yes, he realizes how lucky he is. |
Tweets by @GlobeChadFinn
browse this blog
by category
The best of Touching All The Bases