Posted by Chad Finn, Globe Staff
October 28, 2009 05:46 PM
Well, Sox fans, you knew that enjoyable October schadenfreude of the past few seasons couldn't last forever. The Yankees' run of five years without reaching a World Series officially ends tonight when former Indians ace CC Sabathia takes the mound against former Indians ace Cliff Lee in Game 1 in the Bronx.
While somewhere in a Cleveland suburb Mark Shapiro gently weeps, those of us here in New England who were born and raised to loathe pinstripes are left to hope against hope that the Yankees' stretch of seasons without a championship extends to nine. We've enjoyed the peace and quiet the last few years regarding a certain rivalry, not to mention the last laugh on a couple of unforgettable occasions, and I'm surely not about to root for that to change.
Unfortunately, I'm fairly convinced it will.
While you have to tip your cap to Jimmy Rollins for his boldness -- the Phillies' shortstop and resident Joe Namath wannabe likes his club in five games, maybe six, and wasn't it nice of him to give the Yankees a win or two? -- I worry that he's somehow mixing up his New York teams. The Mets, now those habitual underachievers are the ones you make guarantees against. The Yankees? They're the ones who almost convince us that they like each other during their various celebrations along the way.
Even a Sox fan has to concede that this has been shaping up to be the Yankees' season for some time now -- in retrospect, probably since they spent $423,500,000 on a trio of players during a gluttonous and tremendously successful free-agent buying spree last winter. It took a while for the new expensive pieces, which replaced failed and broken-down expensive pieces, to fit together properly with the holdover expensive pieces, but once the Yankees got rolling midsummer, all evidence indicated that they were the team to beat.
(Have I whined enough about the payroll yet? I have? I wasn't being subtle there? Okay, I'll stop. You can put down your tiny violins now, Yankees fans.)
Through the first two rounds of the postseason, the evidence has continued to mount, and we've been seeing too many of those old annoying traits and harbingers that became so annoyingly familiar a decade ago. Mariano Rivera remains ageless and a boon to wood-bat-makers everywhere. Alex Rodriguez, notorious for gulping down his tongue in big moments, has enjoyed a hellacious postseason (.438, five homers) and is apparently finding the same inspiration in Penny Lane that William Miller did. Derek Jeter is again the Fox network's favorite camera-ready prime-time star.
(Quick aside: It's beyond disenchanting to learn that Jeter's at-bat music is Jay-Z's exhilarating "Empire State of Mind." I would have thought it would have been something by, I don't know, maybe the Jonas Brothers, since they are also tremendously popular, adored by Tim McCarver, and have no range to speak of.)
The Yankees' postseason performance has become such an obvious flashback to their last dynastic run that it's almost disconcerting when Joe Girardi trots to the mound to change a pitcher; you still half expect to see Joe Torre trudging out there, stoic look on his face, arms at his sides, as he decides which middle reliever will be visiting Dr. James Andrews next. Two innings and a dozen pitching changes later, however, you're extremely used to Girardi, who looks so perpetually tense that you can't help but recall Ferris Bueller's line about his uptight friend Cameron when you look at him. The man's veins have veins.
I suppose a Sox fan's envy could appear to be seeping through the words here, and I do have to admit, the desired outcome of this World Series involves a Yankees meltdown of epic proportions. (How could it possibly be more epic than 2004, well, that's for the script writers to figure out, though A-Rod in the fetal position needs to be involved somehow.) But you know what I'd settle for? A memorable, taut, seven-game series. Setting down our blatant subjectivity for a moment, it seems apparent that baseball's two best teams are the two remaining teams, and there's justice in that.
In my fear of a Yankee uprising -- weird how their fans seem to be commenting on this blog more often these days -- perhaps I am being too dismissive of the Phillies' chances. After all, they are the ones who will enter the ring tonight wearing the championship belt. They have a lineup capable of winning a slugfest, a true ace in Cliff Lee (how shrewd was Ruben Amaro Jr. in pulling off the Lee deal rather than caving to the Blue Jays' demands for Roy Halladay?), and a deep if hardly flawless pitching staff.
The Phillies can win this thing. I've almost even convinced myself of that. But they are going to need some specific and fortuitous developments along the way to do so. It wouldn't hurt, for one, if Cole Hamels started pitching like he did en route to winning the World Series Most Valuable Player award a season ago; given his uneven season, which at times has appeared to be a tribute to Terry Mulholland, that's probably unlikely. Here are a few more must-happens if the Phillies are to repeat.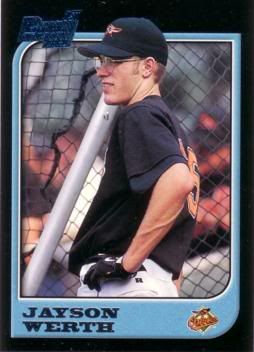 Jayson Werth needs to have a monster series: Werth, the Phillies' mashing 30-year-old right fielder, has an interesting background. He's the stepson of former Yankees catcher Dennis Werth, but his athletic bloodlines come in large part from his mom's side (former major league shortstop Dick Schoefield is his uncle). He was a phenom as a catcher in the Orioles system a decade ago, had some injuries and fell out of favor, got dealt to Toronto for the forgettable John Bale, was swapped to the Dodgers for Jason Frasor, converted to an outfielder, suffered recurring wrist issues after getting hit by an A.J. Burnett pitch that eventually cost him the entire 2006 season . . . then, virtually out of nowhere in '08, he hit 24 homers for the Phillies, including a league-best 16 against lefthanded pitchers. This season, he emerged as a bona-fide slugger, clubbing 36 homers, driving in 99 runs, and putting up an .879 OPS. And he absolutely mauled lefthanders, hitting 14 homers in 189 plate appearances with an OPS of 1.030. Given that as many as four games could be started by lefties for the Yankees, and given that Ryan Howard's OPS against lefties this year was .653, Werth is going to have to deliver if the Phillies are to repeat. (Coincidentally, lefthanded-hitting Chase Utley was actually better against lefties than righties. But the point stands. Werth must deliver.)
(Yes, another digression: Look at this photo of Werth during his Orioles youth and tell me a few years later he didn't hire a stylist and say, "Do whatever it takes, Lionel, but you've got to make me look like Scott Speizio.")
Brad Lidge cannot pull a Papelbon. OK, so unfair. Papelbon doesn't allow a run in his first 27 postseason innings, closes out a World Series, and because of one poorly-timed brutal postseason performance, he's suddenly Toby Borland? We apologize. Brad Lidge is actually Toby Borland. It's staggering how awful he was this season -- no wins, eight losses, 11 blown saves, a 7.21 ERA and 1.86 WHIP, and an ERA+ of 59. All the more remarkable is that this happened after an essentially flawless '08 season in which he was a perfect 41 of 41 in save opportunities, had an 225 adjusted ERA, and recorded the final out to clinch the franchise's first championship since '80. Lidge has been a little better lately -- he has three saves and a win this postseason and has not allowed a run -- but tell me you won't be expecting to see a sequel to this should he be on the mound in the ninth inning with A-Rod or Teixeira at the plate and the game on the line.
Pedro feeds off the taunts of Yankees' fans and thrives. I'd just as soon never hear the phrase "Who's your daddy?" again, and that includes that Toby Keith song. But there's no doubt that Pedro's return the Bronx -- the site of some of his greatest triumphs and painful disappointments -- is the compelling storyline of this World Series. I don't know about you, but I'm looking forward to it while also dreading it, if that makes sense. Logic suggests the Yankees, patient and powerful, will get to him with relative ease. That lineup and his repertoire in that tribute-to-Williamsport ballpark cannot be a good combination, and the last thing I want to see is him walking slowly off the mound with one out in the fourth inning as the box-seat jackals pelt him with taunts. But . . . this is Pedro we're talking about. He's 38, and the fastball only tiptoes into the 90s now, but he doesn't lack for savvy and guile, and he remains as intelligent and determined as any pitcher -- any athlete -- we've been fortunate enough to witness. I don't expect him to fare well. But if he does, well, I'm not going to be totally surprised, either, because that man will always get the benefit of the doubt from me. As we learned a long time ago, with Pedro, anything is possible, up to and including sticking one between Nick Swisher's shoulder blades, then saying later, "My bad. I thought he was -- what was that guy's name? Ah, yes, Karim Garcia."
Charlie Manuel will have to guess right, then guess right again . . . and again . . . and again . . . : Manuel could become the first since Torre to win back to back World Series. We'd feel better about that if he wasn't such a guts-instincts-hunches type in the mold of his pal Grady Little. I fear he'll leave Pedro out there too long, or leave Lidge in to pour gasoline on a fire, or play Matt Stairs at second base just for a hearty chuckle. OK, maybe he won't do the latter, but my hunch doesn't change: Yankees in six.
Here's hoping Jimmy Rollins is better at the prediction game than I am.
About Touching All The Bases
| | |
| --- | --- |
| | Irreverence and insight from Chad Finn, a Globe/Boston.com sports writer and media columnist. A winner of several national and regional writing awards, he is the founder and sole contributor to the TATB blog, which launched in December 2004. Yes, he realizes how lucky he is. |
Tweets by @GlobeChadFinn
browse this blog
by category
The best of Touching All The Bases