Posted by Chad Finn, Globe Staff
October 11, 2009 12:00 AM
We'll spare you the individual disasters, save for saying that it's always sad to see Big Papi this way, and we've never seen Dustin Pedroia lunge for so many pitcher's pitches. Perhaps coming back to the comforts of Fenway -- where they've been considerably, inexplicably better this season -- will bring some life back to that deadwood they toted to the West Coast. But hey, it's just two games. It's nothing a first-inning three-run homer today couldn't solve. Whaddaya say, Victor?
The Red Sox' and Angels' offenses looked relatively even on paper entering this series -- the Angels had the higher team batting average, the Sox the higher OBP and OPS -- but while the Red Sox have looked like a Craig Grebeck tribute band against John Lackey and Jered Weaver, the Angels, despite a collective .228 batting average in the series, have flashed their power and their speed at the most opportune times. And I'm pretty sure the maddening, admirable Bobby Abreu has never has seen fewer than 15 pitches in an at-bat.
We're all asking ourselves the same question this morning: Can the Sox make this a series? I probably don't need to remind you that they done this before -- you've got the memories and the memorabilia from Cleveland '99, Oakland '03, and the Bronx '04 as proof. Nor do I need to tell you that it will be no easy feat. Today, the Sox will face lefthander Scott Kazmir, an established nemesis who has a 3.59 ERA and 138 strikouts in 130.1 innings in his career against Boston, and who has been rejuvenated since being dealt from Tampa Bay to Anaheim in August (a Guidry-like 1.74 ERA in six starts).
With the season hanging in the balance, the Sox will counter with the gifted and wide-eyed Clay Buchholz. The 25-year-old righthander had a marvelous six-week run in late summer, and it seemed his vast promise was in the early stages of fulfillment. Then he went out and gave up six homers and 13 earned runs in eight innings in his final two starts. Wouldn't you know it, there he was associating with that word "enigma" again.
Buchholz could pitch brilliantly, or he could be blinded by the October spotlight. Nothing will come as a surprise. But the Sox could go a long way toward easing his nerves with a pitcher's favorite gift: A heaping helping of runs, the earlier, the better.
Should they somehow find a way, against Kazmir and these determined Angels, to keep the crowd on its feet and the scoreboard operator busy, the reaction of Red Sox players and fans will be one and the same:
It's about time.
* * *
As for today's Completely Random Baseball Card: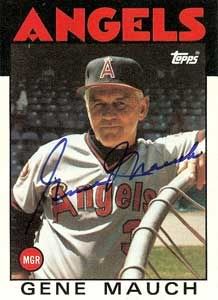 Well, it's worth a try.
About Touching All The Bases
| | |
| --- | --- |
| | Irreverence and insight from Chad Finn, a Globe/Boston.com sports writer and media columnist. A winner of several national and regional writing awards, he is the founder and sole contributor to the TATB blog, which launched in December 2004. Yes, he realizes how lucky he is. |
Tweets by @GlobeChadFinn
browse this blog
by category
The best of Touching All The Bases