Posted by Chad Finn, Globe Staff
October 23, 2009 09:15 PM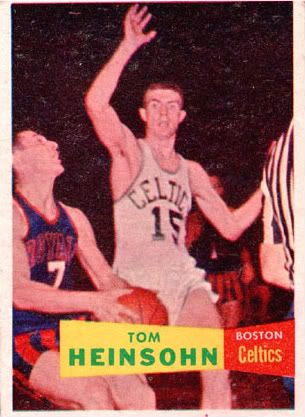 If you missed it or couldn't find it, this week's media column can be found right here.
As you might have suspected had you read the piece in the paper or know me at all, I had intended to write about Tommy Heinsohn and Mike Gorman's take on the Celtics entering Tuesday's opener . . . and then The New York Post found out about Steve Phillips's fledgling Alex Forrest wannabe, and you know what they say about the best-laid plans.
(Um . . . I'm talking about my plans there, not Phillips's. Just to be clear.)
Anyway, as you might expect, Heinsohn and Gorman were terrific to talk to, opinionated and funny and candid about the team for which they'll be calling games for the 29th straight year on television.
I didn't want it to go to waste -- and didn't want to completely end up wasting their time -- so I figured I'd dish out some of the stuff that didn't fit or have a place in the media column right here.
ON RASHEED WALLACE:
Heinsohn: "The word before they got him, and we never really got to know him personally as an opposing player, is that he was temperamental and could be moody. But from what we've seen here, he's a terrific team player, he already has great chemistry with his teammates, which is hard to do in the preseason, and you know what, he's actually a pretty quiet guy. He sits away from the card game [on the team plane] and just watches movies and sort of keeps to himself."
Gorman: "I tell you, Rasheed has been a pleasant surprise. You always heard the horror stories when he was in other places when he was a younger player, but he's been a delightful surprise to us. He's quiet, but if you ask him about his kids, he's such a proud dad, and he'll talk with you about them forever. He's a much different guy off the court than his reputation would indicate. And you heard so much about his behavior on the court -- which isn't that new to us, we're used to the Antoines of the world -- but you wondered how that would go over here. But one thing I was pretty sure of: This is KG's team, and Rasheed would fall in line with that. They are old friends, KG is the dominant personality here, and Rasheed won't be a locker room problem with Kevin around."
ON KEVIN GARNETT'S HEALTH:
Gorman: "Coming in to camp, you hoped to see that old explosiveness back. But it takes some time after a prolonged injury. You have to get rid of that hesitance to really get back to 100 percent, and Kevin is certainly showing signs that he's getting back to everything he was in 2007 and last year before the injury."
ON THE REPLACEMENT REFEREES:
Heinsohn: "Well, obviously, they're not going to be as accomplished as the regular referees. You just have to hope they don't call 100 fouls a game. They can't call everything like a college game, because guys will start fouling out in about five minutes. Hey, it's a tough job to officiate in the pros. I do know that, believe it or not. [Laughs.] But the new guys . . . they're not going to see the little tricks, the little bumps and sneaky moves that veteran guys will use to bait them."
On whether he has sympathy for them:
"Well, I wouldn't quite put it that way." [Laughs]
ON THEIR APPROACH TO CALLING A GAME:
Gorman: "Tommy and I both have experience calling games at a national level, and in that situation, when you're working for a network, you find yourselves introducing the players over and over again, talking about the stars and probably being a little more basic or general than you would calling a game in a specific market. You have to treat both teams as if its the home team, and because of the audience, you're constantly introducing both teams and emphasizing storylines. We realized a long time ago, even back to when the games were on Prism [one of Comcast Sports New England's predecessors as the television home of the Celtics], that our audience was actually seeking us out to watch the Celtics, and from that, you realize the viewers and fans already know all they want and need to know about [Paul] Pierce and [Kevin] Garnett. At the national level, there are hours of prep work before a game, talking about players and storylines, and you almost had to justify the production meeting during the broadcast by using the information. But with this [calling the Celtics], we realize know one stumbles on to watching us, they're informed the moment they tune in. So there's a minimum amount of homework. If a story or angle seems applicable at the moment, we talk about it, but because our viewers are plugged in to the team when they tune in and because we're so comfortable with each other, in a way, we just sit down and see where the game takes us."
ON RAJON RONDO:
(The precocious point guard recently found himself in the midst of mini-controversy after some pointed but hardly harsh comments from coach Doc Rivers were misinterpreted by ESPN basketball writer Chad Ford, who tweeted: ''Doc Rivers does ANOTHER hit job on Rajon Rondo. What the heck is going on in Boston?")
Heinsohn: "[The perception that Rivers has an issue with Rondo is] ridiculous. Doc's not knocking the kid, he's an ex-point guard trying to get the best out of him. Rondo has terrific confidence, he's 23 years old, he has Hall of Fame potential. So what if he doesn't have a 3-point shot. He has a terrific basketball mind. He's the best athlete on the team. Making a big deal [out of Rivers's comments] is just talk-show stuff, something to flap about. Rondo's the closest thing the Celtics have had since [Bob] Cousy. He's a master of the offense, he's aggressive, he controls the pace. Without him, this team goes nowhere, all right?
"You write this: 'Tommy says leave the kid alone!' "
About Touching All The Bases
| | |
| --- | --- |
| | Irreverence and insight from Chad Finn, a Globe/Boston.com sports writer and media columnist. A winner of several national and regional writing awards, he is the founder and sole contributor to the TATB blog, which launched in December 2004. Yes, he realizes how lucky he is. |
Tweets by @GlobeChadFinn
browse this blog
by category
The best of Touching All The Bases