Posted by Chad Finn, Globe Staff
October 30, 2009 06:34 PM
The scene felt almost surreal in its familiarity.
There was Pedro Martinez, looking physically small on the mound, but wearing that cold-eyed mask of determination as he stood tall in enemy territory.
(Getty Images Photo/Jim McIsaac)
There were the Yankees fans, chanting, howling, swilling, standing -- always standing -- and chanting some more, boasting their paternal boast, too oblivious (and perhaps obliterated) to be concerned that their bluster would again be proven empty.
And there, in the pivotal seventh inning, was Charlie Manuel, the Phillies' affable goof of a manager, suddenly channeling his friend and fellow strategic simpleton, Grady Little. Who needs logic and statistics when you have good 'ol gut instinct?
Like Little, who once made an inexplicable decision in a crucial situation that in no way requires a rehash here, Manuel last night left Pedro on the mound beyond the well-established 100-pitch expiration date on his right arm.
The consequences were not as grave as in 2003 -- at least Manuel had the good sense to pull Martinez after pair of hits, and the Phillies' bullpen escaped with the game still within reach. But some similarities were unavoidable, right down to the Yankees' winning blueprint for how they usually overcame (and aggravated) Pedro during his prime: shut down the other offense, take a patient approach to build up his pitch count, chip away for a run or two, maybe flick a cheapo homer to right field, and then turn the ball over to the ageless Mr. Rivera.
Little, upon his inevitable dismissal in the aftermath of his blunder, warned us that he was a ghost fully capable of haunting. Apparently, whispering "Leave him in, Charlie. It's Pedro!" was the best he could do.
Of course, Red Sox fans were not at all haunted by last night's turn of events. Those days, like the Fox-mandated reminders of Bucky and the Babe, are gone, and good riddance. There was no stirring of the angst, which has been rendered stagnant by so many good times since 2004. While Pedro belongs to Boston, he is with Philadelphia, and the what-if? disappointment of defeat in a winnable game lingers with them today, not us.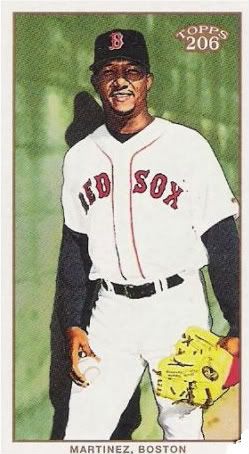 But for those of us who admired and were awed by Pedro during his seven magnificent seasons with the Red Sox. . . for those of us who make the argument that he's in the argument as the greatest pitcher of all time . . . for those of us who are still and will always be sentimental for that one day in five during the summer when the Dominican flags were flying and the white and red K cards dotted the green bleacher wall and anything up to and including perfection seemed possible . . . let's just say it was just fun to hang on every pitch of a Pedro start again. One more time for all the old times, you know?
The result was unsatisfying -- oh, wouldn't it have been sweet to monitor the panic from afar as the Yankees headed to Philly in an 0-2 hole? -- but the performance itself was tremendously fulfilling. Pedro is 38 years old now. His fastball long ago went to live on ESPN Classic. He went to the mound last night armed with John Burkett's repertoire, and his own uncommon abundance of pride, intelligence, guile and charisma. It was a treat to watch him trade pitches with A.J. Burnett, a gifted, enigmatic flake who was at his breathtaking best for seven innings last night. He was overpowering and untouchable, and his performance must have, if only in a fleeting moment, reminded Pedro of when his arm was stocked with lightning bolts and a batter's only hope was fortuitous timing.
The best moment? For a while, that seemed obvious: The quick-pitch of Derek Jeter for strike three while he was going through his trademark time-out-no-not-really-I'm-just-raising-my-arm-because-I'm-cool-like-that routine in the batter's box. I'd like to think Pedro got the thought to try it based on his institutional knowledge of the Yankees gained from his time with the Sox. Yep, that just happened. Take a seat, Captain. How I would have loved to have heard the muttered comments in the Yankees dugout after that trick.
Yet outwitting Jeter was only the first runner-up. The best moment, the one that made the night even as the Fox camera cut away from it too soon, came after Pedro's work was done. As he walked slowly off the mound, the jeers of the jackals -- standing, as always -- ringing in his ears, he raised his head and surveyed the scene, almost as if he was trying to look every last one of his hecklers in the eyes. Pedro has always worn the emotion of the situation on his face, and he could not mask it this time, either. You could see the competitor in him was crushed.
Then, in a flash, his expression changed. He smiled. And he kept smiling. He later explained why, but as the scene unfolded in real time, it struck us as classic, defiant Pedro, staring down adversity, then smiling in its face.
He appreciated the significance of the night, the ballgame, his performance. As always, Pedro understood.
And that's when the truth hit you. If Yankees fans had any collective appreciation of what they had just witnessed, the same sense for time and place that their aging nemesis did, those chants, well, they might just have turned to cheers.
About Touching All The Bases
| | |
| --- | --- |
| | Irreverence and insight from Chad Finn, a Globe/Boston.com sports writer and media columnist. A winner of several national and regional writing awards, he is the founder and sole contributor to the TATB blog, which launched in December 2004. Yes, he realizes how lucky he is. |
Tweets by @GlobeChadFinn
browse this blog
by category
The best of Touching All The Bases