Posted by Chad Finn, Globe Staff
September 30, 2009 11:24 AM
6. We don't say his name much around here anymore, but is interesting to note that Manny Ramirez's basic numbers for the Dodgers this season (.295-19-62 in 419 plate appearances) look strikingly similar to his stats with the Sox a year ago (.299-20-68 in 425 PAs) before he was dealt to LA and turned into the reincarnation Babe Ruth for two months.
7. I figure this is as good a time and place as any for a long overdue tip of the cap to my friend Kevin Gray, the New Hampshire Union Leader's beat writer for the Toronto Blue Jays' Double A team in Manchester. While in deep preparation for my fantasy baseball draft back in March, I asked him for some wisdom on rookie Travis Snider, the Jays' touted 21-year-old left fielder. His response, in essence: "Forget Snider this year. Take Adam Lind. He's going to break through." Thirty-five homers and 114 RBIs later, I wish I'd listened.
8. Because I rarely, if ever, say it better than the fellas at Surviving Grady, I'll give you their words rather than mine (while fully approving of the sentiment):
In case tonight turns out to be Wake's last Red Sox start, he should be carried in on a sedan chair and showered in roses and BC chicks.
Actually, come to think of it, they might want to do the same for Varitek, just in case.
9. As for today's Completely Random Baseball card: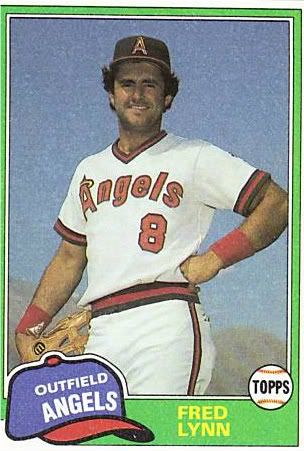 Twenty-nine years after he was traded, it still doesn't look quite right.

About Touching All The Bases
| | |
| --- | --- |
| | Irreverence and insight from Chad Finn, a Globe/Boston.com sports writer and media columnist. A winner of several national and regional writing awards, he is the founder and sole contributor to the TATB blog, which launched in December 2004. Yes, he realizes how lucky he is. |
Tweets by @GlobeChadFinn
browse this blog
by category
The best of Touching All The Bases