Posted by Chad Finn, Globe Staff
June 19, 2009 05:10 PM
4. Here's one more reason I'm skeptical the Sox will shop Penny: What would they trade him for that could possibly help the 2009 ballclub more than he can? They require no bullpen help, obviously. I'm convinced they are more than willing to go with a Jed Lowrie/Nick Green combo at short once Lowrie comes back from his wrist injury in two weeks and Julio Lugo is sent off to waste away in Renteriaville. The bench is relatively deep with Rocco Baldelli and Mark Kotsay. Unless for some reason they do feel the need to deal for an established shortstop, I can't see them getting anything in exchange for Penny that will equal his value this season.
5. The Sox might have been able to get in a full nine innings before the monsoon last night if the Marlins' Ronny Paulino hadn't decided to take his sweet time getting around the bases after his solo home run. He was giving me Jeffrey Leonard "one flap down" flashbacks. Then again, Paulino doesn't look like moving quickly is in his repertoire. Talk about a catcher who should be nicknamed Pudge.
As for today's Completely Random Baseball Card: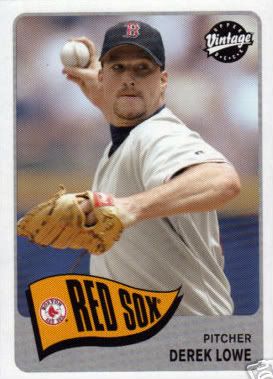 D-Lowe will be cheered tomorrow not only as an old friend being welcomed back, but as someone you wish had never left in the first place. Exactly how it should be.
About Touching All The Bases
| | |
| --- | --- |
| | Irreverence and insight from Chad Finn, a Globe/Boston.com sports writer and media columnist. A winner of several national and regional writing awards, he is the founder and sole contributor to the TATB blog, which launched in December 2004. Yes, he realizes how lucky he is. |
Tweets by @GlobeChadFinn
browse this blog
by category
The best of Touching All The Bases