Posted by Chad Finn, Globe Staff
June 15, 2009 05:50 PM
6. I'm beyond skeptical that there's even a syllable of truth to the rumors, but . . . if the Patriots do sign Michael Vick, that will tell me two things. 1) Bill Belichick believes he can rehabilitate any troubled talent to the point that the player can help his football team. 2) Myra Kraft has stopped paying attention.
7. Every season, I find myself irrational excited about one or two players on the Patriots roster. (In a related note, I suppose I can now admit that J.R. Redmond will never rush for 1,000 yards.) This season's early candidates are linebacker Paris Lenon (128 tackles for the Lions last year) and a holdover from last year, safety/linebacker hybrid Tank Williams (a versatile toy for Belichick if his knee is sound.) I've formally given up on longtime binky Dave Thomas. Let me know who your Pats sleepers are in the comments.
8. Trevor Ariza made himself a lot of loot -- and probably ensured his return to LA -- with his performance in the Finals. Which is too bad if you're already pondering what Danny Ainge might do this offseason, because the 23-year-old, who averaged 11.3 points per game in the postseason, shooting 47.3 percent from 3-point range, is exactly the young Posey-like type of talent the Celtics desperately need to add to their bench.
9. If this doesn't bring Ken Tremendous and the boys at FireJoeMorgan out of their much-lamented sports-blogging retirement, then I'm afraid nothing will. I'm convinced ESPN put Steve Phillips in the booth with Morgan this year just to dupe us into thinking Phillips is smart.
10. As for today's Completely Random Basketball Card: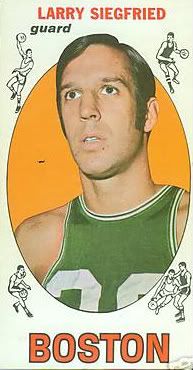 Quite a feat, Kobe. One more ring, and you'll have as many as this guy. (Yeah, yeah, sour grapes . . . but it seems only right that the Lakers would vote playoff shares to Courtney Lee, Jameer Nelson and George Karl.)
About Touching All The Bases
| | |
| --- | --- |
| | Irreverence and insight from Chad Finn, a Globe/Boston.com sports writer and media columnist. A winner of several national and regional writing awards, he is the founder and sole contributor to the TATB blog, which launched in December 2004. Yes, he realizes how lucky he is. |
Tweets by @GlobeChadFinn
browse this blog
by category
The best of Touching All The Bases