Posted by Chad Finn, Globe Staff
June 23, 2009 05:19 PM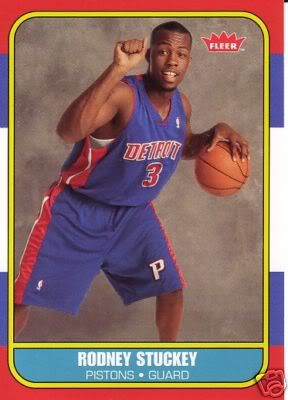 Just a quickie, semi-coherent post on today's trade rumor du jour regarding Rajon Rondo.
I want Rondo and Ray Allen and the core of the NBA champions once-removed back next season to try to make it two Larry O'Brien trophies out of three, preferably at the Lakers' expense . . .
. . . and yet I am completely intrigued by the possibility of dealing the Celtics' starting backcourt to the Detroit Pistons for guards Rip Hamilton and Rodney Stuckey and forward Tayshaun Prince.
According to Adrian Wojnarowski's report on Yahoo! Sports today, the Pistons shot down the proposal without any discussion between front-office bosses Danny Ainge and Joe Dumars. And I suppose that's good. Because after spending a good part of the afternoon pondering the pros and cons of this, I can't make up my mind if I would want this to happen. Know what I mean?
There are very few Celtics players in my 30 years or so as a fan who I've enjoyed watching more than Rondo, at least when he's going well. You know his many attributes: Electric athlete, a true point guard's playmaking skills, a clever finisher, unusually adept rebounder for a guard.
He is one of those charismatic performers who pulls off some jaw-dropping play about every game that gets you, Mike, and Tommy fired up to watch the replay. I'd be bummed if some other franchise's fans got to watch Rondo grow into the prime of his career.
I don't mean to make the admirable Ray Allen the afterthought here. But with his contract coming off the books next season, it's not a surprise that the Celtics would at least throw the a into the water and see what's out there for a classy, clutch 34-year-old shooting guard. But upon first glance, it is a complete surprise that they might be willing to deal Rondo, whose immediate future here would seem to be as secure as anyone's on the roster.
That's not to suggest that Rondo is a flawless or finished product. His jump shot is a menace to rims everywhere, and Doc Rivers isn't the first coach to be frustrated by his attitude, which sometimes tilts toward pigheaded rather than precocious. So with further consideration, you bet I believe there is something to this, despite Ainge's non-denial denials today. I don't necessarily think Ainge is trying to deal Rondo -- but if the right, reasonable deal came along, he would have no qualms about sending the 23-year-old point guard elsewhere, even to an Eastern Conference rival such as Detroit.
It is easy to see how Ainge might have considered the Detroit proposal "the right deal" from a basketball sense. Nobody in the league is better at coming off screens and burying mid-range jumpers than Hamilton, and he gives it his best effort on the defensive end as well. It's debatable whether Stuckey is a true point guard, but his talent is indisputable -- he averaged more than 15 points and 5 assists per game in his second NBA season, and at worst he'd be an extremely capable combo guard. The lanky, versatile Prince would give the Celtics the true sixth man they lacked a year ago. Bringing in those three high-quality players in exchange for Rondo and Allen would be daring, but it also could well prove to be a stroke of genius on Ainge's part come next June.
Then again, keeping the starting five in place that won last June may be the shrewdest mode of operation. I'd love to know what Ainge's ideal outcome -- within reason -- would be in terms of transactions this offseason.
Guess we'll just have to keep wondering if and until one of these rumors comes to life.
About Touching All The Bases
| | |
| --- | --- |
| | Irreverence and insight from Chad Finn, a Globe/Boston.com sports writer and media columnist. A winner of several national and regional writing awards, he is the founder and sole contributor to the TATB blog, which launched in December 2004. Yes, he realizes how lucky he is. |
Tweets by @GlobeChadFinn
browse this blog
by category
The best of Touching All The Bases