Posted by Chad Finn, Globe Staff
June 22, 2009 10:42 AM
Of course, even his most ardent supporters understand the fans' general frustration with the Matsuzaka Experience. He could not be more aggravating to watch, and that often includes when he is going well. He habitually throws so many pitches to get through five innings that he tends to tax the bullpen even on his winning nights. Sometimes it seems like the at-bat hasn't truly begun in his mind until the count on the batter is 3-2. It is neither aesthetically pleasing nor a nice way to pass a summer night to watch a pitcher constantly trying to wiggle his way out of jams of his own making.
And that repertoire raved about in the Baseball America snippet? Apparently, he left a couple of those five, six, or seven pitches behind in Japan, and a couple of miles per hour on the radar gun were lost somewhere in translation. Or maybe he left them on the mound at the WBC, the bane of every competitive pitcher's existence but a nice source of revenue for the likes of Dr. James Andrews.
No matter how this plays out for Matsuzaka -- and there has to be some concern inside the walls of Fenway that his arm is running low on bullets after so many high-leverage innings through the years -- the truth is that the Red Sox will be a better baseball team if he can find his form of his first two seasons stateside, before his statistics began to look like something straight out of the Toby Borland Collection. The "get 'im gone" approach is shortsighted bordering on the ignorant.
No, he's not what he was supposed to be. But what he was during his first two seasons with the Red Sox was plenty good enough.
With three years left on his Red Sox contract and his career at a puzzling crossroads, here's hoping he can return to driving us crazy in victory once again.
* * *
As for today's Completely Random Football Card: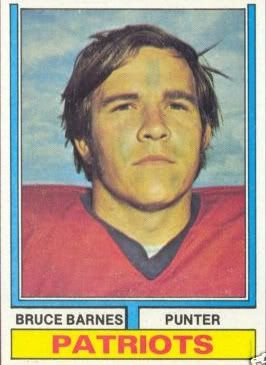 Here's one for the Patriots' old-timers: Is his kid a better golfer than he was a punter? I'm assuming a resounding yes.
About Touching All The Bases
| | |
| --- | --- |
| | Irreverence and insight from Chad Finn, a Globe/Boston.com sports writer and media columnist. A winner of several national and regional writing awards, he is the founder and sole contributor to the TATB blog, which launched in December 2004. Yes, he realizes how lucky he is. |
Tweets by @GlobeChadFinn
browse this blog
by category
The best of Touching All The Bases