Posted by Chad Finn, Globe Staff
June 10, 2009 05:11 PM
FIVE BEST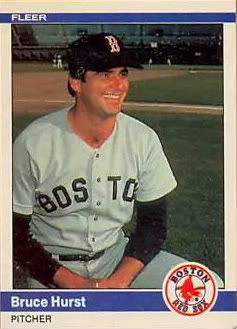 1. Roger Clemens, 1983, 19th overall. Sure, he's a dishonest, acorn-brained creep whose professional and personal reputation is in self-inflicted tatters. But in his youth and his prime, he was a dishonest, acorn-brained creep with an unfair fastball, a sniper's aim, and one of the most impressive pitching resumes of all time. Without much debate, the Rocket rates as the best No. 1 draft choice in Red Sox history. Think the Dodgers ever regretted taking Wichita State lefty Erik Sonberg one pick earlier?
2. Jim Rice, 15th overall, 1971:Man, wish I could make it to Cooperstown this summer for Jim Ed's big day. The Sox chose the future Most Valuable Player one pick after the Mets chose a second baseman named Rich Puig who had 11 career plate appearances in the bigs, and two picks after the Angels snagged lefty Frank Tanana, who was probably the second-most successful pick in the round.
3. Nomar Garciaparra, 12th overall, 1994: The Jeter-Nomar rivalry feels like eons ago, doesn't it? Jeter is still going relatively strong in his 14th full season as the Yankees' shortstop. Meanwhile, Nomar departed Boston and our consciousness almost five years ago. But there was a time when he was as beloved as any Sox player of my lifetime, and the skinny kid from Georgia Tech was the steal of the '94 first round considering he was the third shortstop selected, behind flops Josh Booty (Marlins, No. 5) and Mark Farris (Pirates, No. 11).
4. Mo Vaughn, 23d overall, 1989: In his six full seasons with the Sox (1993-98), here are his annual adjusted OPS numbers: 139, 146, 144, 150, 152, 153. He swiped the AL MVP from surly Albert Belle in 1995, and in 1996 he had an even better season, .326, 44 homers, and 143 RBIs. Mo was outspoken, accountable, passionate, flawed, proud, charitable, charismatic, and it wouldn't be a shock if he requested to be paid in $1 bills. Some have said he was the precursor to Big Papi -- I've said it -- but the more you consider it, the more you realize Maurice Samuel Vaughn was one of a kind. (Random trivia: He was chosen nine picks after Paul Pierce's half-brother, Steve Hosey, an outfielder who went 14th to the Giants and played briefly in the majors.)
5. Bruce Hurst, 22d overall, 1976: Ten years after he was drafted out of Dixie High School in St. George, Utah, he nearly pitched the Red Sox to a World Series title. He might have gotten an earlier start to his career -- he debuted with the Sox in 1980 but didn't establish himself until 1983 -- but manager Don Zimmer didn't think much of him, which fits with much of Zimmer's decision-making during his time with the Sox. Still, the lefthander with the killer curveball won 88 games in six full seasons with the Sox and parts of three more.
FIVE WORST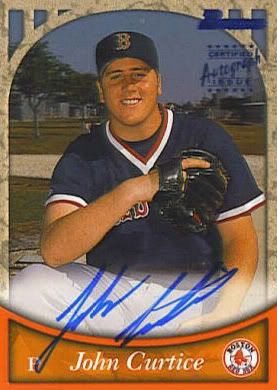 1. Andy Yount, 15th overall, 1995: As i said in the intro, it's probably not fair to label high school kids who were drafted on their teenage promise as busts, since a first-round pick has roughly a 50-50 chance of making the majors, let alone establishing himself as a regular. And that probably applies even more in this case, since Yount's career was derailed in the low minors after he tore his pitching hand apart by squeezing a glass while visiting the grave site of a recently deceased friend. But it is worth noting, in a what-might-have-been sense, when a similar prospect chosen in the same vicinity does discover greatness. And greatness surely applies to Roy Halladay, who was selected by the Toronto Blue Jays two picks after the Sox chose Yount. (I heard that. You groaned, didn't you?)
2. Jon Curtice, 1997, 17th overall: Much was made at the time about Curtice, a 6-foot-4 lefthander, and his high school teammate, Michael Cuddyer, being drafted in the first round the same year. But only one of the members of the Great Bridge H.S. Class of '97 ever saw the big leagues. Cuddyer, who was chosen ninth overall by the Twins, remains a productive hitter for the Twins in his ninth MLB season. But Curtice -- who was chosen a pick after the Astros selected Rice outfielder Lance Berkman -- never made it out of Single A with the Sox, in part because he followed the David Wells diet plan.
3. Jeff Ledbetter, 1982, 26th overall: A record-setting home-run hero at Florida State -- he set the NCAA mark with 42 homers and 273 total bases in '82 -- he stands as the example of a college power hitter who couldn't adjust to using the wooden bat. He was out of the Sox organization within three years, peaking at Double A. Also selected by the Red Sox in the first round that year: one of our all-time favorites, Sam Horn. The Sox sure did love their one-dimensional sluggers then, didn't they?
4. Dan Gabriele, 1985, 21st overall. Players selected in the first round in the legendary '85 draft included Barry Bonds, Barry Larkin, Will Clark, B.J. Surhoff, Rafael Palmeiro, Gregg Jefferies, Canton's Bobby Witt, Pete Incaviglia, Brian McRae, and Walt Weiss. Gabriele, a righthander from Walled Lake, Mich. who is not to be confused with Dan Gakeler, made it as high as Double A. He was chosen one pick before the Cubs took Palmeiro.
5. Otis Foster, 1975, 15th overall: Foster, a burly first baseman in the Sam Horn mold, is really no different than several other first-round picks in the late '60s and early to mid '70s who never got a day in the big leagues, among them Tom Maggard, OF-C, 1968, died of an insect bite), Noel Jenke (OF, 1969, went one pick before Don Gullett), Jimmy Hacker (great baseball name, 3B, 1970), Joel Bishop (SS, 1972), Eddie Ford (SS, 1974). But Foster gets the nod here because of a column the great Ray Fitzgerald wrote about him in '81 that always stuck with me. It seems Foster had a weight problem, and in one last ditch to get him in shape, the Sox made him run laps around the lake at the club's training complex. But Foster was thinking one step ahead, much to his own detriment -- at the other side of the lake, he made sure his girlfriend would be waiting for him . . . with sandwiches. Some men you just can't reach.
* * *
As for today's Completely Random Football Card:
McMurtry, a Brockton High star, was chosen 14th by the Red Sox in the 1986 draft. The 13 players chosen before him played in the big leagues (including Gary Sheffield). But he never signed with the Sox, instead accepting a scholarship to Michigan, where he starred for the football team and eventually became a mediocre receiver for the Patriots.
About Touching All The Bases
| | |
| --- | --- |
| | Irreverence and insight from Chad Finn, a Globe/Boston.com sports writer and media columnist. A winner of several national and regional writing awards, he is the founder and sole contributor to the TATB blog, which launched in December 2004. Yes, he realizes how lucky he is. |
Tweets by @GlobeChadFinn
browse this blog
by category
The best of Touching All The Bases