Posted by Chad Finn, Globe Staff
May 27, 2009 12:48 PM
6. Brad Penny, 3-1 with a 4.40 ERA in May, is doing pretty much what we hoped he would do: Pitch well enough that the Red Sox can trade him for something of value come June 15, the first day players signed as free agents during the previous offseason can be dealt. With Clay Buchholz shredding Triple A and John Smoltz on the mend after last night's workmanlike outing for Double A Portland, there's little value or appeal to keeping Penny (who has allowed 60 hits in 48.1 innings) around, especially if he can bring a useful part in return. Hey, it cannot be coincidence that Smoltz is on track to make his first Boston start June 16.
7. Don't tell my boss, but if Smoltz's start last night was in Portland rather than Manchester, I was going to try to find some way to weasel out of here early so I could go see him pitch at Hadlock. The only time I've seen the mortal-lock Hall of Famer pitch in person, it was 1988, he was a 21-year-old member of the Triple A Richmond Braves' rotation, and the game was also played in Maine, as he was facing my beloved Guides in Old Orchard Beach. Being the baseball dork that I am, I'd have liked the symmetry of seeing him pitch twice, 21 years and 210 major league victories apart, in my home state. Ah, well.
8. Proof that it's still early, even after 46 games: Entering last night's contest, Dustin Pedroia and Nick Green had the same number of home runs (1) and RBIs (15). As Uncle Joe Castiglione likes to remind us, Pedroia has been hitting a lot of line drives right into the opposing gloves during the past few weeks, and it's to his credit that he's hitting .341 despite his buzzard's luck. I have a hunch he is on the verge of one of those torrid streaks during which he goes something like 25 for 55 over the next dozen or so games.
9. As for today's Completely Random Baseball card: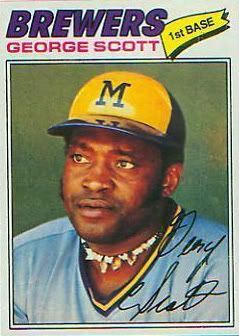 Sorry. I just can't think of Papi right now without thinking of Boomer circa 1978/79. The main difference as far as I can see is that Papi doesn't wear a necklace made out of the teeth of second basemen. Hmmm. Maybe he should.
About Touching All The Bases
| | |
| --- | --- |
| | Irreverence and insight from Chad Finn, a Globe/Boston.com sports writer and media columnist. A winner of several national and regional writing awards, he is the founder and sole contributor to the TATB blog, which launched in December 2004. Yes, he realizes how lucky he is. |
Tweets by @GlobeChadFinn
browse this blog
by category
The best of Touching All The Bases