Posted by Chad Finn, Globe Staff
April 14, 2009 12:17 PM
Jacoby Ellsbury: The 2009 Bill James Handbook projects these numbers for Ellsbury this season: .302/.359/.424, with nine homers, 53 RBIs, 100 runs, and 52 stolen bases. Most other respected projections come up with reasonably similar numbers. While the wise guy in me is tempted to ask if those are actually Pawtucket projections, there's something to be said for the belief that Ellsbury will improve in his second full season. But it would be reassuring to have seen some signs of it right away. He has just five singles in 25 at-bats, and somewhat discouragingly, pitchers are still having little trouble getting him out on the inside half of the plate. The burden remains on Ellsbury to adjust, and given his talent and work ethic, you have to figure he will do so. Sooner rather than later, hopefully.
David Ortiz: A couple of readers sent me varying versions of the same sentiment this week: If Ortiz doesn't start hitting, pretty soon Kevin Youkilis is going to start whining about missing Manny and having no protection in the lineup. Ouch. Papi looks pretty bad right now -- he has exactly as many extra-base hits as Ellsbury (zero) -- but Papi he always looks terrible when he's out of sync. I'm going to give him the benefit of the doubt that those long F9s will become majestic blasts into the right field stands as the season progresses and both Papi and the weather warm up. Because to be honest, I really don't want to consider the alternative right now. I might panic.
* * *
As for today's Completely Random Baseball Card.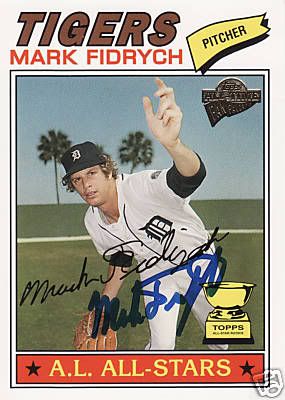 Fidrych was only a lefty in spirit. What a sad week for baseball.
About Touching All The Bases
| | |
| --- | --- |
| | Irreverence and insight from Chad Finn, a Globe/Boston.com sports writer and media columnist. A winner of several national and regional writing awards, he is the founder and sole contributor to the TATB blog, which launched in December 2004. Yes, he realizes how lucky he is. |
Tweets by @GlobeChadFinn
browse this blog
by category
The best of Touching All The Bases