Posted by Chad Finn, Globe Staff
April 1, 2009 03:36 PM
Ten free minutes for me, 10 free throwaway lines for you . . .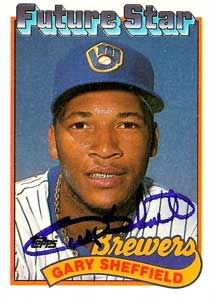 1. I doubt this is the end for Gary Sheffield -- fading sluggers always seem to get a couple of extra chances to prove their bat speed is going, going, gone -- but if it is, it makes for an interesting Hall of Fame debate. Sheffield has 499 homers, so he'll have his supporters for his counting numbers alone. Yet he was tainted by the BALCO scandal -- though not as badly as his good old ex-friend Barry -- and more accomplished players will apparently be banished from Cooperstown for their involvement with PEDs. Ultimately, I don't think Sheffield gets in, but I haven't quite made up my mind yet if he deserves to. Give me five years. (By the way, raise your hand if you knew Sheffield and Terry Francona were teammates on the 1989 Brewers. I bet Tito could tell a story or two.)
2. The Rangers released longtime Red Sox killer Frank Catalanotto tonight, eating roughly $6 million in order to keep the bloated carcass of Andruw Jones. Can he get to Fort Myers by the morning? Okay, I suppose they'd need to wait a little longer -- I think he has to clear waivers first -- but Catalanotto, a .314 lifetime hitter against the Sox, would be a good fit here. He has more versatility than the sweet-swinging but positionless Chris Carter, and he's a better player at this point than Mark Kotsay, whose spot Carter is keeping warm. Better yet, by signing him, the Sox wouldn't have to face him anymore. (Keep in mind, I'm still waiting for the Sox to sign Joe Carter, who I'm pretty sure averaged two homers and five RBIs per game at Fenway in his career.)
3. Three revelations I thought I spotted between the lines during Danny Ainge's interview with WEEI today. 1) Garnett won't have surgery until the season ends, but he almost certainly will after the season. 2) It was driving Garnett crazy -- well, crazier -- to play such a limited (in every sense) role. 3) The Celtics have absolutely no idea what they will get from their leader once the playoffs tip off.
4. The Red Sox are doing the proper thing by sending Clay Buchholz to Pawtucket to start the season. Until yesterday, he had enjoyed a practically flawless spring, one in which he reestablished himself as one of the premier pitching prospects in the game. That is undeniably encouraging, but the mistake the Red Sox made with him in the first place was expecting too much too soon. It's a credit to them that they're not going to let it happen again.
5. How did I miss this? Guess I don't check The Onion as much as I should. And yes, I'll admit I snorted at the one revealing Schill's "main goal about fighting Lou Gehrig's disease." I don't think that makes me a bad person. But it might.
6. Shaq's hugely popular and hilarious Twitter feed -- not to mention some choice recent one-liners ("I heard what Chris Bosh said [about me]. Those are strong words coming from the RuPaul of big men.") -- have gone a long way toward confirming something to the general public that Rick Reilly has been writing for years: Shaq gets it. He's one Goliath all of us should be rooting for.
7. As a Patriots fan, the one wish I want granted right now from the football gods is this: Jay Cutler, quarterback, New York Jets. He's like a baby Brett Favre, except with an iPod full of Dashboard Confessional songs. I suspect the Patriots had a healthy disrespect for Cutler's decision-making heading into last season's matchup with Denver, and nothing since has changed Josh McDaniels's mind.
8. Had Oklahoma winning it all. So much for that, though while my bracket was going up in flames, at least it was interesting to watch Blake Griffin give Tyler Hansbrough a preview of what he can expect should he make an NBA roster. While the Heels -- my new favorite to be cutting down the nets Monday night -- steamrolled the Sooners, those who wondered why NBA scouts consider Hansbrough little more than Mark Madsen with better dance moves finally got their answers.
9. Hope the Red Sox resist trading the apparently coveted Manny Delcarmen, unless they get a legitimate heir to Jason Varitek in return. Delcarmen has the maddening tendency to lose his command in tense situations, but there's no doubting his stuff, and he was effective in a surprising way last season -- the righthander held lefty hitters to a .190 average and a .544 OPS with no home runs in 142 plate appearances. That's extremely valuable, and looks like he's going to be in a comfortable role this season. He's not someone you give up for the likes of Miguel Montero.
10. As for today's Completely Random Baseball Card: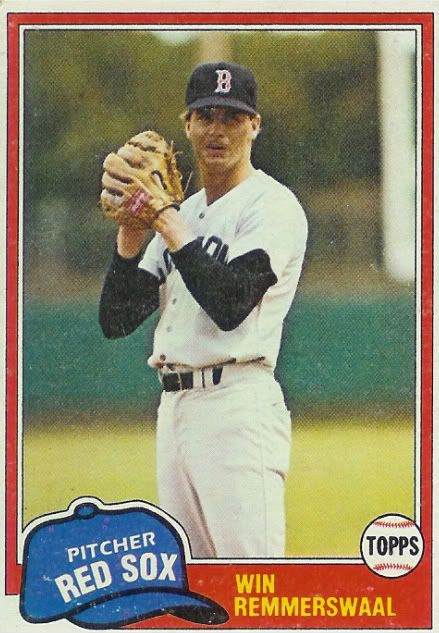 For the record, Win had three of 'em in his big league career.
About Touching All The Bases
| | |
| --- | --- |
| | Irreverence and insight from Chad Finn, a Globe/Boston.com sports writer and media columnist. A winner of several national and regional writing awards, he is the founder and sole contributor to the TATB blog, which launched in December 2004. Yes, he realizes how lucky he is. |
Tweets by @GlobeChadFinn
browse this blog
by category
The best of Touching All The Bases