Posted by Chad Finn, Globe Staff
April 22, 2009 05:18 PM
Ramon Ramirez: I like to think there aren't too many mysterious names to me in the Who's Who In Baseball annual, but I guess I should admit it: Before the Red Sox acquired Ramirez for Coco Crisp, I couldn't have picked him out a lineup of obscure Kansas City Royals relievers. ("Are you sure you're not Leo Nunez?") His numbers certainly were intriguing upon a first glance -- particularly that he held righthanded hitters to a .153 average last season -- but for all the wonders of sabermetrics, I have this thing where I'm never really sure about a pitcher until, you know, I've actually seen him throw a baseball a few times. And now that I have? WHY DIDN'T YOU GUYS TELL ME ABOUT THIS GUY?!?! Sorry for the outburst there, but Ramirez has been everything his KC numbers suggested he might be and beyond -- his WHIP is a ridiculous 0.48 -- and he's all business on the mound, an apparent mix of poise and confidence. So far, it's been a blast getting to know a pretty darn good relief pitcher.
Tim Wakefield: The importance of his complete-game two-hitter at Oakland just can't be underestimated. The bullpen was cooked. The Sox were 2-6. The talking heads were practicing their worried looks and polishing their 2-minute bits titled "What's Wrong With the Red Sox?" The Sox required a win that day, at least as much as a ball club can in the first 10 games of the season. And what does Wakefield do? Nothing less than deliver one of the finest performances of his 14-plus seasons with the Red Sox -- and I still think he would have completed the no-hitter had the Sox not had such an extended turn at at-bat in the eighth inning. Nonetheless, he was masterful at the perfect time, and considering they're yet to lose since, it's appropriate to acknowledge that yet again.
As for today's Completely Random Baseball Card: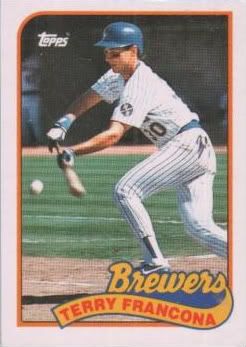 Happy half-century, Tito. Also, nice job getting the bunt down. Attaboy.
About Touching All The Bases
| | |
| --- | --- |
| | Irreverence and insight from Chad Finn, a Globe/Boston.com sports writer and media columnist. A winner of several national and regional writing awards, he is the founder and sole contributor to the TATB blog, which launched in December 2004. Yes, he realizes how lucky he is. |
Tweets by @GlobeChadFinn
browse this blog
by category
The best of Touching All The Bases