Posted by Chad Finn, Globe Staff
April 27, 2009 06:25 PM
* * *
I suppose I should admit it, since everyone else seems to have beaten me to it anyway -- I'm officially worried about Papi. How can you not be? Even though he's done a nice job of hitting the ball to left field the last few games, the Wade Boggs routine isn't his thing. For someone who is one of the elite power hitters of the past half-decade or so, it has to be nothing less than alarming that it's difficult to recall him hitting the ball hard more than a handful of times this season; those patented Papi moonshots are really beginning to feel like a thing of the past. But what's even more distressing than his struggles at the plate is the strong sense that certain bloviators and jackals are reveling in the fact that they now have a chance dump on Ortiz. During his time here, he has been beloved not only for his prowess in the clutch and his monstrous power numbers, but for his endearing personality, and that has made him pretty much untouchable. Not so much anymore. I've always hoped that Papi's career in Boston will end without the animosity of so many stars who came before him -- if there's anyone who deserves a happy ending here, it's the man who delivered so many happy endings himself. Now I'm beginning to wonder if that's possible.
* * *
He's now played 78 games here (including 11 during his excellent 2008 postseason), and we've seen enough to know that he is the ideal fit for this team, now and in the immediate future.
Sign Jason Bay, Theo. The sooner, the better.
* * *
As for today's Completely Random Baseball Card: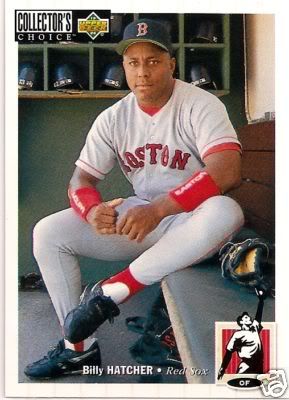 If I recall correctly, Hatcher's steal of home was pretty much it for highlights during the Butch Hobson managerial era.
About Touching All The Bases
| | |
| --- | --- |
| | Irreverence and insight from Chad Finn, a Globe/Boston.com sports writer and media columnist. A winner of several national and regional writing awards, he is the founder and sole contributor to the TATB blog, which launched in December 2004. Yes, he realizes how lucky he is. |
Tweets by @GlobeChadFinn
browse this blog
by category
The best of Touching All The Bases