Posted by Chad Finn, Globe Staff
April 28, 2009 05:53 PM
Other points of emphasis for the Celtics:
I will never doubt the intentions of Paul Pierce -- one of the best things about the Celtics' rejuvenation is that he's finally getting his due, not only as a player but as a competitor. But tonight, it's important if not imperative that he play with the efficiency he showed at the beginning of Game 3, rather than with Game 4's sloppiness (six turnovers, 15 missed shots, one assist). I'm sure he's up to it, even though putting Kirk Hinrich on him in spurts has been a clever move by Vinny Del Negro. I didn't know he had it in him.
Kendrick Perkins needs to forget about the referees and avoid picking up ticky-tack fouls while setting screens and swapping elbows with Noah, who, by the way, might be the most annoying opponent since Dennis Rodman of the Bad Boys Pistons. (It's okay, you can admit it: You wish the Celtics had someone just like him right now.) The Celtics are desperate for Perk's defense and rebounding; he needs to be a beast, but without drawing the ire of the quick-whistling referees. It's a tricky road to navigate, but I believe in him, and I know he's up for it. It surely wouldn't hurt his cause if there happens to be a few referees' relatives dressed in Celtics gear in the house.
Someone from the bench needs to make a meaningful contribution. Maybe Eddie House will go on a Ben Gordon-like hot streak. (Minus the public grabbing of certain appendages, of course.) Maybe Stephon Marbury will finally realize he doesn't have to play so selflessly with the second unit, that the Celtics actually need him to be himself now. Maybe Mikki Moore will accidentally trip and fall into Gordon's sore hammy, knocking him out of the series. Maybe Tony Allen can contribute a few decent minutes of perimeter defense without departing with a double-digit negative plus/minus rating and a couple of mind-numbing fouls. Maybe Doc will find a way to give Moore's minutes to Clifford Ray.

Okay, so maybe that wasn't the most optimistic analysis -- at this point, I'm hoping that once the New Orleans Hornets finish their let's-get-Byron-Scott-fired campaign by mailing it in once more against Denver, maybe James Posey will show up in Boston disguised as J.R. Giddens for Game 7. But someone from this motley crew needs to deliver tonight, because the Celtics -- from the starters to the last man on the bench -- knows nothing is going to come easy against this lively Bulls team. Pierce and Rondo, Perk and Ray Allen . . . they need all the help they can get.

Oh, and one last thing. Yes, I still think KG plays again the season if the Celtics survive this series. C'mon, you knew I had one ridiculous proclamation in me.

* * *

As for today's Completely Random Basketball Card: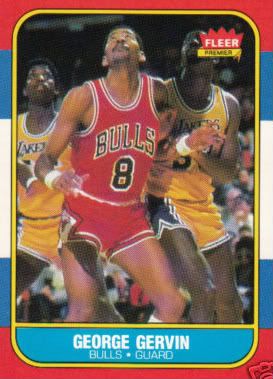 The Iceman as a Bull. Just doesn't look right, does it?
About Touching All The Bases
| | |
| --- | --- |
| | Irreverence and insight from Chad Finn, a Globe/Boston.com sports writer and media columnist. A winner of several national and regional writing awards, he is the founder and sole contributor to the TATB blog, which launched in December 2004. Yes, he realizes how lucky he is. |
Tweets by @GlobeChadFinn
browse this blog
by category
The best of Touching All The Bases