Posted by Chad Finn, Globe Staff
April 16, 2009 04:14 PM
10. But deep down -- actually, maybe not that deep down -- he's also savoring the chance to remind people that he is one of the elite players in the world. Pierce still does not get his due nationally, he knows it, it annoys him, and you bet he's motivated to push the Celtics through a couple rounds of the playoffs without KG. In a weird way, I'm looking forward to that.
11. Should have written this a long time ago, but here it is now: Doc did one hell of a terrific job coaching this basketball team this season. Getting to 62 victories despite all of the injuries is a remarkable feat.
12. I still miss James Posey, and so do the Celtics. What, you thought I'd get through this think without mentioning him? On the eve of the eve of the NBA Playoffs? This is Big Game James's time of year!
13. And if P.J. Brown decided to make a comeback tonight, I'd hope Doc would find him 12 minutes of playing time in Game 1, no questions asked.
14. I think Wyc Grousbeck generally has good intentions, but he's misguided in his desire to come across as forthcoming and just-one-of-the-guys to the media and fans. I don't think he comes across quite the way he intends to. Then again, perhaps he knows his audience better than I think.
15. For the record, I do not need to be told that the injuries to Tom Brady and KG are a wakeup calls to Boston -- a.k.a. Sportstown USA fans -- who are taking their teams' good fortune for granted. Pretty much every fan I know is beyond grateful for the good fortune and great memories we've be blessed to receive the past eight years.
16. Do the Celtics still have a shot at winning the East? Hard to believe so today, even the most diehard fan or Heinsohn disciple must admit. I've been writing all season that this is set up to be LeBron's turn, and today's news is further evidence. But if there's anything I learned watching this team last year, it is this . . .
17. . . . anything is possibuuuuulllllllll! Especially since the man who so joyously howled those words will play again this postseason. (If you wish it, it will come true, right?)
18. As for today's Completely Random Basketball Card: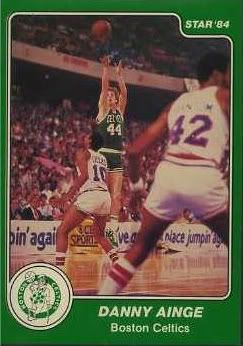 Get well soon, Danny. Tree Rollins is hungry.
About Touching All The Bases
| | |
| --- | --- |
| | Irreverence and insight from Chad Finn, a Globe/Boston.com sports writer and media columnist. A winner of several national and regional writing awards, he is the founder and sole contributor to the TATB blog, which launched in December 2004. Yes, he realizes how lucky he is. |
Tweets by @GlobeChadFinn
browse this blog
by category
The best of Touching All The Bases