Posted by Chad Finn, Globe Staff
March 16, 2009 06:19 PM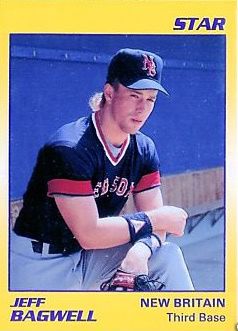 Jeff Bagwell never won a batting title -- James suggested in the piece that he would have won "some" playing at Fenway -- but he did hit .368 in 1994, finishing second in the NL.
One other question: Considering that the Sox put all of the "Curse" silliness behind them, does that make the mistakes along the way -- such as the Bagwell deal -- easier to accept? I vote yes. Then again, I'm the one who just dredged this up for no apparent reason.
6. While poking around BaseballAnalysts.com -- one of my daily must-reads -- the other day, I came across this old column by the progressive Yankees blogger and beat reporter Peter Abraham on what it was like to deal with Joe Torre on a daily basis. I don't recall reading this piece previously, which is strange since I found it quite insightful regarding Torre's strengths as a manager -- namely, his uncanny ability to charm the media and calm the perpetually stormy seas around his ball club. While Torre pretty much torched the every bridge in New York with his recent book "The Yankee Years," it's worth remembering that he was the perfect manager at the perfect time for that club, and one of the reasons I think the Yankees will be absent from the playoffs for the second straight season is because his replacement, Joe Girardi, lacks every last one of the subtle, calming character traits that made Torre so effective.
7. My brothers-in-bloggin' over at Sox and Pinstripes are pushing for the Red Sox to keep Jeff Bailey over veteran Brad Wilkerson as a stick off the bench -- going so far as to start a petition to promote their cause. While I appreciate their initiative and wouldn't mind seeing a loyal organizational player get a fair shot, I'm not completely sold on Bailey, and at age 30, it's probably now or never for him -- most likely the latter. Ideally, I hope Chris Carter -- who is four years younger than Bailey but also seems on the verge of getting tagged with the dreaded Quadruple A label -- can improve his defense to the point that he's no longer reminiscent of Sam Horn with the glove. I'm convinced Carter can be a productive hitter in the majors -- more so than I am about Bailey, anyway.
8. Despite its inherent flaws, I have to admit I've become a fan of the World Baseball Classic -- the first Netherlands/Dominican classic got me hooked. While it's enjoyable stuff, though, ultimately you just hope your team's players get through it without any harm. Should Pedroia's injury linger beyond, say, this weekend, I suspect I won't be the only one screeching from his soap box for the WBC's immediate cancellation. I still haven't exhaled since hearing the initial reports that the reigning AL MVP was "injured." Talk about a bullet dodged.
9. As for today's Completely Random Baseball Card:
"Luck of the Irish, I guess."

-- Troy O'Leary, after his two-homer, seven-RBI performance in Game 5 of the 1999 ALDS.
We raise our Guinness to you, Mr. O'Leary. Actually, let's make it two -- one for each improbable homer that memorable October night. Happy St. Patrick's Day, everyone.
About Touching All The Bases
| | |
| --- | --- |
| | Irreverence and insight from Chad Finn, a Globe/Boston.com sports writer and media columnist. A winner of several national and regional writing awards, he is the founder and sole contributor to the TATB blog, which launched in December 2004. Yes, he realizes how lucky he is. |
Tweets by @GlobeChadFinn
browse this blog
by category
The best of Touching All The Bases