Posted by Chad Finn, Globe Staff
March 12, 2009 01:50 PM
NL CENTRAL
Cincinnati Reds: A trendy pick? Guilty. And perhaps a foolish one. It will probably all be derailed when Dusty Baker leaves ace Edinson Volquez on the mound for 143 pitches in an April blowout versus Pittsburgh -- does he get a commission from Dr. James Andrews or something? But Jay Bruce and Joey Votto will anchor the lineup for the next decade, Bronson Arroyo and/or Aaron Harang add rotation depth, and long-suffering Reds fans will finally have something to cheer this summer.
Chicago Cubs: Lou Piniella managing Milton Bradley. Yeah, that's going to end well.
Houston Astros: How come Lance Berkman's name rarely comes up when we're talking about outstanding hitters of this era who appear to have done it cleanly? (That's assuming chicken fries are not considered a performance enhancer.) Big Puma should be a bigger star, yet he barely got as much pub as Brad Ausmus from some writers in recent years.
St. Louis Cardinals: In the seventh round of the 1999 amateur draft, the Cardinals selected a second baseman from Los Angeles Pierce College named Covelli "Coco" Crisp. Six rounds later, with the 402d overall pick, the selected a third baseman from Maple Woods (Mo.) Community College named Albert Pujols. As another Cardinal "legend" like to say: Youneverknow.
Milwaukee Brewers: Trevor Hoffman probably should be starting his Hall of Fame clock at this point, but after watching Eric Gagne and the rest of the bullpen turn into a puddle on a nightly basis last year, anyone's got to be an improvement for Milwaukee in the closer's role, even a 40-year-old whose fastball and changeup are increasingly difficult to tell apart.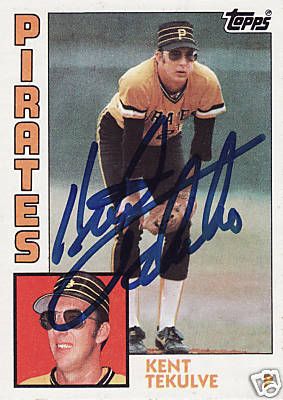 Pittsburgh Pirates: There have been many menacing closers through the years -- Gossage, Radatz, a juiced Gagne, Big Lee Smith -- but there's only been one Kent Tekulve, who saved 184 games in 16 big-league seasons despite looking like your dad if he was just a little less cool. We tip our ridiculous '70s Pirates cap to you, Mr. Tekulve.
(What, you wanted something on this year's Pirates? For real?)
NL WEST
Los Angeles Dodgers: Given that it is apparently owner Frank McCourt's mission to have every member of the 2003 Red Sox play for the Dodgers at some point, it's a wonder he hasn't signed Pedro Martinez already. And he should. From what I saw during the Dominican Republic's thanks-for-coming cameo in the WBC, Pedro had a good enough fastball and an outstanding changeup, and while it should be noted that he was thriving against a hardly stacked Netherlands lineup, it also should be noted that the Randall Simon and the rest of the Runnin' Wooden Cleaters could probably whup the Padres and Giants in a home-run hitting contest right now.ut
Arizona Diamondbacks: Stephen Drew was eighth in the National League with 76 extra-base hits last season -- just 15 fewer than his big brother J.D. has in two seasons with the Red Sox.
Colorado Rockies: Troy Tulowitzki batted .330 with a .926 OPS in September and October, somewhat salvaging a mess of a sophomore season. I'm convinced he's not the second coming of Bobby Crosby, and those who snatch him up in fantasy baseball this year will be getting a bargain.
San Francisco Giants Two years, $18.5 million for Edgar Renteria. That's an insane amount of money to pay for a shortstop in the early stages of rigor mortis. Has Brian Sabean explained this yet? The only logical reason is that he is trying to distract people from noticing that Barry Zito has five years and $90-something million remaining on his deal.
San Diego Padres: Forget Jake Peavy and his red flags. The best pitcher in Whale's -- wait, what did Ron Burgundy call San Diego again? -- might be San Diego State's Stephen Strasberg, at least if the raves in Buster Olney's column the other day are to be taken at face value.
As for today's Completely Random Baseball Card: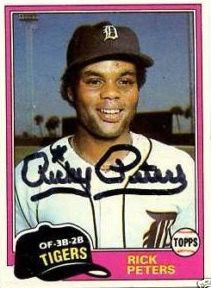 Apparently, Ricky Peters's claim to baseball fame was having a signature like a 14-year-old girl's. Though he was known to put it to good use.
About Touching All The Bases
| | |
| --- | --- |
| | Irreverence and insight from Chad Finn, a Globe/Boston.com sports writer and media columnist. A winner of several national and regional writing awards, he is the founder and sole contributor to the TATB blog, which launched in December 2004. Yes, he realizes how lucky he is. |
Tweets by @GlobeChadFinn
browse this blog
by category
The best of Touching All The Bases