Posted by Chad Finn, Globe Staff
March 25, 2009 05:35 PM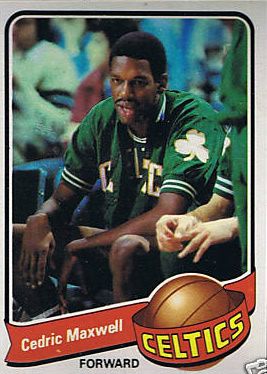 4. Sean Grande and Cedric Maxwell, Celtics radio: They might have the best give-and-take chemistry of any local tandem save for Gorman and Heinsohn, who have been working together since Grande was 11 years old. Grande's deep knowledge of the contemporary NBA comes through during every broadcast, although his introductory soliloquies sometimes run longer than one of my columns. Maxwell offers an appealing mix of casual humor and candid insight, and the difference between when he began and now is as wide as the gap between the 2006-07 Celtics and last year's champs. I'll never quite understand his bitterness toward Larry Bird, though I suppose it has something to do with Larry heartily endorsing the Bill Walton deal that sent Max to LA Clipper purgatory before the 1985-86 season.
5. Jack Edwards and Andy Brickley, Bruins television: I'm a casual Bruins watcher, at least in comparison to the other three major sports around here. And while I have my half-formed opinions of their announcers -- Edwards is eager but prone to ridiculous proclamations, Brickley knows his stuff -- I figured I'd turn over the keyboard to someone who hasn't missed a Bruins shift since before he was wearing double-runners. So I give you Matt Porter, one of our Bruins muckers-and-grinders here at Boston.com and the Globe, to give you an actual educated opinion on the TV voices of the B's:
Edwards is a fine announcer. He's technically sound, never leaves us lacking information. And he's creative, which is never usually a detriment to game-calling. However, some of his catchphrases can make you cringe, and he has dozens. So many that a hockey message board created a Jack Edwards Bingo card (which caused NESN to jump in front of the trend and create their own). Since you can't survive on junk alone, you need cool, clearheaded insight to balance Edwards's catch-phrase wackiness. And if Edwards a triple latte and a strawberry frosted, Brickley is a bagel and orange juice. He always delivers, providing Remy-level insight without the self-promotion, in an smart, easily digestible manner. He's one of the best color guys in the business, and we're lucky to have him.
So there you go. If you disagree, take it up with Ports.
6. Gil Santos and Gino Cappelletti, Patriots radio: Yeah, they've slipped some in recent years. The first time Joey Galloway takes one to the house this fall, I fully expect Gil to yell, "Touchdown . . . Harold Jackson!" Gino sometimes seems too preoccupied with squeezing in every last one of the out-of-town scores to notice that, say, Tom Brady has just been submarined in the knee by some obscure Chief. And it's probably time they replaced Mr. Magoo as the spotter. Despite the occasional frustrations and confusion, though, I still greatly enjoy listening to them call the game. Gil's booming pipes remain unmatched, and his call of Adam Vinatieri's first Super Bowl-winning boot still induces chills. ("It's good! . . . It's good! And the New England Patriots are Super Bowl champions!") Gino is like your beloved old uncle who doesn't really know the players as well as you do anymore, but remains good company on game day nonetheless. If these two are the worst we have to listen to, we must be the luckiest sports fans in the country.
Incomplete because I'm Hockey Dumb: Dave Goucher and Bob Beers, Bruins radio: In all honesty, I'm not sure the last time I listened to a Bruins game, but I'm pretty sure Pete Peeters was the goalie. So file this one under You Tell Me. But I've heard nothing but good things, especially about Beers.
* * *
As for today's Completely Random Baseball Card: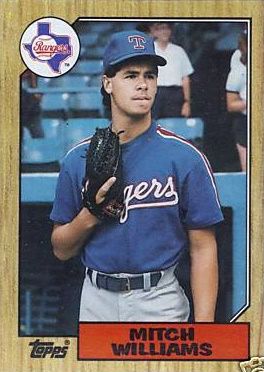 You might have heard former Phillies closer Mitch Williams's blunt and entertaining take on Curt Schilling this morning on WEEI -- I believe the key phrase was, "He was a bad teammate." Or: "We were like oil and water."
But it wasn't the first time Williams has made his dislike for his former fellow Phillie public. After Schilling lost his bid for a no-hitter two years ago with two outs in the ninth inning at Oakland, here is what Williams had to say about it to sports radio station WIP in Philadelphia:
"I heard right after he lost it, and I pulled my car over and got the pom-poms out and was doing all kinds of cheers,'' Williams said during a guest appearance on the station, which played clips of Oakland's Shannon Stewart's two-out hit in Spanish and English. ''You wouldn't have a French version? I could listen to that in every language.

''I've always said, if there was a big game I had to win, I'd want him to pitch it. Then I'd want to hit him when it was over.''
Just so we have this straight, Mitch: Not a Schill fan?
About Touching All The Bases
| | |
| --- | --- |
| | Irreverence and insight from Chad Finn, a Globe/Boston.com sports writer and media columnist. A winner of several national and regional writing awards, he is the founder and sole contributor to the TATB blog, which launched in December 2004. Yes, he realizes how lucky he is. |
Tweets by @GlobeChadFinn
browse this blog
by category
The best of Touching All The Bases