Posted by Chad Finn, Globe Staff
February 25, 2009 02:44 PM
* * *
Maybe it's just because they took down mighty Boston College this afternoon in the first game action of the spring, but I'm feeling extremely optimistic about the Red Sox' chances this year.
The depth of talent on their pitching staff is unprecedented as far as I can recall, and the defense should be well above-average. So they should be one of the better teams in the league at run prevention, which is a shrewd way to build a roster in the post-steroid era.
And the Sox' lineup is probably stronger than people like . . . well, me ... give them credit for. The days of the 950-run behemoths of 2003-04 are gone, but unless disaster strikes, the Sox should still finish in the top three or four in the AL in runs scored. Ultimately, I think they'll prove the Baseball Prospectus projection of 98 victories rather accurate.

* * *
As for today's Completely Random Baseball Card: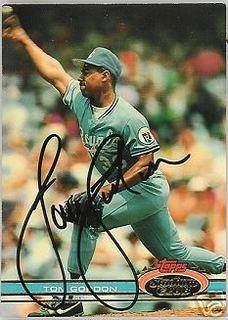 Okay, so it's not quite random today -- it's half of your answer to the earlier Tito Trivia item. Yup, our old friend (and 2004 Red Sox postseason hero) Tom Gordon is one of two active major league pitchers who faced Terry Francona, retiring him both times he faced him. The other is Kenny Rogers -- and Tito owned him, whacking a two-run double the only time he faced "The Gambler." You know, just in case you were wondering.
About Touching All The Bases
| | |
| --- | --- |
| | Irreverence and insight from Chad Finn, a Globe/Boston.com sports writer and media columnist. A winner of several national and regional writing awards, he is the founder and sole contributor to the TATB blog, which launched in December 2004. Yes, he realizes how lucky he is. |
Tweets by @GlobeChadFinn
browse this blog
by category
The best of Touching All The Bases