Posted by Chad Finn, Globe Staff
February 5, 2009 03:41 PM
6. I was going to write -- probably for the third or fourth time this winter, since this is the Offseason of Neverending Stories -- that Ben Sheets would be worth the compensation (a first-round pick) it would cost to sign him, and that it's a mystery to me why no pitching-hungry team like the Rangers has signed the talented if injury-addled righthander. Then, I read this, and I realized most teams probably had an inkling of Sheets's condition all along, although it is somewhat surprising Brian Sabean didn't give him an eight-year, $140 million deal.
7. All I have to say about post-Super Bowl episode of "The Office" is this: The quality and humor of the show seems to be in inverse proportion to the prominence of Dwight Schrute. And he was featured in this episode. Dwight, who now hides weapons around the office and generally behaves like a serial killer suffering from Mad Beet Disease, is off the charts in terms of our willing suspension of disbelief, and that's too bad, because what I liked about it so much in the beginning was that it seemed so real, save for some of Michael's antics. I'm not giving up, because I think the Dwight/Michael nonsense will tone down once the writers figure out what to do with Jim and Pam. But right now, I miss the show of seasons 2 and 3.
8. Karma and justice, I'd like to introduce you to Barry Bonds and Roger Clemens. I realize it's not the best form, but I can't help but be satisfied when lousy things happen to soulless, self-absorbed jerks. I hope they end up cellmates. After all, Clemens is going to need someone to play the role of Steve Donahue.
9. Couple of housekeeping items: This week's "OT" column on my Celtics binky Ray Allen can be here, and I also wrote the text for today's Boston.com gallery/poll on predictions and expectations for the Red Sox in 2009. Had a lot of fun with that one -- it was originally going to be a post here, but we decided to dress it up a little -- so be sure to check it out. Also, don't forget to stop by for TATB Chat III tomorrow at noon.
10. As for today's Completely Random Baseball Card: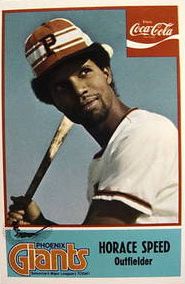 Forever and always my all-time favorite baseball name. Though Shooty Babitt is a fairly close second. And Stubby Clapp would be tough to beat if I didn't have a natural dislike of scrappy Eckstein-worshiping white guys.
About Touching All The Bases
| | |
| --- | --- |
| | Irreverence and insight from Chad Finn, a Globe/Boston.com sports writer and media columnist. A winner of several national and regional writing awards, he is the founder and sole contributor to the TATB blog, which launched in December 2004. Yes, he realizes how lucky he is. |
Tweets by @GlobeChadFinn
browse this blog
by category
The best of Touching All The Bases