Posted by Chad Finn, Globe Staff
February 9, 2009 04:55 PM
6. Happened to catch Kerry Wood's 20-strikeout one-hitter on the MLB Network yesterday -- it's the first time I've seen in more or less in its entirety, even though a friend gave me a DVD of it a few years ago. I'm pretty sure it's been the best game I've ever seen pitched -- the one hit was the result of a half-hearted lunge by third baseman Kevin Orie on a grounder that deflected off his glove -- though it may not quite nudge aside Pedro's 17-K one-hitter in the Bronx in September 1999. Had Orie made that play, there would be no debate.
7. Sandy Martinez -- who got a cup of Dunkin's with the Sox during the 2004 championship run and always got his money's worth during the postgame celebrations -- was Wood's catcher that day. Funny how you never hear the Tek Army refer to Martinez as one of the great game-callers around.
8. Okay, just one more item about the MLB Network. (Sorry, I'm in love.) If I'm Karl Ravech, I'm marking the days until I can leave Krukie and the rest of the "Baseball Tonight" droolers behind and jump to a network that doesn't treat the sport as a string of soundbites and half-formed arguments. MLB's coverage of the breaking A-Rod story was spectacular television, and better yet, it was the first real confirmation that the network doesn't intend to be a house organ.
9. As for today's Completely Random Baseball Card: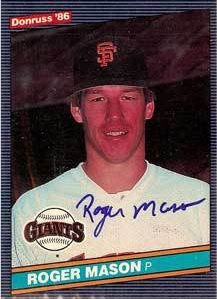 Still can't believe the Celtics got beat by this guy.
About Touching All The Bases
| | |
| --- | --- |
| | Irreverence and insight from Chad Finn, a Globe/Boston.com sports writer and media columnist. A winner of several national and regional writing awards, he is the founder and sole contributor to the TATB blog, which launched in December 2004. Yes, he realizes how lucky he is. |
Tweets by @GlobeChadFinn
browse this blog
by category
The best of Touching All The Bases