Posted by Chad Finn, Globe Staff
February 16, 2009 03:27 PM
Oh, there are somewhat ominous signs that Julio Lugo won't go quietly to the bench if Jed Lowrie wins the shortstop competition, but he's not important enough to become truly disruptive. He can either get used to it or get lost. And every other little ripple on this ocean is unlikely to become a wave.
Mike Lowell has been candid in talking about his frustration with the team's offseason pursuit of Mark Teixeira, but you know he's too much of a pro to let it fester. Jason Varitek looks like he's in fantastic shape, and judging by his comments, he's handling his frustrating offseason with typical stoicism. (I'll admit, I did snicker when he cited his homer off James Shields in the ALCS as a reason he should continue to bat lefthanded. It was his one hit in the series! In 20 at-bats!)
Papi looks trim and fit and ready, so does Josh Beckett, and you know how important that news is -- they may be keys 1 and 1A to the Red Sox' fortunes this season. In fact, after hearing Papi speak today, I'm convinced a bounce-back season is in the making. Put him down for 40 homers, and at least two walkoffs.
And the positive reports and optimistic quotes keep on coming. Takashi Saito says his elbow feels swell, and wouldn't that be the steal of the offseason if a former closer with a career 1.95 ERA and 229 adjusted ERA can contribute in a meaningful way? Dustin Pedroia, still ticked off about last season's ending, clearly isn't one to rest on his MVP laurels, not that we ever imagined he would. And if you're not excited about John Smoltz sliding into the rotation sometime around June en route to October, then I guess you missed a lot of brilliantly pitched baseball games on TBS the past two decades.
Yes, the Red Sox are making it very easy believe the season ahead will be one to remember. Hope springs eternal and all that.
For now, though, it's enough just to have them back.
Yes, even you, J.D. Now rub some dirt on it and get out there.
* * *
As for today's Completely Random Baseball Card: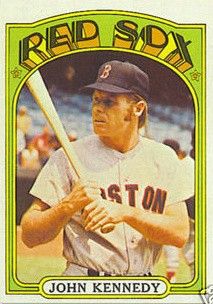 Happy Presidents' Day, everyone.
About Touching All The Bases
| | |
| --- | --- |
| | Irreverence and insight from Chad Finn, a Globe/Boston.com sports writer and media columnist. A winner of several national and regional writing awards, he is the founder and sole contributor to the TATB blog, which launched in December 2004. Yes, he realizes how lucky he is. |
Tweets by @GlobeChadFinn
browse this blog
by category
The best of Touching All The Bases