Posted by Chad Finn, Globe Staff
February 7, 2009 04:10 PM
The results of it all -- including nuanced and detailed statistical reports, including box scores -- are posted on the website almost daily. You know I am addicted. We're roughly two weeks into the schedule, and I check it more than my e-mail and Facebook combined.
You'd think the won-lost ledger would tilt toward franchises with longer and more illustrious histories, and you'd be right -- check out this beastly Red Sox squad James put together. Fortunately, the league is broken up into divisions based largely on the length of their existence, and the Angels are in the Expansion 1 group, along with the Mets, Rangers, and Astros. (Of course, a Mets team that has a rotation of Seaver, Gooden, Cone, Koosman, and Santana is no easy foe.)
I claimed the Angels mostly because a number of my sentimental favorites have played for them -- Remy, Butch Hobson, Fred Lynn, Lyman Bostock, Willie Mays Aikens, Jim Abbott. Unfortunately, few of them played particularly well for them, save for Abbott and the star-crossed Bostock, who was murdered in the September of his lone season with the club and took his .296 batting average that season to the grave.
The Angels have a gloomy history in reality, and apparently in make-believe, it's even worse -- my team is off to a 9-22 start. It is batting .238 -- 27th in the league -- with a .677 OPS. My staff ERA is 4.99, good for 22d. I look as shell-shocked as Mike Scioscia at the end of the 2008 ALDS.
Recently I said the hell with sentiment and shook things up a little, sending down Remy as well as my boyhood hero Hobson (who was brutal in his one season with the Angels), and calling up Doug DeCinces and Frank Robinson, who were actually good for the Angels. Judging by my current five-game losing streak, it did not have the desired effect.
In retrospect, I should have asked for help in piecing together my roster, as Posnanski and Keri did, among others. That way, I could have blamed you from the get-go. As it is, I'm pleading for help now, knowledgeable reader. You tell me: How do I fix this haloed if hardly hallowed bunch of misfits and challenge the mighty Mets, who lead me by eight games, for the coveted Expansion 1 title?
Here's my 25-man roster as it stands right now after 31 games: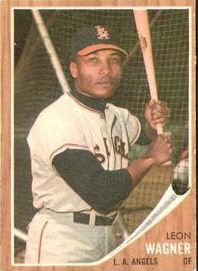 Lineup (there's no DH)
2B -- Bobby Grich (One of the most underrated players of the '70s and early '80s)
LF -- Frank Robinson/Leon "Daddy Wags" Wagner
1B -- Mark Teixeira/Jason Thompson: (Between the two, they played little more than a full season with the Angels, but both had monster partial seasons. Thompson, who wasn't appropriately appreciated in his time -- he walked a ton and had real power, but his average fluctuated -- put up a 168 OPS+ in 1980.
RF -- Vlad Guerrero
CF -- Jim Edmonds
3B -- Troy Glaus (He's been my best hitter, with six homers. The season-ending injury should be coming soon.)
SS -- Jim Fregosi
C -- Mike Napoli (Believe it or not, he's the best of a lousy lot of backstops, since he hits home runs and gets on base. And don't give me Bob Boone. He was below worthless offensively.)
Starters
Nolan Ryan (Forgot what a walks machine he was during his Angels youth.)
Dean Chance
John Lackey (Loathsome.)
Andy Messersmith (As you've probably noticed by now, the Angels haven't had too many ace starters in their history.)
Jim Abbott (Called up to replace Lackey early, then Lackey was recalled to replace an 0-5 Frank Tanana.)
Relievers
Jose Arredondo
Francisco Rodriguez
Troy Percival
Bob Lee (Relief ace in the '60s -- I did my homework, people.)
Bryan Harvey
Bench
Tony Phillips (Crack is whack!)
Orlando Cabrera
Wagner/Robinson
Teixeira/Thompson (Wish I could play them both. I'm pro-DH, by the way.)
Brian Downing
DeCinces
Bostock
And here are the 15 players I have in the minors:
Hitters: Tim Salmon, Don Baylor, Aikens, Remy, Hobson, Lynn, Rod Carew, Lance Parrish, Dave Winfield. (Most notable omission: Wally Joyner, who really wasn't that good.)
Pitchers: Chuck Finley, Mark Langston, Tanana, Donnie Moore, Ken Tatum, Brendan Donnelly. (Most notable omission: Mike Witt, who really wasn't that good.)
So . . . who am I missing? Should I call up Salmon or Baylor? Do I give Tanana, the Hutch to Ryan's Starsky on the Angels' staffs of the '70s, another shot? Is there someone I overlooked? Gary Pettis? Urbano Lugo? Bo Belinsky?
Your wisdom and suggestions are appreciated.
Otherwise, these guys are going to bring me to tears before Firestone does.

About Touching All The Bases
| | |
| --- | --- |
| | Irreverence and insight from Chad Finn, a Globe/Boston.com sports writer and media columnist. A winner of several national and regional writing awards, he is the founder and sole contributor to the TATB blog, which launched in December 2004. Yes, he realizes how lucky he is. |
Tweets by @GlobeChadFinn
browse this blog
by category
The best of Touching All The Bases