Posted by Chad Finn, Globe Staff
February 23, 2009 11:01 AM
CF -- Fred Lynn. Few Sox players have made it look so easy, which actually worked against the laid-back Californian. But Sox fans appreciated him more once he was gone, particularly after he admitted it was a mistake ever to leave Boston. Other medalists: Ellis Burks (silver), Johnny Damon (bronze).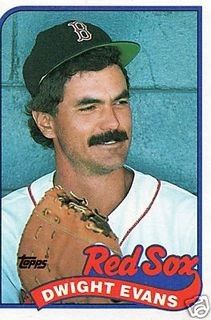 RF -- Dwight Evans. I've never been able to convince myself that he's a Hall of Famer, but he sure as heck should have been on the ballot for more than three years. And only in a bizarro universe, where running circles around fly balls and routinely airmailing the cutoff man are signs of defensive prowess, is Trot Nixon a superior defensive right fielder.
DH -- David Ortiz. Consider this: How would Red Sox history be different if Twins general manager Terry Ryan had decided the .500 slugging percentage Ortiz put up during the 2002 season was reason enough to keep him in Minnesota? Actually, don't consider it -- I don't want to think about the Sox without Papi.
RHP -- Pedro Martinez. The anticipatory buzz at Fenway before and during a Pedro start was wholly unique. Our eyes told us we were watching one of the finest pitchers in baseball history. Statistics tell us our eyes might not have been giving Pedro enough credit.
LHP -- Bruce Hurst. Loved his drop-the-hammer curveball . . .
Closer -- Tom Gordon. . . . and his, too. (But Papelbon's a tough omission.)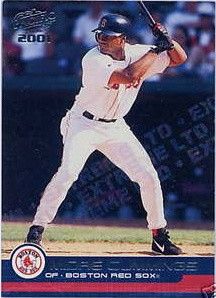 Backup outfielder -- Midre Cummings. He had his moments as a pinch hitter on those late-'90s Sox teams -- he could hammer a good fastball -- and I never could quite figure out why he didn't cut it as an everyday player, though I recall he was said to be somewhat of a spaceshot.
Utility infielder -- Pokey Reese. He fielded the Ruben Sierra ground ball that accounted for the final out in Game 7 against the Yankees in '04. I can't think of any other recent Red Sox player I'd want that ball hit to, save for perhaps Alex Gonzalez. And his charisma was off the charts.
Prospect who never quite made it -- Pat Dodson. A good-fielding first baseman with pop whose bat was just a tick slow to catch up with the big league heat. He was a four-year letter-winner at Pawtucket, though.
Manager -- Terry Francona. Der. What, you expected Joe Kerrigan?
* * *
As for today's Completely Random Baseball Card: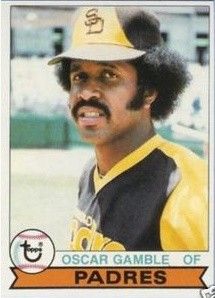 Forget last night. This is still the only Oscar who matters around here.
About Touching All The Bases
| | |
| --- | --- |
| | Irreverence and insight from Chad Finn, a Globe/Boston.com sports writer and media columnist. A winner of several national and regional writing awards, he is the founder and sole contributor to the TATB blog, which launched in December 2004. Yes, he realizes how lucky he is. |
Tweets by @GlobeChadFinn
browse this blog
by category
The best of Touching All The Bases