Posted by Chad Finn, Globe Staff
January 8, 2009 03:59 PM
3. Go easy on Leigh Teixeira, fellas. She has no idea at the moment, but about six months from now, I suspect she's going to wake up to discover that her dear husband is listening to "Like A Virgin" on an endless loop on his iPod while practicing Kabballah with a certain worn-out pop star. (Not Michael Jackson. The other one.) It's going to be devastating, and suddenly, Boston won't look so bad.
4. Prediction: Carl Pavano wins more games for the Indians next season than he did in his four memorable seasons in New York. Of course, that's just nine wins, but still. What I'm secretly hoping is that has a better year than his surefire successor as the Yankees' Criminally Overpaid Pitching Bust, A.J. Burnett. And you know what? I don't think it's out of the realm of possibility.
5. Some items I hope are on Theo's to-do (or in one case, to-don't) list for the rest of the winter: 1) Resist trading Clay Buchholz for Jarrod Saltalamacchia. I hate selling low on that kid, especially for a catcher who I'm not convinced can handle the position. 2) Re-sign Mark Kotsay as an OF/1B super-sub. As I said, even with the optimistic new diagnosis, it's still risky to assume Baldelli could handle the workload of a fourth outfielder. 3) Make one last, fair offer to Jason Varitek, and if he holds out for more or even hedges, move on by signing another veteran catcher. 4) Sign Orlando Cabrera (I know, I know . . . "personal issues"), make Jed Lowrie the 2B/SS/3B utilityman, and convince Julio Lugo that baseball season has been canceled.
As for today's Completely Random Baseball Card: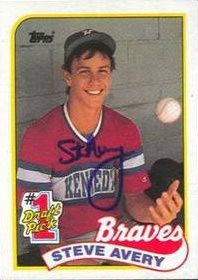 Dan Duquette's favorite washed-up lefthander joined the Braves two years after Smoltz, is three years younger, and threw his last major league pitch six years ago. I'm not sure what my point is, other than that Avery's glory days seem like a long time ago, and Smoltz's run of excellence (injuries aside) is truly remarkable.
* * *
P.S. -- This week's "OT" column is right here. But I recommend plunking down the 50 cents for the printed version. Heck, buy a dozen!

About Touching All The Bases
| | |
| --- | --- |
| | Irreverence and insight from Chad Finn, a Globe/Boston.com sports writer and media columnist. A winner of several national and regional writing awards, he is the founder and sole contributor to the TATB blog, which launched in December 2004. Yes, he realizes how lucky he is. |
Tweets by @GlobeChadFinn
browse this blog
by category
The best of Touching All The Bases