Posted by Chad Finn, Globe Staff
December 19, 2008 05:22 PM
I'm guessing you had the same reaction that I did when you took one last peek at Boston.com or the late local news Thursday night before slipping off to bed, only to get clobbered with the stunning news that the Red Sox were "not a factor" in the Mark Teixeira sweepstakes:
You have GOT to be kidding me. (Followed by a string of unprintable words, occasionally and creatively interspersed with "greedy," "Scott Boras," "sheep," and "Teixeira.")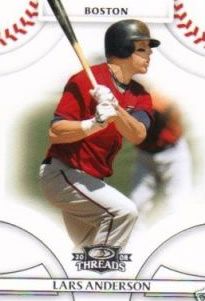 While I do still like to imagine an enraged John Henry having to be restrained from going over the table at Boras the precise moment the Red Sox realized their trip to Texas would be futile, the situation is apparently calmer and still somewhat hopeful the day after, and the Sox are still in the mix, and possibly the favorites, by most educated guesstimates. The rumors are flying from all directions -- the Nationals have secretly made an enormous offer, the Yankees say they're out of it, the Angels are playing it coy, and so on and so forth -- but it seems it could a be a few days longer before the ultimate question of the offseason, at least from a Sox fan's perspective, is answered:
Where will Mark Teixeira play next season and beyond?
While we we continue to wait for that answer -- and to see if Boras calls Henry's apparent bluff -- we figured we'd throw a few more Teixeira-related Qs and As your way just for the sport of it . . .
Do the Red Sox really need this guy? More than most faithful fans are willing to admit. There are countless reasons why we unconditionally admire both David Ortiz and Mike Lowell, but if sentiment is completely removed from the equation, one simply must be skeptical that both of them can remain healthy for the majority of next season. Meanwhile, the 28-year-old Teixeira is in the heart of his prime, is a true switch-hitter, has a career adjusted OPS of 134, averages roughly 160 games per season, might be the best defensive first baseman in the game (he is absolutely better than Youkilis), works pitchers relentlessly (last year he walked more than he struck out), has the reputation of being a Boy Scout off the field (yeah, a money-grubbing Boy Scout, but a Boy Scout nonetheless), and, should he sign with the Sox, gives them a daily lineup that would look something like this:

CF Ellsbury
2B Pedroia
1B Money-Grubbing Boy Scout
3B Youkilis
DH Papi
LF Bay
RF Drew
SS Lowrie
C Varitek or a living replacement

Impressive, no? With Teixeira, that's as balanced a lineup as you'll find, 1 through 7. Without him and with Lowell, it looks more like a lovely collection of No. 5 hitters, particularly if Youkilis falls off slightly from his sensational and thus far career-best 2008 season, and it makes it much more tenable to carry a no-hit catcher. Bluntly, Teixeira is the lineup anchor they need in the post-Manny era. I shouldn't have to remind you that it was the offense, and not the pitching, that let down the Sox in the end a season ago.
But what about Lars Anderson? Wouldn't Teixeira's arrival block his path to the big leagues? The foolishness of that argument -- which seems to pop up in the comments section with some regularity -- drives me nuts. Hey, I love my Sea Dogs, and I'm as giddy as the next "Baseball America" junkie when the annual Prospect Handbook shows up in the mailbox. But to suggest the Red Sox should pass on signing a player of Teixeira's credentials -- their ideal player, more or less -- simply because they have in their farm system a supremely talented 21-year-old with exactly 41 games of experience at Double A who happens to play the same position . . . well, let's just say we should hope the Yankees make such ill-considered decisions. Anderson might be a star someday. If had to bet, I'd say he probably will be a star -- the similarities to Justin Morneau are impossible not to recognize. But one glance at this list tells you no young player, save for the occasional Griffey or A-Rod, is a mortal-lock superstar. And among established big leaguers, there are few surer things heading into the next several seasons than Mark Teixeira.
Is there anything unappealing about Teixeira as a player or person? There might be when he's making $23 million at age 36, but right now, he's about as flawless an offensive player as you'll find. Well, okay, he's stolen just 13 bases in his career, just three more than noted speedster David Ortiz, so he's not exactly a burner. But that's not even worth a nitpick given his overall production and the general meaninglessness of steals. I suppose some might says he's too business-like and image-conscious, but I suspect those are attributes that Theo Epstein puts in the "positives" column, and it does seem like his teammates enjoy him. He's not narcissistic A-Rod businesslike. He's responsible adult businesslike. Big difference.
Is Scott Boras the really anti-Christ? No, Drew Rosenhaus is -- anyone who has T.O. as a client automatically gets that designation. But Boras is definitely in his cabinet. Also, Rosie O'Donnell has an argument.
For a little historical perspective, who are the five most similar players to Teixeira all time?
Well, since you asked nicely:
CAREER

Miguel Cabrera -- Encouraging -- he's a future Hall of Famer if he keeps his weight below the Sabathia Zone.

Glenn Davis -- An '80s slugger whose career was cut short by a neck injury.

Zeke Bonura -- No idea. Maybe he plays for the Pirates?

Bob Horner -- Wow, that makes two fat guys on this list. Teixeira seems like
the type who'd have a nutritionist, though.

Ripper Collins -- Batted .296 with 135 homers in a nine-year career, mostly in the '30s. Sounds more like a Youkilis-type.

However, Teixeira has better company . . .
. . .THROUGH AGE 28

Carlos Delgado

Kent Hrbek

Fred McGriff

Jim Thome

Will Clark

. . . and the next two on the list are Jeff Bagwell and Willie McCovey. (We'll conveniently stop here, before we're obliged to mention that Richie Sexson is in the No. 8 spot. Whoops, my bad.)
So for the $180-million question . . . where does Teixeira end up once Boras stops playing his reindeer games and ends the charade? Despite Brian Cashman's "dude, it ain't us" denial this morning when asked if the Yankees had outbid the Sox, I still refuse to believe that they have no interest -- they need him more than the Red Sox do, and with their resources, they can make it happen with one call to Boras. Maybe I should put it another way: If they honestly aren't going to leap in with a monster offer for Teixeira, then their management team is less devious and much stupider than I've long believed. That said . . . there are too many people with more insight and knowledge than the doofus you're reading right now who believe that Teixeira will eventually end up with the Sox. I do agree that John Henry's missive last night was just a negotiating ploy, and a savvy one at that. I guess what I'm saying is that I'm coming around to that optimistic way of thinking, but given the bizarre and excruciating way this whole situation has dragged out, I'm not officially going to believe Mark Teixeira will be a member of the Boston Red Sox until Big Papi has him in one of his "welcome to the club, Bro" bear hugs during the first day of camp in Ft. Myers. And not a day sooner.
About Touching All The Bases
| | |
| --- | --- |
| | Irreverence and insight from Chad Finn, a Globe/Boston.com sports writer and media columnist. A winner of several national and regional writing awards, he is the founder and sole contributor to the TATB blog, which launched in December 2004. Yes, he realizes how lucky he is. |
Tweets by @GlobeChadFinn
browse this blog
by category
The best of Touching All The Bases