Posted by Chad Finn, Globe Staff
December 16, 2008 04:29 PM
* * *
I've said it roughly 200 million times already during this free agent season, so what's once more? I'm convinced Mark Teixeira will end up with the Yankees, and I'm convinced the price tag will make some of us retch. It simply astounds me that people don't remember that this is typically the Yankees' mode of operation when it comes to an available player they know the Red Sox covet: They play it cool, reveal limited if any interest . . . and then, when the time is right, swoop in with just the monstrous offer the player and his agent have been awaiting. It happened with Johnny Damon (though the offer wasn't monstrous, just superior to the Red Sox' proposal). It happened with the A-Rod trade (and thank goodness it did), and I'm convinced that it's going to happen again here, and soon, with yet another Scott Boras client. I've laid out the reasons for my suspicions before -- the Yankees' offense was surprisingly mediocre (seventh in runs per game) a season ago, they haven't even tried to drive up the price (suggesting a more dastardly plan down the road), and Teixeira is simply too appealing an offensive player for the Yankees to simply ignore. I do hope I'm wrong about this, and I try to take solace in reports from the respected likes of Buster Olney that the Yankees really aren't in the mix. Unfortunately, I feel like I have logic and common sense on my side for once, and the press conference during which Jeter and A-Rod fight over who gets to help Teixeira pull on the pinstriped jersey will become reality in a matter of days.
* * *
As for today's Completely Random Baseball Card: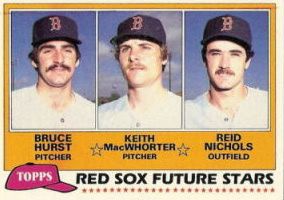 Mustaches weren't just a requirement in the Red Sox' farm system in the early '80s -- they were a way of life, man.
About Touching All The Bases
| | |
| --- | --- |
| | Irreverence and insight from Chad Finn, a Globe/Boston.com sports writer and media columnist. A winner of several national and regional writing awards, he is the founder and sole contributor to the TATB blog, which launched in December 2004. Yes, he realizes how lucky he is. |
Tweets by @GlobeChadFinn
browse this blog
by category
The best of Touching All The Bases