Posted by Chad Finn, Globe Staff
November 19, 2008 05:55 PM
While embracing such a compelling underdog story, however, I hope fans don't sell his him short (sorry -- can't help myself) in terms of pure ability. We've come to realize the past two years that Pedroia is a immensely talented athlete and ballplayer, one who is blessed with a wide receiver's soft hands and truly amazing hand-eye coordination. When you see his unusual swing in slow motion, it's uncanny how perfectly he squares up to the ball. That is not something you can teach yourself with hours in the batting cage. That's a gift.
We also must tip our cap to the Red Sox organization, which deserves nearly as much credit for what happened yesterday as Pedroia does. Theo Epstein and his player development staff put considerable faith in a player who had minimal surface appeal to tools-loving scouts (and dim-bulb bloggers). While the words were never spoken, Pedroia's victory yesterday stands as one enormous We Told You So for everyone who believed in him.
My only defense for misreading him four years ago is that he was playing alongside the unusually charismatic and gifted Hanley Ramirez, who hasn't been too shabby as a big leaguer either. Which, in my usual roundabout way, brings me to one of my favorite topics -- those 2005 Sea Dogs, and how ridiculously loaded they were.
Check out these names that dotted their roster that summer: Pedroia. Ramirez. Jonathan Papelbon. Jon Lester. Anibal Sanchez. David Murphy. Manny Delcarmen. Cla Meredith. Kason Gabbard. Brandon Moss. Craig Hansen.
All right, you can probably scratch that last name, but it's still a remarkable collection of talent to pass through one minor league clubhouse in a single season, even if all of those players didn't play for the Sea Dogs at the same time. Three years later, they've accounted for one MVP award, two Rookie of the Year trophies, a pair of no-hitters, a win and a save in the clinching game of a World Series, and countless other victories and feats.
Reminiscing about that team -- which actually did not win the Eastern League title -- sent me poking around the internet in search of other minor league teams that featured a similar amount of talent in a given year. While my list is by no means complete -- this list is far more thorough and was a helpful resource -- here are few I thought were interesting:
1992 Greenville Braves: This Double A farm club of the Braves had a future Hall of Famer in Larry "Chipper" Jones, a future 40-homer guy in Javier Lopez (though his legacy around here is that of the most indifferent defensive catcher in Red Sox history), a trio of very promising outfielders who didn't quite pan out in Tony Tarrasco, Mike Kelly, and Mel Nieves, future (and forgettable) Red Sox pitcher Nate Minchey, and a certain hillbilly manager who would later make you, me, and Pedro Martinez suspect he ate a lot of lead paint as a infant.
1980 Denver Bears: The star of the Expos' Triple A club was Tim Raines, who blossomed into the second-best leadoff hitter of his generation and, like Chipper Jones, belongs in Cooperstown. The Bears also featured third baseman Tim Wallach, who hit 260 homers in 17-year career, righthander Bill Gullickson (162 wins in 14 seasons), three Quadruple A superstars in Danny Briggs, Dave Hostetler and Randy Bass, current Mets manager Jerry Manuel, who hit .150 in his brief big league career, and Red Sox bench coach Brad Mills, forever known in Tito-speak as "Millsy."
1993 Harrisburg Senators: Cliff Floyd was the centerpiece of the Expos' Double A team -- he was pegged as the next Dave Parker, and might have lived up to the hype if not for injuries -- and others of note included Rondell White, Shane Andrews, Curtis Pride, Miguel Batista, and Ugueth Urbina, who added an entirely different meaning to "sabermatrician."
1974 Pawtucket Red Sox: Couldn't find a full roster with a cursory Google search, but Jim Rice -- who won the International League Triple Crown -- and Fred Lynn is enough for me. And the '81 PawSox weren't too shabby, either (Boggs, Hurst, Barrett, Gedman, Ojeda, Smithson, and TATB favorites Chico Walker and Sam Bowen).
You know what, though? I'd take the '05 Sea Dogs over any of the aforementioned teams in a seven-game series. They were just that talented. If you can come up with a more loaded single-season minor league club, you must work at "Baseball America" or something.
* * *
As for today's Completely Random Baseball Card: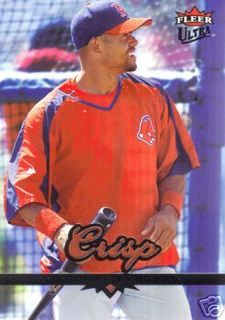 Happy trails, Covelli Loyce. It never quite worked out here as well as we'd hoped, but you were a class act and a joy to watch in center field, and we'll always have that incredible at-bat in Game 5 versus the Rays. Here's hoping you find that old Cleveland mojo in Kansas City.
About Touching All The Bases
| | |
| --- | --- |
| | Irreverence and insight from Chad Finn, a Globe/Boston.com sports writer and media columnist. A winner of several national and regional writing awards, he is the founder and sole contributor to the TATB blog, which launched in December 2004. Yes, he realizes how lucky he is. |
Tweets by @GlobeChadFinn
browse this blog
by category
The best of Touching All The Bases