Posted by Chad Finn, Globe Staff
November 7, 2008 06:11 PM
D'Angelo Hall: I suppose he doesn't belong here since he's no longer available -- the Redskins signed the expatriated ex-Raider to a one-year deal this afternoon -- but it is interesting that the Patriots, according to ESPN's John Clayton, were among the teams "aggressively" trying to sign him. Belichick liked Hall a lot coming out of Virginia Tech in 2004, but he's proven himself to be an incurable meathead during his NFL career, and he wasn't exactly reminding anyone of Mike Haynes in Oakland this season. The Patriots' supposed interest tells you all you need to know about Belichick's faith in his current crop of cornerbacks, though he comically refused to tip his hand during a press conference this morning before Hall became a Redskin:
Reporter: Would you like to comment on reports about D'Angelo Hall? Belichick: I would love to. I would love to. No, I will just comment on the players that we have on our team and leave the other thousands that aren't. Reporter: Do you have a relationship with him from the draft or Pro Bowl? Belichick: Well, he was in the Pro Bowl a couple years ago but not on our team. I think we might have been in the pool together.
Ty Law: Speaking of cornerbacks, I'm officially puzzled now -- how come the real MVP of the Patriots' first Super Bowl victory hasn't caught on anywhere yet? He apparently wants to play and says it's more about the opportunity than the money at this point. Did he slip that much last season with the Chiefs? I don't believe so, and besides, Law has always been a sure enough tackler that it always seemed like he'd be able to prolong his career by moving to safety. Unless he's gained so much weight that he now looks like an honorary Wilfork, it's worth bringing him back to where he made his name. What, you prefer Deltha O'Neal?
As for today's Completely Random Basketball Card: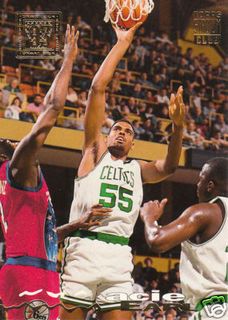 We've already got Dino Radja on here today. Why not Acie too? It's a 1993-94 Celtics tribute!
About Touching All The Bases
| | |
| --- | --- |
| | Irreverence and insight from Chad Finn, a Globe/Boston.com sports writer and media columnist. A winner of several national and regional writing awards, he is the founder and sole contributor to the TATB blog, which launched in December 2004. Yes, he realizes how lucky he is. |
Tweets by @GlobeChadFinn
browse this blog
by category
The best of Touching All The Bases