Posted by Chad Finn, Globe Staff
November 21, 2008 02:43 PM
6. I've talked myself into liking the whispered Julio Lugo-for-Dontrelle Willis swap with the Tigers. (But Nate Robertson? No thanks.) It's not that I think the tremendously likable 26-year-old Willis can turn his career around -- his mechanics, unusual even when he was effective, are now such a mess that I'm not sure even John Farrell can come up with a cure. It's just that the next time I see Lugo at Fenway, I'm really hoping he's wearing a road uniform.
7. Rocco Baldelli is awfully easy to root for, and it's always cool when a local kid plays for the Sox. But given his health problems, I'm not sure the ex-Ray is the ideal candidate as a fourth outfielder. The Red Sox require a durable backup, and Baldelli might be the only outfielder in baseball who's more brittle than J.D. Drew.
8. Reader SoxFanInFla offers another addition to our completely subjective and woefully incomplete list of the most talented minor-league teams of all time -- the 1993 Charlotte Knights, who featured two still-active members of the 500-homer (Jim Thome and our dear old ex-friend Manny), as well as One-Dimensional Slugger-Turned-Messageboard-Patron-Saint Sam Horn. They also had cameos from such notables as Matt Young (yep, that one), John Marzano, and Heathcliff Slocumb. That's one entertaining team right there.

9. As for today's Completely Random Baseball Card: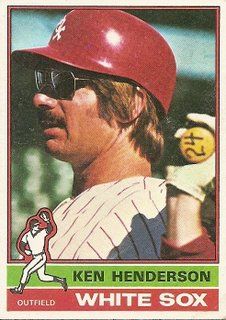 Because sometimes -- especially on Fridays -- it really is random.
About Touching All The Bases
| | |
| --- | --- |
| | Irreverence and insight from Chad Finn, a Globe/Boston.com sports writer and media columnist. A winner of several national and regional writing awards, he is the founder and sole contributor to the TATB blog, which launched in December 2004. Yes, he realizes how lucky he is. |
Tweets by @GlobeChadFinn
browse this blog
by category
The best of Touching All The Bases