Posted by Chad Finn, Globe Staff
November 5, 2008 04:25 PM
* * *
Other goodies: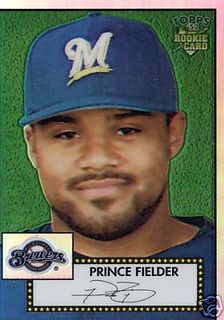 Prince Fielder, the Brewers' 24-year-old first baseman, tops James's list of the top 25 young major league players for the second straight year: This is probably a classic case of "consider the source" since this report apparently originated with the New York Post, but there are rumors that the Brewers would consider trading their behemoth slugger this offseason. Given James's opinion of Fielder and his status as a special adviser to the Sox, it's fair to speculate that Theo Epstein might at least give Brewers GM Doug Melvin a call to check in on his availability, particularly if the Red Sox choose not to give Boras the stacks and stacks of loot he will demand for Teixeira.
The Red Sox are rated to have the 10th-most young talent in the majors, with the Minnesota Twins topping the list. Pedroia ranks as the sixth-best young player, Lester is the 16th (one spot ahead of Longoria, who should be much higher in my semi-informed opinion), and Ellsbury doesn't crack the top 25. Mike Timlin was 2,409,900,848th, one spot behind Sean Casey.
In the "Fielding Bible" balloting, Derek Jeter got one vote at shortstop, Manny Ramirez got one vote in left field, and Jason Varitek finished 12th among catchers: Seems about right to me. I'm pretty sure an enraged Scott Boras just set his copy of the Handbook ablaze . . . with his finger.
Ellsbury rated as the ninth-best baserunner in the majors in '08, while Mike Lowell was the sixth-worst. We're not going to attempt to explain the formula here, but it's worth noting that Colorado's Matt Holliday, who stole a remarkable 28 bases in 30 attempts in '08, came out as the third-best baserunner. Which is good, because given his alarming home/road splits, he's going to have to sell himself as an all-around player rather than as a slugger if he ever leaves friendly Coors Field behind.
Jeter has the highest probability of reaching 3,000 hits at 93 percent: And 78 percent of his hits will be fisted singles to right field. Others of note: A-Rod (89 percent), Johnny Damon (38 percent), Manny (31 percent), Pedroia (7 percent).
A-Rod has a 49-percent chance at breaking the all-time home run record, and a 10-percent shot at 900 homers. Must . . . resist . . . Madonna . . . joke . . .

* * *
As for today's Completely Random Baseball Card: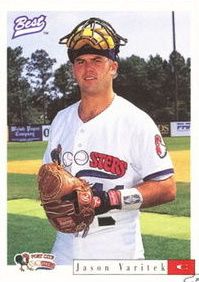 His sales pitch might be even more ridiculous than the asking price, but I did love this line from Boras's blather to Nick Cafardo on the intangible and defensive value of Varitek:
"Jason Varitek doesn't learn pitching staffs. He goes there and teaches them."
Did it dawn on you too? Boras isn't really talking about Varitek there. He's talking about Chuck Norris!
When the Boogeyman goes to sleep every night, he checks his closet for Jason Varitek . . .
Jason Varitek doesn't read books. He stares them down until he gets the information he wants . . .
Jason Varitek does not sleep. He waits . . .
About Touching All The Bases
| | |
| --- | --- |
| | Irreverence and insight from Chad Finn, a Globe/Boston.com sports writer and media columnist. A winner of several national and regional writing awards, he is the founder and sole contributor to the TATB blog, which launched in December 2004. Yes, he realizes how lucky he is. |
Tweets by @GlobeChadFinn
browse this blog
by category
The best of Touching All The Bases