Posted by Chad Finn, Globe Staff
November 24, 2008 11:05 PM
NFC EAST
New York Giants: I can't believe they are this excellent without Strahan and Umenyiora. Their legitimacy almost makes me feel a little bit better about the Super Bowl. Almost.
Dallas Cowboys: Pretty classy of Tony Romo to take that homeless guy to the movies. Still waiting for confirmation that it was Barry Switzer.

Washington Redskins: Sure, Jim Zorn has made them interesting, but they won't become really good until Dave Krieg takes over.

Philadelphia Eagles: It took nine years, but the Cleveland Browns finally aren't feeling so bad about their decision to take Tim Couch over Donovan McNabb.
NFC SOUTH
Carolina Panthers: The Panthers have one player remaining on their roster from 1995, their inaugural season: John Kasay. The kicker. Of course. Nice gig if you can get it.
Tampa Bay Buccaneers: The ageless Derrick Brooks has been around so long, he was starring for the Bucs back when the something-less-than-masculine Bucco Bruce was still their logo.
Atlanta Falcons: Old friend Lawyer Milloy is still rattling heads (64 tackles) at a reasonable rate, though he's long since ceased being a playmaker -- he has just six interceptions in the past seven seasons.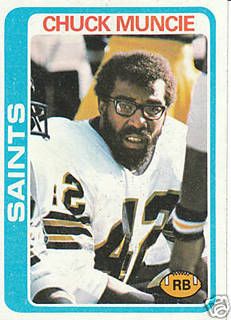 New Orleans Saints: Chuck Muncie would like to inform you that Chad can't think of any mildly humorous pithy aphorisms about the Saints, and if you've got a problem with that, Chuck will gladly fight you to the death on Chad's behalf, just as soon as he removes his glasses.
NFC NORTH
Chicago Bears: All right, you tell me: Is Lovie Smith a better-than-average head coach? Because frankly, I have no idea.

Minnesota Vikings: Adrian Peterson = Eric Dickerson, evolved.
Green Bay Packers: Donald Driver owns a pair of car dealerships in Wisconsin. Seems appropriate.

Detroit Lions: Kicker Jason Hanson has been with the Lions continuously since 1992. That's a lot of lousy football for one man to witness.

NFC WEST
Arizona Cardinals: There's a thread going on SonsofSamHorn regarding Kurt Warner's Hall of Fame chances. If he can remain in the upright position long enough to play two more full seasons with the great Larry Fitzgerald, I say he'll be a lock.

San Francisco 49ers: Otherwise known as Matt Cassel's 2009 employer. Hey, if John Clayton can make conjecture-based predictions, you know I can too.
Seattle Seahawks: I'm not saying this aggravating team is accelerating the aging process for Mike Holmgren, but two more losses and he's going to look like Wilford Brimley's older brother.
St. Louis Rams: At age 32, receiver Torry Holt seems to be on the decline, with just 496 receiving yards this season. Man, time flies. Feels like just yesterday that he was curling up in the fetal position on the Superdome to turf to avoid the Patriots' defensive backs.
About Touching All The Bases
| | |
| --- | --- |
| | Irreverence and insight from Chad Finn, a Globe/Boston.com sports writer and media columnist. A winner of several national and regional writing awards, he is the founder and sole contributor to the TATB blog, which launched in December 2004. Yes, he realizes how lucky he is. |
Tweets by @GlobeChadFinn
browse this blog
by category
The best of Touching All The Bases