Posted by Chad Finn, Globe Staff
October 3, 2008 04:04 PM
5. Watching 16-game loser Javier Vazquez, that unsung contributor to the Red Sox' World Series title in '04, swallow his tongue in another big moment yesterday, it dawned on me that White Sox must have felt exactly as we did in '05, when Matt Clement started Game 1 in Chicago. You knew the Sox were already at a great deficit on the mound in terms of intestinal fortitude, and that it would probably translate to the scoreboard pretty quickly. And it did.
6. The Rays' Evan Longoria yesterday became the second player ever to homer in his first two postseason at-bats. The first, as you probably heard, was former Twin (and forgettable Red Sox) Gary Gaetti. Gaetti hit 360 homers in his 20-year career, and from what I've seen out of Longoria, he has the raw talent to blow past that number before his career is over. To put it another way: Anyone who saw him play this season couldn't have been surprised by what he did yesterday. He's one of the special ones, and it was a brilliant piece of foresight by the Rays to lock him up for the long run so early in his career.
7. Yup, sure did pick a good day to wonder if Jason Bay had what it takes in the postseason. (If you've never seen someone repeatedly punch himself in the face, you should have been at my house after Bay's homer Wednesday, right around the time this week's issue of "OT" was put to bed. I think I fractured my own orbital bone.) Bad timing by me, but my point still stands: The Sox don't need Bay to put up Manny-like numbers this postseason -- that's unreasonable -- but they do need him to come through to the best of his borderline All-Star capabilities. Wednesday, he did, thank goodness. Now we'll see if the Angels have realized he has some Soriano-like tendencies with sliders away, and if so, if he's capable of adjusting. [Editor's note, Friday morning: Um, he is.]
8. Though logic suggests it probably won't happen -- he'll cost too much and Theo Epstein seems to have an aversion to players with personality -- count me among those hoping for a Red Sox/Derek Lowe reunion next season. He's always been a favorite at this address (excepting his last gruesome days as a closer), he has a rubber arm (he has never been on the disabled list), and his effort in Game 7 against the Yankees remains one of the most underrated clutch performances in sports history (pitching six innings of one-run, one-hit ball at Yankee Stadium, with the burden of history on his shoulders, on two days' rest). If he keeps pitching like this, he's going to get paid like an ace . . . but wouldn't he be perfect in that Wakefield/Byrd region of the rotation next season.
9. As for today's Completely Random Baseball Card: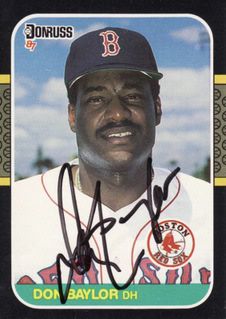 Even though he's remembered primarily for his years with the Angels (he was the '79 AL MVP), Baylor played a key role in the Sox' comeback versus the Halos in '86, so consider this our bid for continued good karma. In a related note, Baylor (and Jim Rice) were the two sluggers who looked huge when I was a kid, giants, absolutely larger than life. Nowadays, there are middle infielders with limbs bigger than Rice and Baylor in their heyday
About Touching All The Bases
| | |
| --- | --- |
| | Irreverence and insight from Chad Finn, a Globe/Boston.com sports writer and media columnist. A winner of several national and regional writing awards, he is the founder and sole contributor to the TATB blog, which launched in December 2004. Yes, he realizes how lucky he is. |
Tweets by @GlobeChadFinn
browse this blog
by category
The best of Touching All The Bases