Posted by Chad Finn, Globe Staff
October 27, 2008 04:14 PM
6. I'll keep this simple, because I'm still sorting out all of the implications, plot twists, layers, and subtleties that a pea brain like me needs three or four viewings to comprehend : Last night's Season 2 finale of "Mad Men" was the best single episode I have ever seen of any television show, blowing past the Season 2 finale of "The Office" and roughly six other "Mad Men" episodes, not to mention that very special episode of "Friends" in which Rachel finally got sick of Ross's whining and shot him in the stomach. Hell, it might rank among the best movies I've ever seen. In a related note: How much fun must it be to be a part of that cast?
7. I would pay good money -- but probably not as much as he'd want -- to read Scott Boras's upcoming treatise on why Jason Varitek is an "inherently valuable" player who deserves a lucrative multiyear deal after putting up an OPS+ of 73 at age 36. Hey, I'm always up for reading some humorous fiction.
8. Loved this new commercial featuring KG; if this doesn't get a Celtics fan pumped for tomorrow's opener, you're hopeless. But I think I'd like the Tony Allen version even better.
9. I wish I could talk myself into it, because he's one of the baseball icons of my childhood and I'm nothing if not a sucker for easy sentiment, but I just don't think Jim Rice gets into the Hall of Fame this year, his 15th and final appearance on the ballot. There's too much statistical evidence, particularly in regards to the benefits he gained from playing at Fenway, that suggests that he doesn't quite measure up -- in fact, if I remember correctly, Bill James once made a compelling argument (in a Historical Abstract, I believe) that the Yankees' Roy White was a more valuable player. Yes, this Roy White. And I'm pretty sure he's not enshrined in Cooperstown, though Yankees fans probably think he should be.
10. As for today's Completely Random Basketball Card: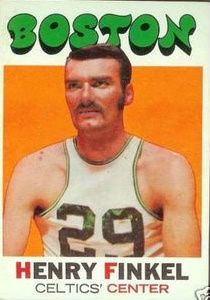 Because sometimes, it really is random. (Aw, who am I kidding? Hank Finkel is never random.)
About Touching All The Bases
| | |
| --- | --- |
| | Irreverence and insight from Chad Finn, a Globe/Boston.com sports writer and media columnist. A winner of several national and regional writing awards, he is the founder and sole contributor to the TATB blog, which launched in December 2004. Yes, he realizes how lucky he is. |
Tweets by @GlobeChadFinn
browse this blog
by category
The best of Touching All The Bases